What's the salary in the cruise ship
Jobs and salaries on cruise ships
"Moving" jobs on the world's seas
Cruise ships are exceptionally well-organized hotels at sea. They are modern and offer luxury. The largest examples among the cruise ships are 361 m long and 47 m wide. You have 16 decks. Passengers will find four pools and eight restaurants on board. With 2,706 cabins, such an ocean liner has an immense need for personnel. Around 2,165 employees on board ensure the well-being of the guests and the functionality of the ship's technology. The jobs are as diverse as the different needs that the crusaders bring with them. There are numerous positions to be filled, from mechanical engineers to chambermaids, yoga teachers and officers.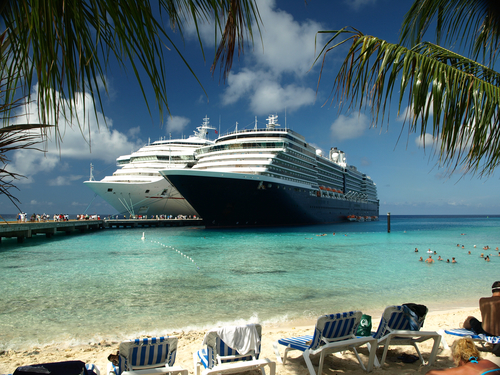 "Everyday" jobs on a cruise ship
You are traveling to remote continents and yet you do not necessarily have the opportunity to enjoy the beautiful view. On board a cruise ship entertainers, salespeople, bartenders, cooks and of course the captain do their daily tasks. The wellness area is very pronounced on many luxury liners.
An on-board hairdresser in your own salon is practically standard. René L., meanwhile 39, found after his master's examination as a hairdresser that Germany seemed too small to him. He was hired by an English shipping company and completed a course in its own training center before he was allowed to go on board. "First I learned the other tasks that were important in a wellness area at the time: manicures, massages and relaxation methods. Then I got the status of an officer as an on-board hairdresser and became a member of a crew of 700. On board I had access to the passenger areas. It was not possible to go on vacation there, "smiles René L." My salon was open twelve hours a day. Together with my colleague, I was responsible for 2,000 passengers. The contract consisted of a 90-hour week. But we often worked harder. "That sounds like an extraordinarily strenuous day-to-day work. "Yes and no," says René L., "the customers were on vacation, so they were in a good mood and relaxed. A completely different work than today in my 'permanent' salon. And we lived on board without any worries - we cooked for us, we had something to eat and drink at any time of the day. The room and linen were cleaned for us, and the salon was kept clean by cleaning staff. An additional plus was the duty-free. "
René L. drove across the Atlantic through the Caribbean for a total of one and a half years. "A storm on the Atlantic was bad, many passengers felt extremely bad and we too were shaky on our feet. I saw a ship fire once, but luckily no one was injured and the damage was repaired in the next port. At that time, however, that forced the trip to interrupt for two days. Another time we collided with a fishing boat and let down a lifeboat. That was as dangerous as it was exciting, but thank God no people were harmed here either. "
"Special" professions on board
Ship vacationers occasionally wonder about jobs that they have not done before. On the one hand, this is because some people stay in the background with their work, and on the other hand, because exotic items cannot be found on every cruise ship. The so-called lawnkeeper has an exceptional role. He / she works on ships with real turf. Like a greenkeeper on a golf course, a 'lawn attendant' on a luxury liner is responsible for the ship's garden. The real lawn needs to be sown, watered and mowed. Guests use it for picnics, boules games or as an additional sun terrace.
Equally outstanding is the job of a dog butler on board. Individual cruise ships allow dogs to be carried. During a longer stay at sea, traveling dogs need to be kept busy and pampered. The dog butler takes care of that. The dogs do not run around freely on board. You meanwhile live in spacious boxes. Dog butlers clean the boxes, feed the animals and take them for a walk.
Traditionally there is still the job of a dancer on some luxury steamers. These are mainly older men or women who invite single travelers or single guests to dance and provide social entertainment.
A job on board a cruise ship as a means to an end
There are many opportunities for jobs on board luxury ships. Applicants often see in this the fulfillment of an inner longing for the big wide world. But this is not the primary reason for working at sea for all workers. Marcel H., 27, a trained event manager from the Ruhr area, applied to a Hamburg shipping company out of necessity.
"I had successfully completed my training and only got a temporary follow-up contract as a sound and light technician at my venue. When this expired and could not be extended, I had to report as a job seeker. The employment office suggested a few addresses for applications - including the position on a popular vacation cruise ship. The acceptance came promptly, all other applications were unsuccessful. One weekend I was invited to Hamburg for a trial day. Everything went well so far, but I was afraid of getting seasick on the ship or not liking the cramped space.
Ultimately, I worried too much. The job went really well, my colleagues were very nice and, apart from the working hours, life on board was almost as luxurious for me as that of the guests. All in all, I was only on the move for three years. After that I had a great need for a permanent home and a partnership and tried to get a job on land. With my professional experience, I had no difficulties at all in finding a new job. I looked for a small apartment and picked up my things from my parents, where I had temporarily stored everything. At the moment I am deeply satisfied with my situation and look forward to spending free time with friends. "
Income opportunities on board
The starting salaries for jobs on cruise ships are between around 1,800 euros and 2,300 euros net per month, depending on the area of ​​responsibility. The factors position, ship and length of service have a positive influence on the salary. Contracts on ships run for an average of six months. During this time work has to be done seven days a week. Privacy is limited. The shipping companies often continue to pay for any subsequent free time. It usually lasts for around two months.
Anyone registered in Germany is subject to unlimited tax here. In principle, this also applies to so-called world income. To avoid double taxation, Germany has concluded agreements with many countries. Accordingly, remuneration for employment carried out on board a seagoing ship in international traffic is only taxed in the contracting state where the place of management of the employing company is located. For example, if you find a job with an employment contract with an Italian shipping company, you only need to provide proof of world income in Germany, but not file an income tax return. Provided that the employer correctly taxes the wages in Italy.
Further information on the topic: