How was your experience traveling to Nepal
Nepal and Tibet - The most beautiful experiences
I've been to Nepal three times - and Kathmandu is one of my favorite cities anyway. For trekking, boating, camping, riding elephants (and bathing, ahem), drinking rum and as a stopover on the way to Tibet. To think, to look, to take photos, to read and because it is the most beautiful area in the world.
View of the Annapurna. My best travel experiences in Nepal.
Nepal is: mountains, sky, suspension bridges, gorges, yaks, prayer flags, stupas, passes - pure adventure and experience.
But Nepal is also: exhausting, demanding, cold and warm, headache, drinking hot water, blisters on your heels. That and many other things are my NEPAL travel experiences.
For my first trip to Nepal I had them Annapurna round performed. But not all of them and of course not me alone - in nice girls round.
Tent trekking Nepal Annapurna round - experiences that I don't want to miss.
My number 1 Nepal travel experience
While other friends were hanging out with Prosecco in bathrobes in the wellness hotel, we flew to Kathmandu to trek at 4000 meters with a view of the eight-thousanders.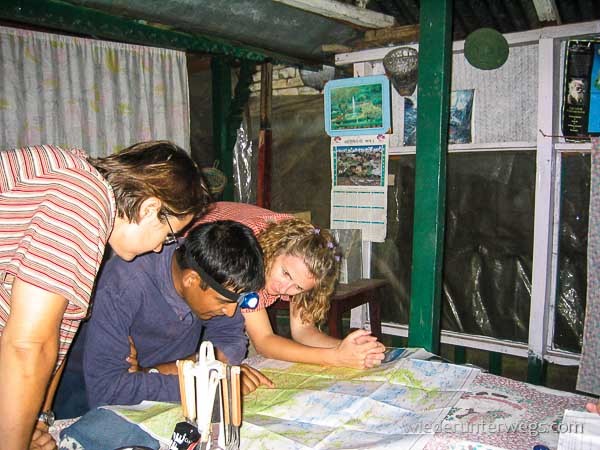 When planning the trekking route Nepal with Joshi
Needless to say, this trip was preceded by extensive fitness preparations on my part: Nevertheless, I ran out of air on the first climb. That didn't really change in the 3 weeks. Trekking was always exhausting. And especially that stages: I have climbed up and down a hundred thousand of you.
My Nepal travel experience afterwards: I didn't even know that a landscape can have so many levels.
Levels, Levels, Levels: Trekking in Nepal
My Tibet travel experience
Lhasa, Tibet: One of my most important travel experiences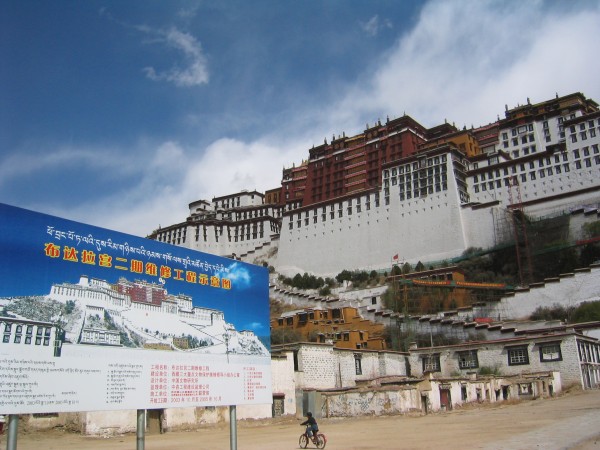 The Potala, Tibet. Breathtaking. Still.
On the second trip to Nepal we went on to Tibet. It was April and our yaksstayed with our luggage on the first ascent on the first day with the first sleet stuck. I wasn't so wrong because it was just inhospitable. For this we stayed very close to the Everest Base Camp on the Chinese side of the mountain. Not without wandering through Lhasa beforehand, watching the people at Lingkor from the roof café and visiting the Jokhang.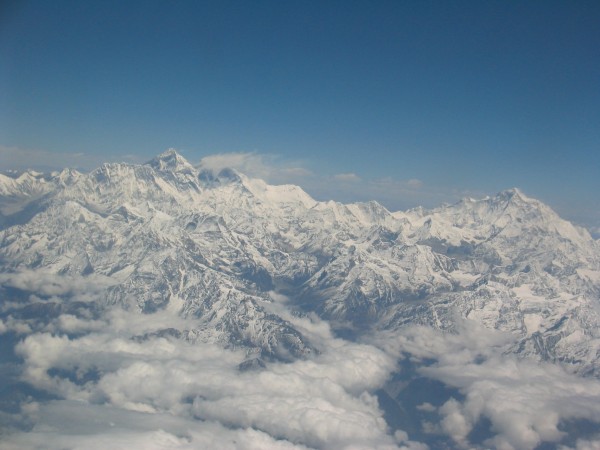 Flight over Everest, Nepal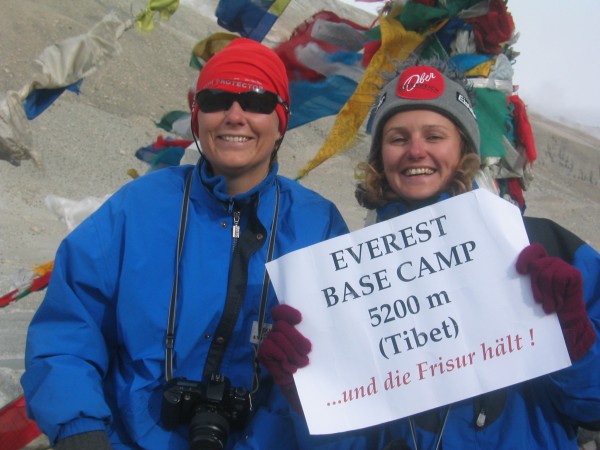 We did basecamp TIBET.
We visited one Nuns convent in the blowing snow and stayed three nights at Samye Monastery, the first monastery in Tibet (775) on the banks of the Tsangpo. Soak real butter tea , Dalai Lama gave away photos and in the evenings had our drinking bottles filled with hot water in their sleeping bags to warm up their feet. It was really cold - maybe colder than when camping in a tent in Easter Styria.
In the nunnery in Tibet, photo: A. Pangerl
We saw them Remains of the Shigatse and Gyantse monasteries, walked through the camera-monitored Potala and stood in awe of the Jokhang. The hospitality of the resident Chinese in Tsedang and in the cities left a lot to be desired.
My Tibet travel experience - at the top
We got stuck in the drifting snow on mountain passes and petted baby yaks at the sight of the giants and the holy lakes.And we were able to enjoy Kathmandu again - I'll just say: rooftop cafes and yak steaks.
Out and about in Kathmandu, Nepal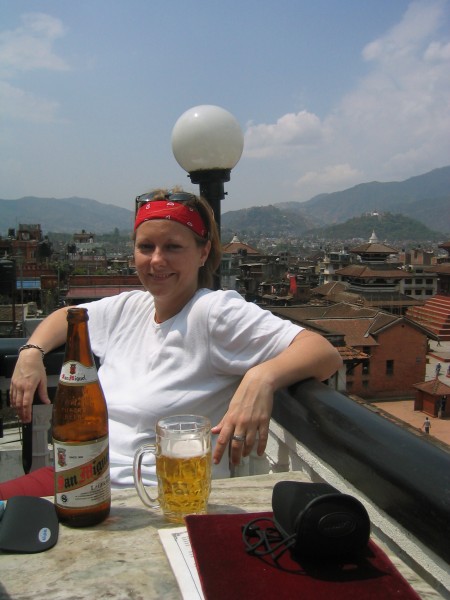 One of the ingenious rooftop cafes in Kathmandu, Nepal
And again: Nepal travel experience, the THIRD
My third time in Nepal - I had planned even more. It should go almost to the Everest base camp on the Nepalese side. I landed in LUKLA on this murderously short runway into nowhere, encountered two times Gerlinde Kaltenbrunner, our best high-altitude mountaineer and conquered suspension bridges that not even a chicken would cross in Austria.
We met Gerlinde Kaltenbrunner by chance in Nepal in LUKLA at 4000m. A wonder.
One of the many suspension bridges in Nepal
With wonderful views of the Snow flag on Everest. To the famous Namche Bazaar - where every Everest expedition has to pass and about which I had read tons of books. It was just overwhelming when I was in Namche Bazaar hobbled on. It went further and further uphill, overtaken by yaks with refrigerators and porter columns with luggage from entire expeditions.
Porter in Nepal
Nepal towards Everest Basecamp: I just dragged myself uphill - and that was enough for me.
The famous Namche Bazar in Nepal
Right up in Nepal. For me at the summit.
INFO: I was in Nepal in 2003 and 2007 and in 2004 in Nepal and Tibet. These trips are some of the most important and impressive travel experiences of my life.
---