What do Somalis think of African Americans?
Tensions between Kenya and Somalia: policies of collective punishment
For fear of terrorist attacks, the government in Nairobi is isolating itself from its unstable neighbor. This is now starting to defend itself against it.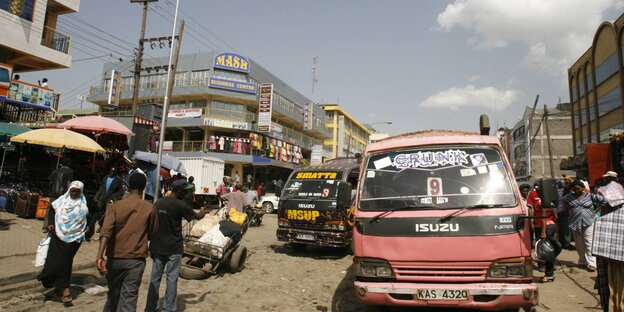 A particularly high number of Somalis live in Nairobi's Eastleigh district. Photo: Reuters
NAIROBItaz | A serious crisis is looming between Somalia, a country without a functioning state, and Kenya, which has taken in hundreds of thousands of Somali refugees. The reason is the decision of a court in Somalia's capital, Mogadishu, to expel several dozen Kenyans who are allegedly staying illegally in the country.
Judge Hashi Elmi Noor said in his ruling at the beginning of November that the 27 Kenyans stayed in Somalia after their visas had expired. They were supposed to be deported and had to pay a fine of around 10 euros for each day of their illegal stay. It is the first time since Somalia's disintegration 25 years ago that Somalia has expelled foreigners because of visa irregularities.
The decision, the implementation of which is in the stars, should officially prove that Somalia now has functioning institutions again. Mogadishu has been in the construction boom since a transitional government took office there and the city has become reasonably peaceful under the protection of African intervention troops. This attracts unemployed migrants from other countries.
But in fact, according to my observers, the decision is a reaction to the often brutal way that Kenya's police deal with Somalis in the hunt for alleged infiltrated fighters of the Somali Islamist terrorist militia al-Shabaab. "The deportation decision may be justified, but it is suspect because it follows a series of civil rights violations by Somalis living in Kenya," said Kenyan commentator Anasi Obara.
The much richer Kenya does not recognize its Somali minority
Shabaab attacks in Kenya have increased sharply since the Kenyan army entered southern Somalia and started fighting Shabaab. Attacks are repeatedly followed by raids and mass arrests in Eastleigh, a district of the Kenyan capital Nairobi, where a particularly large number of Somalis live. Last year 400 of them were deported to the Somali capital Mogadishu; this met with criticism from human rights organizations.
The Kenyan government also repeatedly threatens to send home the approximately 350,000 Somalia refugees who live in the world's largest refugee camp, Dadaab in northeast Kenya. The Kenyan authorities consider Dadaab to be a retreat for radical Islamists.
Barrier and quarrel over fish and oil
Kenya has also announced that it will build a video-monitored barricade of concrete walls, trenches and barbed wire fences along its 700-kilometer desert border with Somalia to keep terrorists at bay. The barrier will extend from the Indian Ocean to the city of Mandera on the border triangle of Kenya-Somalia-Ethiopia.
In addition, both countries are fighting over their maritime borders. Somalia has brought an action against Kenya before the International Court of Justice in The Hague, the Netherlands, for exploiting the waters rich in fish and oil, which are disputed between the two states.
Rich Kenya
After the media reported that the Kenyan troops in southern Somalia, together with the Shabaab militias, are making money from smuggling goods towards Kenya, the interim parliament in Mogadishu voted last week for Kenya to withdraw from Somalia.
The Somali political analyst Abdi Sh-Ali Ahmed sees the basic problem in the fact that the much richer Kenya does not recognize its Somali minority and looks down on Somalia. "The two countries have different value systems and political structures. Kenya has a policy of collective punishment for everyone with a Somali background, including Kenyans of Somali descent. But the government fails to see the effects of this policy. Somalia is already a failed state and Kenya needs to rethink its dealings with the country before it's too late. "