What is the most popular genre of music today

The most popular genres of music
What kind of music do you prefer to listen to? We asked 1,024 Austrians over the age of 15 that.
In the music industry, so-called mainstream genres are often spoken of, genres that meet the musical tastes of the general public. On the other hand, there are genres that address a subgroup, a subculture and have a correspondingly smaller group of followers.
The representative Spectra study shows that there are genres of music that reach many people, but the age split shows that practically no genre can excite all age groups equally. So the question arises as to whether the term mainstream genre is still applicable if certain age groups are hardly represented in the respective fan circles. The differences between the sexes are not quite as blatant, but some styles of music can be assigned to a more female or male audience.
Overall lead Schlager and folk music the list of most popular genres of musicAustria at. Led by stars of the scene such as Helene Fischer and Andreas Gabalier, the genre, which some have already declared dead, has celebrated a remarkable revival in recent years that continues to this day. They are also very popular Oldies and evergreens, international / English-speaking pop as Austro Pop.
The gender split shows that hits and folk music, oldies and evergreens as well as classical music and operas have an increasingly female audience, while guitar music (whether rock, alternative, rock n 'roll, hard rock or heavy metal), hip hop and also electronic music more likely to please men.
If you only look at those under 30, pop is by far the most popular music genre. This is followed by Hip Hop / Rap / R'n'B and electronic music. Only one in ten is enthusiastic about hits and folk music here.
Pop also dominates among the 30-49 year olds. The Austrian version of this style, Austro Pop, is of particular importance in this group. Schlager and oldies as well as rock and hard rock are also relatively popular.
Ultimately, the 50+ generation is responsible for the dominance of pop hits. Almost 7 out of 10 people in this group prefer to listen to hits and folk music. Oldies and evergreens are also very popular. Austro Pop is still quite popular until around 65 years of age. Classical music especially delights people over 65 years of age.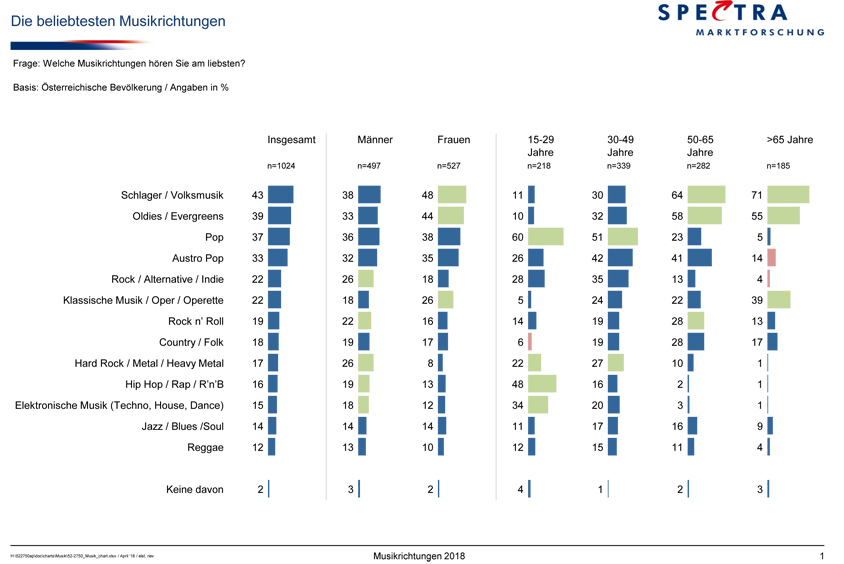 Elevation characteristics
Sample:
n = 1,024 people, representative of the Austrian population aged 15 and over
Methodology:
Quota procedure, personal interviews (face-to-face CAPI)
Survey:
MTU 52-2750
Field time:
April 2018
The maximum margin of error for 1,000 respondents is +/- 3.16%.
Back