Why are British teenagers so big
The British Children's War
Bleeding to death: Robert Knox with his mother
A knife is in the chest, a screwdriver next to it, everything is full of blood: the British government launched a nationwide shock campaign last week. The consequences of using knives are shown drastically on posters, with photos of real cases. Attacks like those that fatally fatal to Rob Knox. The 18-year-old actor, last seen in the new Harry Potter film, was stabbed to death in an argument outside a bar in Kent. Five other teenagers were stabbed with a knife. England is horrified, again.
The problem is painfully familiar in Britain. Reports of the murder of young people against young people are reported almost daily. In 2007, 26 teenagers died in attacks in London alone. Most were stabbed and nine of them shot. The fatal shot at eleven-year-old Rhys Jones in Liverpool caused particular horror. This year 14 teenagers were killed by physical attacks. "Children kill children", writes the "Sun". There is talk of a "teenage war" in the media and an "epidemic of deadly youth violence".
"Big worries"
Stabbing in England, burning banlieus in France, youth violence is a European problem. Even supposedly idyllic Sweden has a significant problem with juvenile delinquency in cities like Malmö. At the presentation of the 2007 crime statistics on May 22nd, Federal Interior Minister Wolfgang Schäuble described it as "one of the greatest worries" that violent crime among young people rose by 4.9 percent.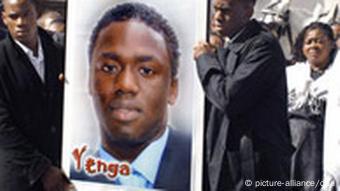 Funeral for the murdered 16-year-old Kodjo Yenga in London
Jochen Kersten, professor at the University of the Police in Münster, has been dealing with this phenomenon of youth violence for many years. He cannot prove a general increase in youth violence; an increase as in Germany could also be explained by the increased willingness to report acts. "But we see things in a problem group that worry us very much," says Kersten. "That is the European problem: this group is disproportionately made up of male descendants of immigrants." In this group, there is of course a whole bundle of causes for the willingness to use violence, from poverty to discrimination. However, one can also observe an "understanding of honor and respect that has largely replaced the terms of the majority society. A lack of respect according to their understanding is answered with violence."
Black against black
In no other country in the European Union is the risk of falling victim to armed attack as great as in Great Britain, according to the London Center for Crime and Justice Studies. Young blacks from the West Indian and African minorities are involved in the majority of stabbing - as perpetrators and victims. Often it is about territorial warfare by gangs. "We have a clear ethnic problem here," says Jürgen Kroenig. The journalist has lived in London for many years and is considered an expert on juvenile delinquency - not just since he once had a knife on his neck.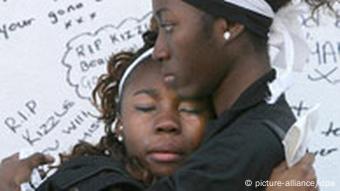 Mourning at Kodjio's funeral
One of the main reasons is seen as the collapse of the family: the proportion of black boys growing up without a father is more than 50 percent in Great Britain. The macho culture of the gangs seems to offer fatherless boys substitutes for male role models. Jack Straw, attorney general in Gordon Brown's cabinet, spoke of the "crisis of fatherlessness" and called on the black "community" to do more to tackle the problem.
What to do?
The dead teenagers sparked a national debate in the UK. Scotland-Yard says the increasingly brutal attacks on youth cannot be contained by police officers alone. The government and the opposition accuse each other of approaching the problem with wrong concepts. The Tory opposition demands what conservatives always demand: more police, more prisons, law and order. But tougher crackdowns, such as curfews for teenagers, were already practiced under Tony Blair. The successes were limited. Today's Labor government is now focusing more on prevention. Education Minister Ed Ball released around 100 million euros in addition for prevention projects.
Brits the most unfortunate teenagers
Perhaps this will help the UK to become a liveable country again for young people. This is definitely not the case at the moment. According to a 2007 study by the United Nations Children's Fund (UNICEF), British children and teenagers are the most unhappy of all industrialized nations. They drink the most alcohol, have sex the earliest, hate school the most - and are the most dissatisfied with their lives overall.