Are There Any Real Health Benefits Of CBD?
CBD oil legally on the market?
What's Behind the CBD Oil Advertisement?
Two to three drops drizzled under the tongue or simply sprayed into the mouth and headaches, inflammation and anxiety disappear - at least that's what it says on countless Internet sites about CBD oil. But there are also contrary statements from disappointed pain patients who report that they do not feel the effects of the CBD oil.
CBD is the abbreviation for cannabidiol, one of many ingredients in the hemp plant. In contrast to the hemp component THC (abbreviation for tetra-hydrocannabinol), CBD has no intoxicating (psychoactive) effect, and according to a judgment of the European Court of Justice (C 663/18) of November 19, 2020, it is not considered a narcotic. There is some evidence that CBD is anti-inflammatory and pain reliever. However, these indications have not yet been sufficiently confirmed in clinical studies. Questions about the correct dosage and above all about safety, side effects and interactions have not yet been clarified.
Alleged experience reports - as you can currently find them very often on the Internet - for the healing or alleviation of pain, depression or insomnia should be viewed with considerable skepticism. Alleged user reviews describing positive effects can also be falsified.
survey: What people expect from CBD products
In a representative survey carried out at the end of 2020, Stiftung Warentest found that around 12% of Germans use CBD products more and less regularly. Most (55%) hope it will help them relax, relieve stress (43%) and help against sleep disorders (38%). A small proportion (5%) hope for pain relief. On the other hand, 15% feel an activation.
The CBD oils offered as dietary supplements are mostly hemp oil, other vegetable oils or MCT fats with a CBD content of 5-20 percent. Advertising with illness-related statements is generally prohibited for food (and thus also for dietary supplements). Food may only be advertised health-related. And then, if a corresponding health-related claim is scientifically proven and approved by the EU. This is also not currently the case for CBD.
After testing various products, Stiftung Warentest found that there was no sufficient scientific evidence for any of the products - neither for the properties advertised nor for the effects on well-being that many providers suggest on their websites. And that annoys consumers: inside very much.
The German Cancer Research Center recommends cancer patients to use CBD drugs that can also be prescribed by a doctor if necessary.
What side effects are possible?
Numerous undesirable effects are known for CBD. CBD triggers drowsiness and drowsiness in every tenth person. Just as often, CBD seems to lead to insomnia, sleep disorders and inner restlessness.
Other common side effects include feeling unwell, diarrhea, loss of appetite, or rashes. The frequency of infections may also be increased after using CBD.
Is CBD Oil Illegal on the Market?
In the novel food catalog of the European Union, CBD is listed as novel in food because it was not represented on the European food market to any significant extent before 1997. Therefore, before being sold, CBD requires approval after a prior safety check. In fact, there are currently three applications for novel food approval for synthetically produced cannabidiols. The classification as novel also applies to other cannabinoids such as CBDA, CBG, CBN or CBC. According to the Federal Office for Consumer Protection and Food Safety (BVL), a hemp extract that contains cannabinoids can also be classified as novel and requires approval.
Some manufacturers argue that a hemp extract that has the same natural concentration of CBD as the crop is not a novel food. Such products, in which CBD is not enriched, to be called CBD oil is misleading from the point of view of the consumer advice center. There are suppliers who advertise simple hemp edible oil at significantly inflated prices with reference to a natural CBD content.
From the point of view of the authorities, the sale is not allowed. The BVL writes in the questionnaire on CBD on its website: "The BVL is currently not aware of any case according to which cannabidiol (CBD) would be marketable in foods, including dietary supplements".
In the opinion of the State of North Rhine-Westphalia, cannabidiol products (CBD products) that are on the market as food supplements are unapproved new foods that may not be placed on the market. This legal assessment is supported by court rulings. A final decision by the EU Commission is still pending.
A hemp flavor extract is also - according to various administrative court rulings - as novel and is therefore not permitted as an ingredient.
Specifically: CBD products are currently not approved as food.
Currently, CBD oils are therefore often sold as aromatic oils or cosmetics - but these are not suitable for consumption (for oral intake). Such re-declarations are already seen by the first courts as an attempt to circumvent legal regulations. The (external) application of a few drops of CBD as a cosmetic use is not really conceivable.
The consumer center NRW takes action against platforms on which CBD products are advertised as marketable. For example, the well-known Krankenkassenzentrale.de portal was last warned in spring 2021, as cannabidiol-containing food supplements from around 30 different manufacturers were presented there as supposedly legal under the guise of an apparently objective price comparison.
The website previously operated by the "Central Association for Citizen-Friendly Consumer Information" (ZVBV) is now managed by a dubious company in Cyprus. Especially in the field of dietary supplements, dealers and their advertising partners try to evade legal responsibility in Germany through foreign branches.

General ordinances prohibit the sale of CBD as food
Against this background, several cities in North Rhine-Westphalia initially prohibited the placing on the market (sale and free delivery) of "foods containing cannabidiol as CBD isolates" or "CBD-enriched hemp extracts" on the basis of a general decree, according to June 17, 2020 the City of Cologne (Official Gazette No. 48). This also applies to dietary supplements. In the meantime, for example, the city of Düsseldorf and the districts of Rhein-Sieg and Rhein-Erft have followed suit in North Rhine-Westphalia.
The same applies to other federal states: In Thuringia, for example, there is a general decree for the city of Jena and the Saale-Holzland district as well as for the city of Gera. In Hamburg, too, corresponding general decrees apply in all seven districts.
These sales bans refer not only to stationary trade, i.e. the course in the shop, from there no mail-order or online trade may be offered.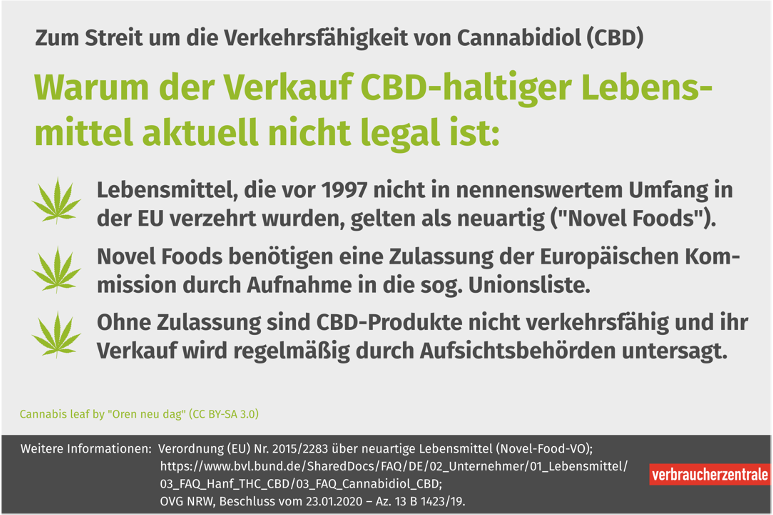 Court rulings strengthen sales ban
A manufacturer of CBD capsules argued in court that its products were novel foods whose health-damaging effects had not been proven. On March 4, 2021, the Berlin Administrative Court (VG 14 L 37/21) ruled that the authorities did not need to provide evidence of a specific health risk. The only decisive factor is that the product has not been examined for possible health hazards (by the EFSA, as is necessary for approval as a novel).
The Hamburg Administrative Court had previously ruled (decision of January 26, 2021, 7 E 4846/20) that the sale of novel foods containing CBD may be prohibited by means of a general order in the absence of authorization. Hemp seed oils with added hemp extract are to be regarded as novel foods within the meaning of the Novel Food Regulation.
What is CBD Oil?
CBD is obtained from the above-ground parts (e.g. leaves or stems) of the hemp plant Cannabis sativa L. (EU-certified variety). The naturally occurring total CBD content of EU hemp varieties is up to 5%.
CBD oil should not be confused with the hemp oil found in food retailers, which is made from the hemp seeds. However, some CBD extracts are diluted with hemp oil and standardized to a certain CBD content.
Does CBD oil contain the psychoactive THC?
In addition to CBD, the psychoactive tetrahydrocannabinol (THC) is also naturally contained in the leaves, flowers and stems of the hemp plant. In the EU-certified varieties, the THC content must not exceed 0.2%. There is no Europe-wide standardized limit value for THC in food, only guideline values ​​which are intended as a guide for manufacturers and food monitoring. The guideline value for food supplements is 150 µg / kg.
The Federal Institute for Risk Assessment (BfR) explains: If the THC guideline values ​​were complied with, according to the current state of knowledge, no critical effects are to be expected. However, the authority emphasizes that the guideline values ​​are only provisional, as it has not yet been finally clarified how strongly individual effects of THC depend on the dose.
In fact, according to the BfR, these guide values ​​are very often exceeded. In the case of food supplements containing hemp (including CBD oils as well as protein powders made from hemp seeds), almost all samples (94%) exceeded the guideline value. The THC levels averaged 1230 mg / kg and exceeded the guideline value by more than 10,000 times. The current investigations by the Chemical and Veterinary Investigation Office in Karlsruhe also show that the majority of the samples were judged to be harmful to health or unsuitable for human consumption.
In the annual report of the food control in Baden-Württemberg for 2019, excessive THC levels are reported in more than half of the controlled CBD products, 22% of the products were classified as harmful, and a further 34% as "unsuitable for human consumption".
The CVUA Karlsruhe also states: The promotion of CBD oils with the advertising slogan "THC-free" represents a considerable deception and misleading of the consumer. In fact, the Stiftung Warentest found THC in all products, even if mostly only in traces . Four products contained more THC than the European Food Safety Authority considers safe. Psychogenic effects such as a reduced ability to react cannot be ruled out.
Important to know:
The THC traces contained in food supplements containing hemp can lead to positive urine tests (drug tests).
Indications from the USA indicate that products with fake certificates of analysis are being offered.

Swell:
---
Novel Food Catalog of the EU (accessed April 27, 2021)
EU Commission: Summary of applications and notifications, Summary of the applications submitted within the meaning of Article 10 (1) of Regulation (EU) 2105/2283 (accessed on April 27, 2021)
Federal Office of Consumer Protection and Food Safety. Are food supplements with cannabidiol (CBD) (CBD) marketable? (accessed April 27, 2021)
Federal Office for Consumer Protection and Food Safety: Is the Cannabis Product Safe? (accessed on April 27, 2021)
Federal Office for Consumer Protection and Food Safety: Is the cannabis product a new type of food? (accessed on April 27, 2021)
Federal Institute for Risk Assessment (2018): Tetrahydrocannabinol levels are too high in many hemp-containing foods - health impairments are possible. Opinion No. 034/2018 of the BfR of November 8, 2018 (accessed on April 27, 2021)
Medicine Transparent. CBD from hemp for better sleep? As of: 04/02/2021 (accessed on 04/27/2021)
Grunert, D (2018): Therapy with cannabinoids: Much experience, little evidence. Dtsch Arztebl 115 (47): 24f; DOI: 10.3238 / PersOnko.2018.11.23.04
European Medicine Agency: Epidyolex cannabidiol. Status: April 26, 2021
Chemisches und Veterinäruntersuchungsamt Karlsruhe (CVUA) (2019): Cannabidiol (CBD) - a hype with a health risk. As of: 08/09/2019, accessed 04/27/2021
Press release of the Administrative Court Gießen from November 28, 2019, order of November 11, 2019, file number 4L 3254 / 19.GI
EFSA: Acute human exposure assessment to tetrahydrocannabinol (Δ9 ‐ THC). EFSA Journal 2020; 18 (1): 5953
dkfz cancer information service: CBD oils for cancer patients. Status: June 15, 2020 (accessed on April 27, 2021)
Sproll C, Kremer J, Lachenmeier DW (CVUA Karlsruhe): Advertising hemp foods with "THC-free" - a misleading consumer. Products made from the hemp plant always contain THC (Tetrahydrocannabinol), as of: March 19, 2020 (accessed on April 27, 2021)
Ministry for Rural Areas and Consumer Protection Baden-Wuerttemberg: Annual Report of Food Monitoring 2019 Baden-Wuerttemberg, pp. 28, 29, 35, 43, as of August 2020
Ban on the sale of foods with added CBD. Municipal general ruling implements existing EU regulation for Cologne (PM of the City of Cologne from June 18, 2020)
General decree of the Rhein-Sieg-Kreis dated August 24th, 2020 prohibiting the placing on the market of cannabidiol (CBD) -containing foods

General decree of the city of Gera: Prohibition of placing cannabidiol (CBD) -containing foods on the market, 07.09.2020, Official Gazette No. 45/2020
General decree prohibiting the placing on the market of cannabidiol (CBD) -containing foods, Official Gazette No. 07 of the Saale-Holzland district, July 25th, 2020
ECJ judgment in case C ‑ 663/18 of November 19, 2020
EU Commission: Cannabidiol products can be classified as food. Status: December 3rd, 2020
MULNV NRW: Ministry of Consumer Protection develops guidelines for hemp products. Press release 1075/12/2020 from December 11th, 2020
MULNV NRW: HEMP, THC, CBD & CO. Questions and answers on the assessment of products as part of the official food control version 1.0 (status: November 2020), accessed on April 27, 2021
BVL: Federal Office dampens hemp hype. Products containing CBD are still not permitted as food. Press release from December 15, 2020
Stiftung Warentest: Looking for evidence. Test of CBD oil and capsules. test 1/2021, pp. 86-91
Stiftung Warentest: Survey: What people expect from CBD products. As of: 01/26/2021