Weather, climate, climate tables, temperatures & best travel times worldwide
Singapore climate
There are only two types of weather in Singapore: either the sun is shining and it's hot, or it's hot and raining. Whichever month the visitor comes to the Southeast Asian city-state, they always will tropical-warm weather find. There are no seasons like in Europe.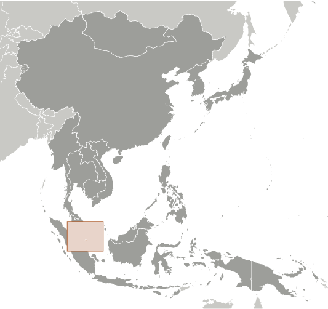 Due to its location directly on the equator, the thermometer fluctuates only minimally over the course of the day and year. Temperatures averaged between 26 (January) and 28 ° C (March to July) all year round. In general, temperatures reach around 31 ° C during the day and drop to 24 ° C at night.
The relative humidity is actually permanently difficult to bear for Europeans. It is 80 - 85% during the day and can rise up to 100% (!) In places at night or with persistent rain. It can be a little less high in the months of October to February.
The annual Rainfall is 2,400 mm. It is true that abundant rain falls 40% of all days; but it brings Northeast monsoons between November and January have the most rainfall. The very violent thunderstorms in the late afternoon and early evening are typical. But as quickly as it started to rain, it usually stopped again. These rains do not bring any cooling; but the visitor perceives the clouds as more pleasant than direct sunlight.
The Water temperatures are also very uniform and are above 25 ° C.
Weather singapore
Weather in Singapore: The temperatures and precipitation for Singapore are from the website yr.no and are provided by the Norwegian Meteorological Institute and the Norwegian Broadcasting Corporation. The forecast is updated four times a day.
Best time to travel to Singapore
In principle, you can visit Singapore all year round. The weather is always tropical and warm and there is heavy rain every season. You can choose between the monsoon season with a lot of precipitation, but slightly lower temperatures and lower humidity, or the rest of the year with slightly higher temperatures and oppressive humidity, but less precipitation.
Most vacationers prefer to visit between March and Septemberwhen it rains a little less than in the winter months.
It is best to avoid the times around Christmas, the Chinese New Year and Easter, as many hotels are fully booked and the hotel and flight prices skyrocket due to the strong demand.
Further information: Climate, travel time and weather in Singapore.
Climate table Singapore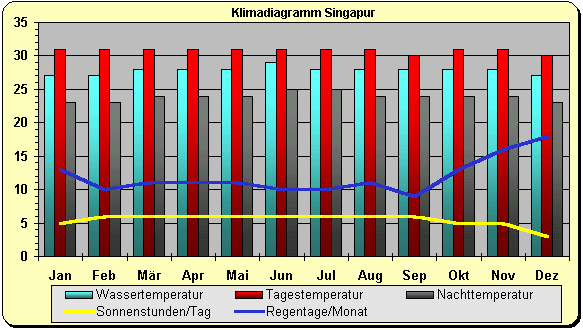 Climate in Singapore
You can find more climate information about Singapore here.
Climate in Southeast Asia
For information on the climate, the best travel time and weather in other Southeast Asian countries, simply click on the country names on the map: