Why did the MeToo movement stop
Opinion: #MeToo in Egypt - curse or blessing?
The Egyptian #MeToo moment began when the social media suddenly saw increased reports of successful women's rights campaigns. Then came blogs where women could anonymously talk about their experiences that they were ashamed of in public. And because they feared social and economic disadvantages if their names became known.
The Egyptian government passed a law guaranteeing anonymity for victims who disclose sexual assault. The country's National Women's Council urged victims and witnesses to cooperate and guaranteed them protection. Social media had a glorious moment in a region of dwindling expression. Suffragettes celebrated one of their rare victories.
The wind has turned again
But after the arrest of witnesses to the "Fairmont rape", a high-profile case of gang rape, the wind has turned again. Suddenly, in a reverse #MeToo wave, social media became a public pillory for the victims, witnesses and their supporters. There were threats. Videos of the alleged rape were shared "for pleasure" and even appeared on porn sites. Other private videos of witnesses have been posted online to undermine their credibility. The victim and the witnesses received massive criticism for their lifestyle and for enjoying going to parties.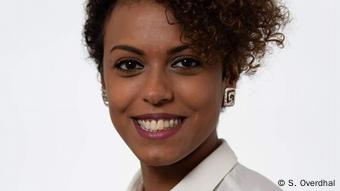 DW editor Wafaa Albadry
In a country where women are rejected, discredited and socially isolated by their families just for reporting sexual abuse, they have few options. Filing a complaint with the police means being forced to undergo degrading virginity or anal tests, as happened in the "Fairmont" case.
Filmmaker Salma Eltarzi recently published a lengthy personal essay in the independent online newspaper Mada Masr. She described going through a rape herself and her confusion and fear afterwards. The article spread rapidly on social media. It received a lot of encouragement. But Eltarzi also received criticism, downright attacked, her feelings and motives were questioned.
The fate of every woman affected is political
As an attentive observer, I have seen women face hate tirades, witch hunts and defamation. I am also familiar with the demand that women should find "more credible" witnesses to speak about sexual violence, rather than referring to anonymous testimony on social media. However, all of this only leads to fewer women speaking up and growing frustration.
The #MeToo moment has now spread to other countries in the region. But with it also a feeling of despair. In a challenging political and social environment, women try to create a space in which they can express their experiences. The victims alone have the right to choose the path and medium for their revelations. However, society must also be clear about the disadvantages women experience when they go public or reveal their identity. The fate of each and every one of these women is political - it matters to every woman and her safety. Social media are the space to discuss exactly these questions.
Women must continue to be brave
Despite their increasing despair, women must continue to have the courage to find alternatives - from blogging anonymously to opening group discussions on taboo questions like "What is consensual sex? And what is not?" Of course, women need to use social media at this #MeToo moment.
And those who really want changes in the region have to think about how they can combat and punish hatred and malice online. Above all, however, they have to stop wanting to determine where, when and how women speak up. Rather, act against those who try to undermine all progress made by women and make them the victims alone.