Wedding rings made of rose gold I SPRING SALE | UP TO -60% SALE
Sale
In our sale section you will find special offers from selected collections for a limited period of time.
For -50% sale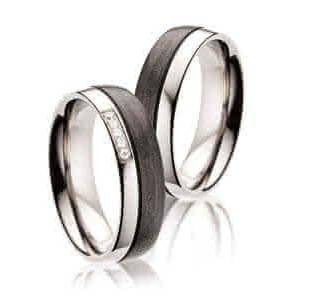 Prepayment - 3% discount
Purchase on account
Paypal
Credit card
Instant bank transfer
Klarna installment payment
Jewellery
Special wedding jewelry for your wedding day!
Discover
• Earrings for him & her
To the jewelry collectionTo the children's jewelry collection
---
---
Less than 100 EUR
100 - 250 EUR
250 - 500 EUR
500 - 750 EUR
Over 750 EUR
Reduced price
---
---
Sand matt
Frosted ice
Hammer blow
structure
Polished
Matted
Matt and glossy
template
Grooves
Grit
relief
---
---
Simple
Classic
Out of the ordinary
Romantic
Extravagant
Modern
Angular
With heart
Without stone
black
---
Narrow (up to 4 mm)
Standard (4.1 - 6 mm)
Wide (over 6 mm)
---
Flat (up to 1.6 mm)
Standard (1.7 to 2.0 mm)
High (over 2.1mm)
---
Gray carbon
My wedding ring
TitanFactory
Carbon Selected
Collection Chiara
Breuning
Collection Ruesch
Rauschmayer
Fair trade love
Express wedding rings
---
Rose gold is changeable - on its own it has a romantic undertone, in combination it can bring unusual contrasts that arouse astonishment. So wedding rings made of rose gold are always a great choice. Additional Information...
---
---
Less than 100 EUR
100 - 250 EUR
250 - 500 EUR
500 - 750 EUR
Over 750 EUR
Reduced price
---
---
Sand matt
Frosted ice
Hammer blow
structure
Polished
Matted
Matt and glossy
template
Grooves
Grit
relief
---
---
Plain
Classic
Out of the ordinary
Romantic
Extravagant
Modern
Angular
With heart
Without stone
black
---
Narrow (up to 4 mm)
Standard (4.1 - 6 mm)
Wide (over 6 mm)
---
Flat (up to 1.6 mm)
Standard (1.7 to 2.0 mm)
High (over 2.1mm)
---
Gray carbon
My wedding ring
TitanFactory
Carbon Selected
Collection Chiara
Breuning
Collection Ruesch
Rauschmayer
Fair trade love
Express wedding rings
---
Most popular
price
Latest products
delivery time
Sale
Results 1 to 30 of 500