Can choose illegal immigrants in California
Latinos in California could make choices
A small urban park in Los Angeles between the highway and warehouses. A stage and small white wooden booths have been set up on the shadowless meadow. Your offer: election information, fairground games and Mexican snacks. From the stage, a stocky man in his mid-forties with short-cropped hair and a mustache calls into the microphone alternately in Spanish and English: "Go vote! Your voice counts!" He draws the audience's attention to the fact that they can also commit to being pro-immigration voters. "We have forms for this. We're starting a new project here today."
Antonio Gonzalez is the chairman of SVREP (Southwest Voter Registration and Education Projects), an organization that mobilizes Latino voters to vote. The motivation boost is also urgently needed. With more than 40 congress seats, Latino voters could decide on the outcome. According to surveys, however, only a third of those eligible to vote with a Latin American background want to cast their vote.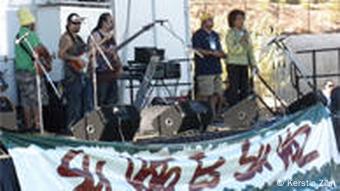 Stage at Latino voter mobilization in October 2010
19-year-old Diana registers as a voter at one of the booths with election information. The daughter of immigrants from Mexico was born in the USA and therefore has US citizenship and is allowed to vote. Her parents are among the roughly twelve million undocumented Latinos in the United States. You cannot vote and only work illegally. They face deportation every day. Diego Perez urges his daughter to vote for candidates campaigning for the legalization of undocumented immigrants. For him this is the most important issue, he calls for a reform of US immigration policy: "We all come to this country to work hard. If I had the chance to vote, I would vote for immigration reform."
Latino voters are becoming more and more influential
In California, 20 percent of voters are Latinos, and nationwide, the figure is eight percent. And the trend is still increasing - through children of immigrants born in the USA who come of age and can vote, as well as naturalized immigrants. Latino voters could decide on election results because of their high proportion of the population in twelve states. Immigration is the most important political issue for most of them. They are disappointed that President Barack Obama failed to push through immigration reforms in his first year in office, as he had promised.
In California, the gubernatorial election is particularly interesting in this regard, explains political scientist Sherry Bebitch Jeffe of the University of Southern California in Los Angeles. "In California, Latinos are one of the most important groups of voters - especially for Republicans."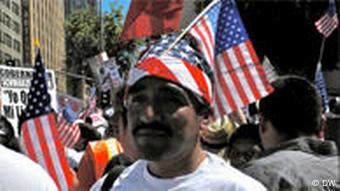 Many migrants had hoped that Obama would reform immigration law
Typically, Republican candidates need 35 to 40 percent of the Latino vote to win a race in California. "For the Democrats, this electoral group is vital because it is part of the core electorate."
Ex-eBay boss on the defensive
Republican Meg Whitman and Democrat Jerry Brown advertise in Spanish to attract the coveted group of voters. Whitman won over 30 percent of Latino voters with her multi-million dollar media strategy. But then the past caught up with her - on a subject that hit California immigrants right in the heart: A housekeeper said she worked for Meg Whitman for nine years without papers until she got in the way of the Republican political ambitions two years ago stood and got fired. Political soap opera could be fatal for Whitman, explains political scientist Sherry Bebitch Jeffe: "Now of the Latinos who did not want to vote because they are disappointed with the democratic immigration policy, two to three percent could vote out of anger. And with one like that That can be extremely important for close races. It could make the difference between victory and defeat. "
President Obama, friend of the Latinos
Because the Latino voters nationwide could tip the scales in over 40 races, Obama turned directly to the courted group of voters. The US President called out to those present at a gala held by the Latino Committee in the US Congress in September: "Do not forget who is by your side and who is against you! Do not forget who is providing health care for your children and who is responsible for taxes for working class families. Don't forget who your friends are! "
Organizer Antonio Gonzalez steps onto the stage again at the Latino voter mobilization event in Los Angeles City Park. Because every vote counts in the congressional election, he shouts one last time: "Please take part!"
Author: Kerstin Zilm
Editor: Mirjam Gehrke