What do foreigners think of Bangladesh
Is IS active in Bangladesh?
The Italian aid worker Cesare Tavella was walking on a street in one of the diplomatic quarters of the Bengali capital Dhaka when he was shot from behind. Three unknown attackers escaped from the highly secured area on a motorcycle. The murder happened on the evening of September 28, 2015, two days after the Australian cricket team postponed their trip to Bangladesh for security reasons.
Another foreigner, Japanese businessman Kunio Hoshi, was killed in a similar attack in the north of the country on October 3. It was said that he had lived there for more than a year and was popular with the local population.
The Islamic State is committed
The Islamic State (IS) terrorist group has reportedly assumed responsibility for both murders. The US think tank SITE and the Middle East Media Research Institute (MEMRI), which deal with the websites of radical Islamists, have now confirmed this.
In western foreign countries the events were received with great alarm. The US ambassador Marcia Bernicat announced that the US is willing to support Dhaka in the fight against terrorism. "We have everything we need to prevent ISIS from spreading in Bangladesh," said the diplomat in early October. Some countries such as the UK have issued travel warnings and safety warnings for foreigners living in Bangladesh.
Domestic disputes
However, neither the police nor the government wanted to confirm that ISIS was responsible for the murders. Instead, Prime Minister Sheikh Hasina accused her political opponents of conspiracy to damage the image of her government.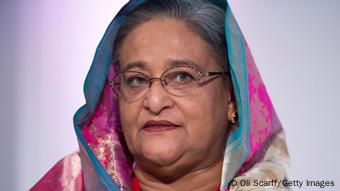 Sheikh Hasina has ruled out any Islamic State presence in Bangladesh
Unsurprisingly, her son and advisor, Sajeeb Wazed, was in the same direction. He claims that the Bangladesh Nationalist Party (BNP) and Jamaat - the two parties that make up the main political opposition alliance - were behind the murders. "They did this in a desperate attempt to incite foreign governments against our country and destabilize it," Wazed wrote on his official Facebook page on October 7, 2015.
The allegations were immediately denied by the BNP on the grounds that they were attempts by the government to accuse others in order to "distract from their own failure". At a press conference in Dhaka on October 8th, the party called on the government to form a "national unit" with all political parties and citizens in order to combat "militant" forces.
"IS presence is proven"
While Prime Minister Sheikh Hasina resolutely hides any evidence of the presence of IS fighters in Bangladesh, the country's media are full of it.
The analysis of terrorism expert Nur Khan from Dhaka is also unequivocal: "There is evidence of the presence of IS in Bangladesh. Police and secret services have arrested a number of suspected members of this terrorist group in the past year and a half," he said. In addition, local media published news, information and photos of the terrorists' activities. "We also know that some Bangladeshis have traveled to Syria to join ISIS. The police have already confirmed this in many cases," added Nur Khan.
Shahidul Alam Khan, a retired army general and terrorism expert, argues that it is too early to draw any conclusions about the background to the murders of the two foreigners. A careful and comprehensive police investigation is essential. "These murders have undoubtedly been carefully planned. Even if IS is not involved, its sympathizers operate in Bangladesh. And there are other militant groups here as well," he said in an interview with DW.
Rita Katz, director of the SITE think tank, called on the government not to ignore IS statements. Katz says she has evidence that the terror group is already operating in the country.
One thing is certain: four bloggers critical of Islam and two foreigners have been murdered in Bangladesh so far this year. Islamist groups have claimed responsibility for these murders. Ali Riaz from Illinois State University studies militant extremists in Bangladesh. He's worried about the latest series of murders in his home country. He told AFP in a telephone interview, "These murders are particularly ominous signs. There is a pattern that all of these acts were carried out by militant fighters."
Riaz believes the country's future is at stake: "Because if these killings continue, the violence will continue to spread and threaten political stability and the economy." His concerns are shared by many in Bangladesh. They too fear that IS will intensify its attempts to gain a foothold among the Islamists in the country.