Is the Chinese cuisine the most advanced
Food in Germany and China: pork knuckle, smelly doufu and steamed bread
1.18 million people follow Dong Jianmin on Weibo, the Chinese Twitter clone. In addition to his food blog, "Jimmy", as he calls himself on social media, writes lengthy travel reports that are published online and widely shared. He regularly presents the culinary traditions of foreign countries on Central Chinese Television. The Beijing resident recently familiarized himself with the special eating habits of southern Germany. A good reason to ask him about the Chinese too.
You have already reported vividly about your impressions of Munich on your blog. How is the response to your culinary experiences in Germany?
Dong Jianmin: On the whole, there are two different reactions: One group is the more traditional one, which believes that the food in Germany is not that exciting, rather a bit boring. When you see in my blog what kind of restaurants I have been to, you are somewhat amazed and ask how it can be that you can eat so well there.
The others, more like the boys, are one thing above all else: very curious. They would like to try everything and come here. They even ask me for the address and phone number of the restaurants. I have set up a special service for such users that they can use when they travel: with restaurant recommendations, information on the menu and specialties.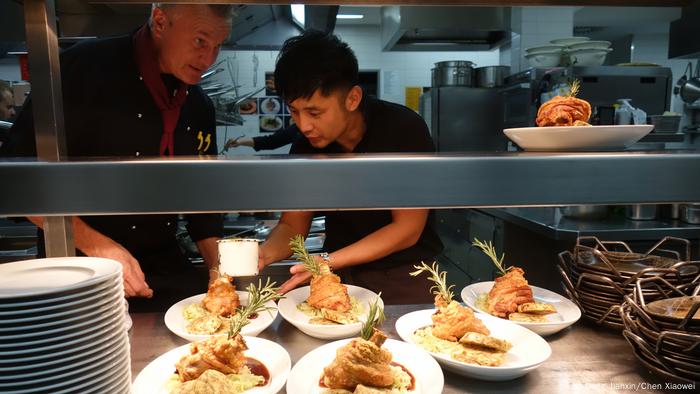 Pork knuckle, prepared jointly by the chef and the Chinese kitchen researcher
You have visited traditional and specialty eateries and delicatessen shops. Together with a local chef you prepared dumplings and pork knuckle, drank exquisite coffee and Bavarian beer in Munich and wine in Würzburg. What did you like best so far?
I was particularly interested in pork knuckle because we prepare it in traditional Chinese cuisine in different ways, either boiled or fried. It can easily go wrong, the knuckle can burn or be cooked too soft. But in the "Münchner Stub'n" I saw how easy it is, thanks to modern kitchen technology. You simply set it up: first cook for 45 minutes at 180 degrees, then grill for another ten minutes at 200 degrees. I think that's great, you don't need a person anymore, just a device. It would be more difficult in China, where everyone is guided by their own experience. Here in Germany tradition and science unite, and the result is a very advanced method of preparation.

What are you interested in German cuisine?
I do a lot of TV programs in China. A lot of people are interested in what I say because it brings them to know new countries and new foods. I am also a juror on cooking programs such as "The Taste of China" (Zhongguo weidao). And if you want to rate the chefs fairly, you also have to know the dishes from different countries, including those of such an important country as Germany. There are good culinary traditions here that I want to understand.
You were also at the Tegernsee. There you visited a cheese dairy, got to know alpine herbs and the natural production methods of mountain farmers. Can you imagine that such small farms will find imitators in China?
There are already large numbers of them in China, very traditional. China is so big and every region has its specialties. No matter where you go, there is always a local treat to bring home as a gift.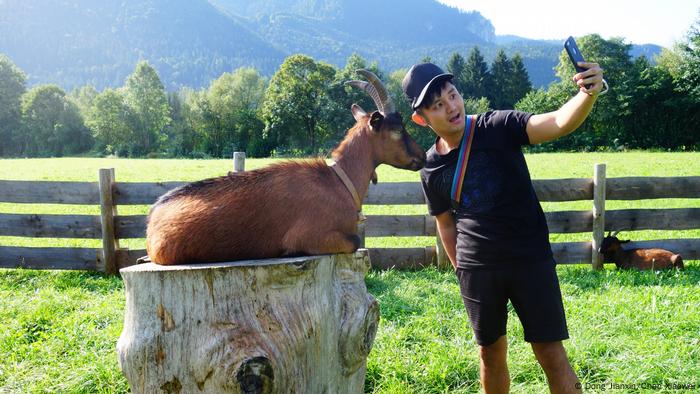 At Tegernsee, it's not just the food that's interesting
But traditionally the Chinese don't like cheese, do they?
The young people eat cheese with gusto. My daughter, now thirteen, has been eating French cheese since she was three or four years old. We also have dishes that taste very similar: "Smelly Doufu" for example, or the so-called "Centennial Duck Eggs".
More and more Chinese people who can afford it are buying food from abroad or organic food. Does organic farming have a significant opportunity in China?
Until recently, China had a strict one-child policy, especially in cities. This one child is the most important thing for the Chinese, for which many only want to buy the best. But of course that is also a question of money, not everyone can afford it. It is true that more and more people have been buying organic products for the last four or five years. But our population is very large, we couldn't feed them with organic farming. In my TV programs, for example, I rarely advertise using organic or very high-quality products for the dishes - we are simply not that advanced in our attitude, we have been too poor for too long and we are too many people.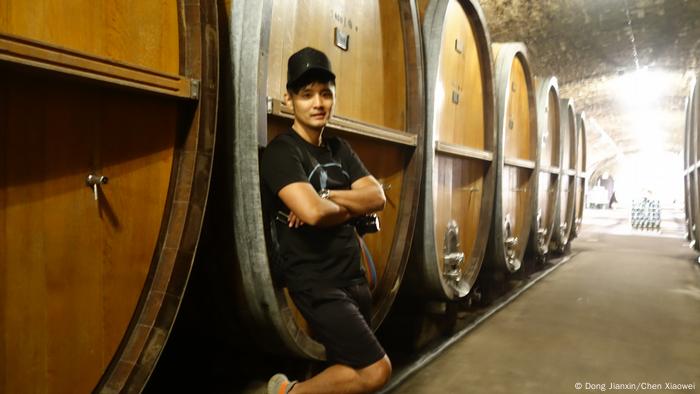 Wine tasting in Würzburg
In Chinese you don't say: "Hello!" Or ask, "How are you?", But as a greeting you ask: Have you / have you already eaten? How important is food in China?
We ask literally translated, "Have you eaten 'fan'?", More in the sense of, "Are you full?" "Fan", that literally means rice, but it means everything that fills you up, steamed bread, rice, salt rings ... - the status is like that of bread in Germany. There used to be no other dishes to go with it. Now we're not so poor as a beggar, and people eat plenty of food, including a lot of meat. But we are already noticing that this is not so good for your health. Now people are starting to think about vegetarian food. Many people now pay attention to a healthy, balanced diet.

Three or four years ago, President Xi Jinping banned excessive feasting and imposed thrift not only on administrative staff, but on employees and officials in all state institutions. Expenses were cut and the popular business lunches no longer took place. How did the Chinese gourmet restaurants survive?
This is still a problem for many upscale restaurants. Quite a few had to close. The cadres are no longer allowed to eat big. I also have restaurants myself. But I say to myself: the incomes of ordinary Chinese consumers will increase, they will replace cadres and officials. It's just a matter of time, it can take three years, maybe a little longer.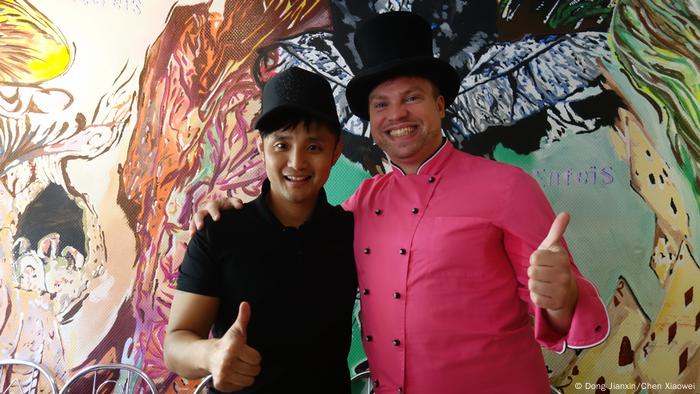 The "Crazy Ice Cream Maker" had ice cream with herbs
Why do Chinese people in restaurants often leave half of their food almost untouched on the table?
Up until the Song era (960 to 1279) it was the same in China as in the West that each eater had a dish in front of him, in Korea and Japan too. Then that changed, the table has been full of food ever since. But the problem is: someone orders for the whole group, and since the people are very polite, they order plenty, so much that you can't finish it. In addition, the principle of seniority and hierarchy applies: When older or higher-ranking people sit at the table, you hold back. The invitee also wants to emphasize his social status, he must not order under any circumstances. The solution now is to have the leftovers packed up, which has now become common. But the habit of ordering too much is slow to change. Even if the Chinese, who have had almost nothing to eat for so long, basically hate to waste food.
Many foreigners consider Chinese cuisine in all its diversity to be the best in the world. But not the Chinese, but the French cuisine was chosen as an intangible world cultural heritage. Don't you think that's unjust?
In any case, that is unfair. Chinese cuisine has already given the world a lot: If you look at Thailand or Japan, you will find dishes there that originally came from the southern Chinese provinces of Yunnan, Guangxi or Guangdong, centuries ago. Many spices, such as soy sauce, were also discovered in China. In the meantime, fusion cuisine has also taken on Asian influences worldwide.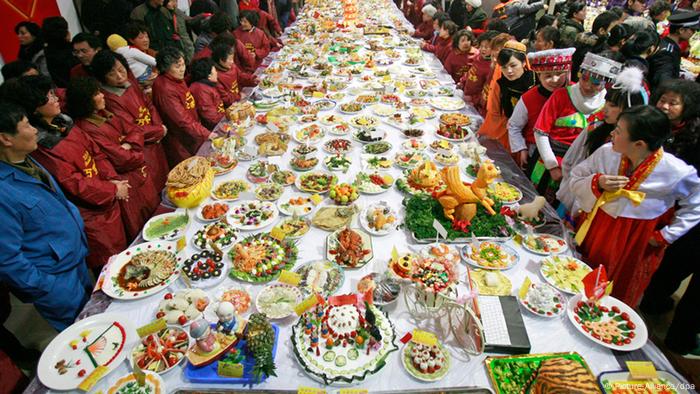 When the tables bend ...
There are still Germans who believe that all Chinese eat dogs and cats and maybe a monkey brain on Sundays. What do you tell them?
First of all, I will say that I respect tradition. It's the Koreans who eat dogs, the Chinese themselves don't. For us the dog is a friend. But the Koreans raised dogs in the past - like pigs. Raising pigs is difficult in winter, so they kept dogs and fed them fat. That's how they developed ways of preparing food back then and got used to them.
And why are there so few Chinese restaurants in Germany that actually cook Chinese?
Thats is quite easy. The first Chinese to come to Germany all left China. They were poor and not very demanding. Therefore, they only cooked things that they thought foreigners could eat, Chinese dishes with different flavors. Now there are Chinese with money, but they prefer to open a Peking duck restaurant in New York. Maybe I should open a restaurant in Germany ...
The interview was conducted by Sabine Peschel.