"Our children are gay and happy"
When the two were teenagers, Silke Haselmann hid from her brother Holger that her girl liked, and Holger hid from her that he had fallen in love with a classmate. The parents Brigitte and Bernd Haselmann suspected that their son had homosexual tendencies, but they did not question him. But her daughter's coming out hit her like a bolt from the blue.
The Haselmann family sits together at a table in Silke's cozy apartment in Cologne: Silke and her wife Yvonne with their 14-year-old daughter Leah, Silke's brother Holger with parents Bernd and Brigitte. They like to tell about their unusual family.
Memories of Holger's coming out
Holger says he decided to speak openly about his homosexuality before he comes of age. He was surprised that his openness did not lead to a quarrel in his family. "My mother burst into tears, but she said she suspected it and took me tightly in her arms. My father was more reserved, he had to digest and understand everything first," he recalls.
"I wasn't mentally prepared for it, although I knew that Holger was friends with girls as a small child and that he liked to play with dolls. As a father who is a sports enthusiast, I wanted my son to play football or tennis," says Holger's father Bernd . His daughter Silke, on the other hand, was fascinated by football. She went to soccer games and training with her father and wanted to study at the sports college.
Today Holger and Silke talk openly about their youth
Bernd remembers that at first he thought that his son's homosexuality was a "whim of youth" that would pass. But then he saw how his son suffered from the unrequited love of a classmate: "Then I realized that it was much harder for my son than I thought."
Shortly after their son came out, the parents sought advice from experts from an LGBT organization in Cologne. A professor from Bonn, whose three children are homosexual, organized seminars especially for parents of homosexual children. "Without his confidential talks and advice, we would have continued to live in the error that this is something of an illness and that our son can be cured of it," says Brigitte. Holger is now 40 years old. He already had several partners. He lived with the last one for eight years.
Silke gives birth to the second daughter
One year after her brother came out, Silke introduced her friend to her parents. It was a shock for the parents. Today they have two granddaughters: Lea is 14 and Julia was born in May of this year. Both daughters were conceived by artificial insemination.
Lea's classmates and friends know she has two mothers. You deal with it completely normally. "But the first time I told a friend that I have two mothers, she was horrified and said: If you have problems, you can always ask me for help. I was surprised. I don't need any help, I'm completely happy." says Lea. Now she is very happy about her little sister.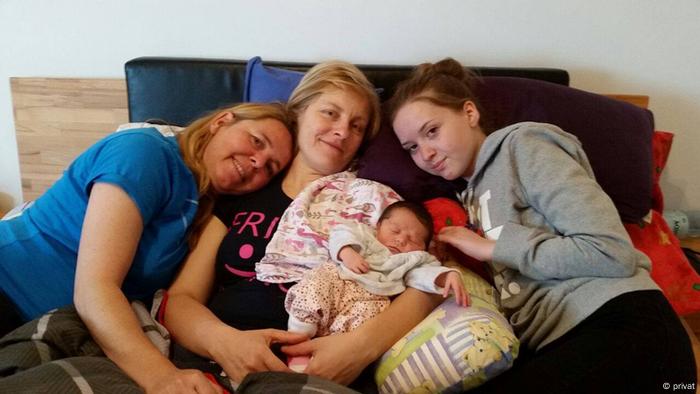 Silke, her wife Yvonne and daughter Lea are happy about little Julia
"Many people still have prejudices"
Silkes and Holger's mother is convinced that parents notice very early that their children are different. But not all would respond appropriately to their children's homosexuality. "At first we tried to distract Holger from playing with dolls. But he wasn't interested in cars and airplanes. We didn't think that our daughter's interest in sports and football could have something with lesbian tendencies," says Brigitte.
The Haselmanns love their children no less than if they were heterosexual. "However, I would wish them an easier fate, because despite the fact that the state and society are tolerant of homosexual people, many people still have prejudices against them," says Bernd. "Here in Cologne there are great parades and festivals for homosexuals, but in the country some people are still afraid to admit their homosexuality."
His wife Brigitte thinks that in many ways, thanks to the homosexuality of her children, the family keeps the family closer together: "We have very attentive and sincere children. We do not hide from anyone that our son is gay and our daughter is lesbian. You can do that in Cologne today no longer surprise anyone. I think our children give us a lot of love in return for the fact that we take them for who they are. It cannot be otherwise, they are our children! "