Trump's parents were immigrants
US civil rights activist: Hundreds of migrant children separated from parents
More than 900 migrant children are said to have been separated from their parents by US authorities since a court banned the controversial practice in June last year. This is the result of research by the American Civil Liberties Union (ACLU). The civil rights movement called on Tuesday the federal court in San Diego, which had issued the order at the time, to stop the separation of children from their families when illegally entering Mexico. ACLU attorney Lee Gelernt said, "It's shocking that the Trump administration continues to take away babies from parents." The administration of US President Donald Trump is circumventing the order of the court.
Separation for the smallest offense
According to the ACLU, the government argues that after the order, the authorities are empowered to separate children from their parents under certain conditions: for example, if the parents have a criminal record, do not fulfill their parental duties or pose a danger to the child. The ACLU accuses the government of systematically separating children from their parents and using them as a pretext for parental offenses such as violating traffic rules or alleged doubts about the parents' abilities. The civil rights activists asked the court to issue clear guidelines.
Babies and toddlers continue to be affected
The ACLU cited numerous cases in its application that cast doubt on the authorities' decision. For example, a child was separated from its mother because she was accused of being linked to criminal gangs. The only connection was that the woman was raped by a gang member.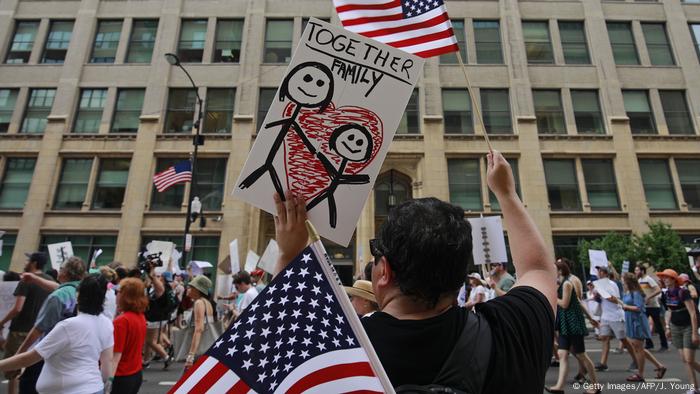 Protest in Chicago against the separation of immigrant families in June 2018
The daughter was taken away from a father because he had not changed her diaper - the man did not want to wake the sick child. According to the ACLU, a total of 911 children were separated from their parents between June 26, 2018 and June 29, 2019, according to data submitted by the government. In around 20 percent of the cases, children under five were affected.
Zero tolerance policy causes outrage
In the course of his fight against illegal immigration, the US president began in May 2018 to have migrant children separated from their parents. His so-called zero tolerance policy towards immigrants caused outrage and sharp criticism. Six weeks later, Trump made a U-turn. Migrant families should only be separated if the parents represented a "risk" for the children. A federal judge ordered the 2,700 children who were separated from their parents in the six weeks to be reunited with their families.
bri / mak (dpa, afp)