Celebrate Spain festivals in other countries
Spanish celebrations & festivals
Spanish celebrations & festivals
Spain is known for its festivals and festivals. Every city in Spain celebrates its own festivals here, which are influenced by the cultures and traditions of the region. If you decide to learn the Spanish language in a Spanish city, then you should not only look at which language schools offer the best language program, but you should also take a look at the calendar of events to find out whether it is in time Whenever you are planning your language holiday, there will also be one or the other festival in the region. Because where can you learn more about culture or traditions than at a traditional festival in the city or region?
Whether you come to Spain in winter, spring, summer or autumn, you can be almost certain that you will experience at least one of the many Spanish festivals. The Spaniards are an absolute party crowd and do not miss the smallest party and populate the streets of cities and villages. Here you can watch various colorful parades and the Spaniards in their traditional clothes doing typical Spanish dances, you can try different Spanish dishes that are sold in the markets and you can celebrate for several days. One of the most famous festivals in Spain is probably the race with the bulls in Pamplona which every year attracts thousands of visitors in June. This is a week-long party where bulls are let loose in the streets of the city. This festival has a very long tradition and is one of the most popular festivals in Spain.
The Spanish Carnival is also very popular with language students and other visitors and locals. This event takes place mainly in the southern regions of Spain, where you can experience the best Spanish Carnival in Tenerife, should you decide to visit a language school in Tenerife. But other regions in Spain also have great festivals which can give you a great insight into the culture and traditions of Spain.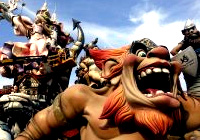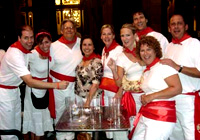 On the next pages we would like to introduce you to the largest and most interesting folk festivals and festivals in Spain. Spain has it all: happy festivals like the April Fair in Seville or crazy traditions like the bull race in Pamplona; Folk festivals that last a whole week or just a day, strictly religious processions or celebrations until you drop. The Spanish folk festivals are a symbolic mirror of the Spaniards and their diverse culture. Pick your favorite party!
Typical celebrations & festivals