How to prepare smoked salmon
Fried potatoes with smoked salmon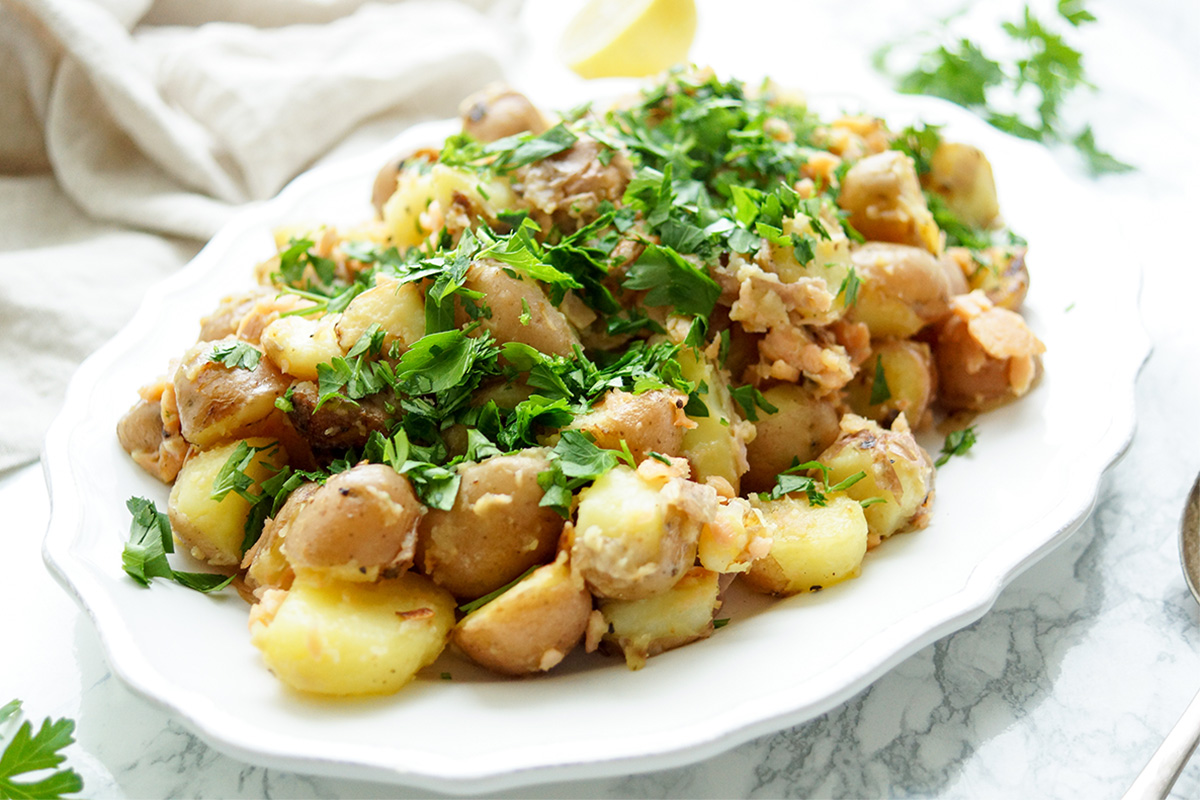 Hmmm, fried potatoes with smoked salmon! Forget fried potatoes with bacon! Because smoked salmon takes the fried potatoes in this recipe to a whole new level. And that's not only healthier, it also tastes incredibly good. Already the smell of fried garlic with shallots and potatoes makes me look forward to it. And for me it is somehow connected with a feeling of well-being and yes, the weekend!
Fried potatoes with smoked salmon also go very well with a hearty Sunday breakfast
You don't always have to go to a restaurant for brunch. Because this fried potato recipe is also suitable for a hearty lunch. Or you take it as the grand finale of a beautiful day. Everything goes. And when choosing salmon, as always, I recommend only choosing fish with a sustainability seal. I learned a lot about this on my trip to a salmon farm in Norway.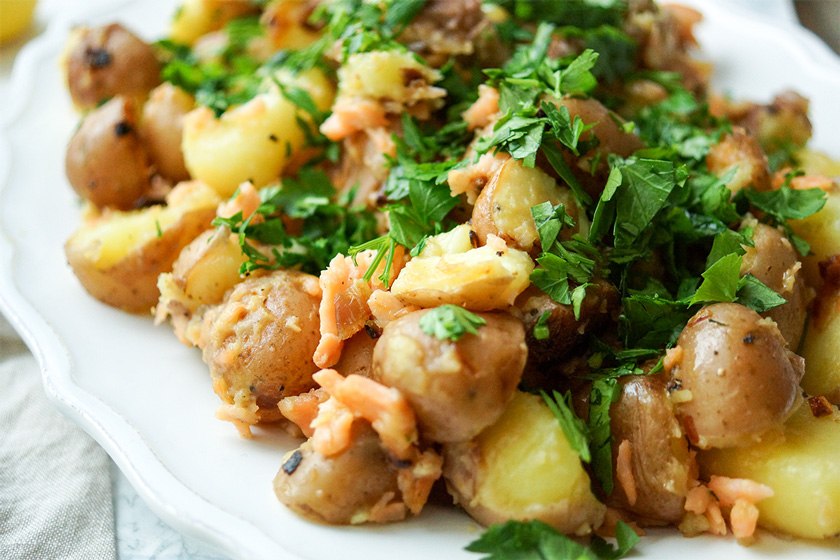 The salmon is the icing on the cake of this recipe
I think that warm and smoked salmon beats the well-known fried bacon by far in terms of taste. The oldest son of my dearest Swabian sees it differently. But we live in a democracy. I even go as far as saying that the warm salmon has a bit of bacon flavor in it. Ok, real bacon lovers will certainly not follow me that far. But a smoked salmon is definitely the healthier alternative. And especially with children, I would just serve this variant without notice. Because when I announce fish to us, the little ones shake their heads immediately. But if I just put a dish on the table without much comment, they usually start eating without realizing what is actually on the plate.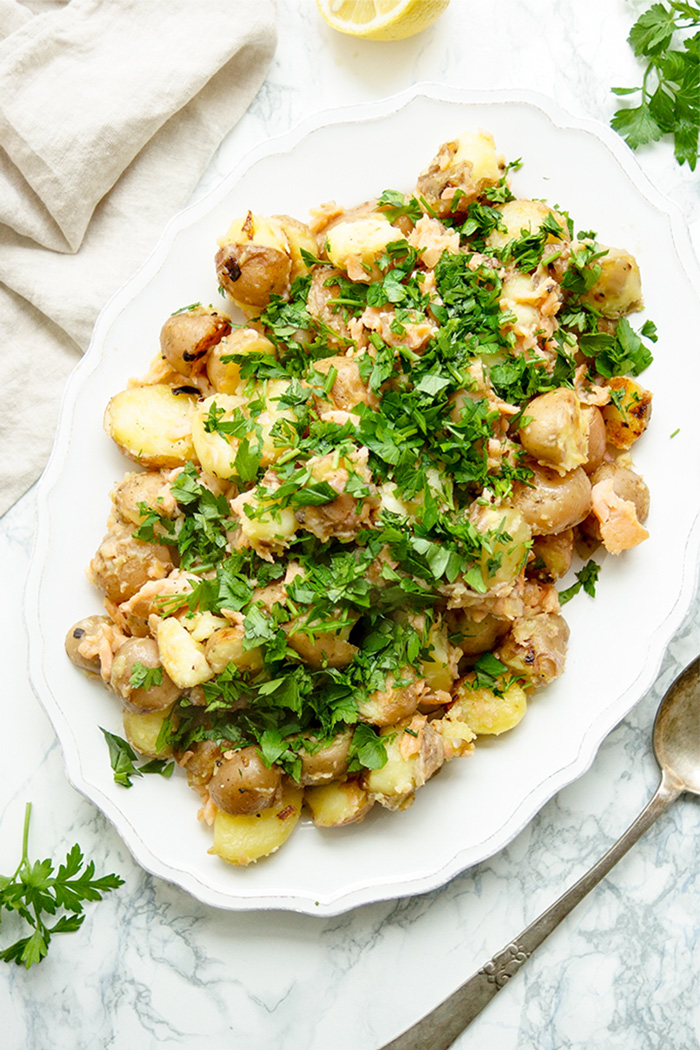 Smoked salmon bacon
I heard once that there is a dish in the UK called "Smoked Salmon Bacon". Does anyone know about you? And in Canada there is a version of this recipe with birchwood smoke smoked salmon with maple syrup. Who of you still knows the old TV series "The Man in the Mountains". He probably ate it the same way. Well, that's my Canadian compatriots. I haven't tried it yet, though.
Should fried potatoes be made from boiled potatoes?
Definitely if I have my way. The dearest Swabian, on the other hand, prefers fried potatoes raw. That is certainly a matter of taste. I would say you just try it out with this recipe. I first boiled the potatoes in water and then cut them into thick slices before frying them in the pan. But you can also cut them into cubes if you like that better. You can do it as you want. And the more adventurous among you can make a fried egg. You could almost call it a Canadian farmer's breakfast. Enough chatted, get on the stove!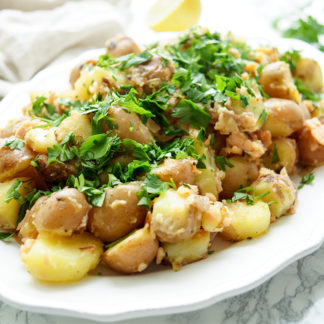 Print
Fried potatoes with smoked salmon
A simple recipe for fried potatoes with smoked salmon. The salmon replaces the classic bacon and gives the fried potatoes a unique aroma. For the fried potatoes, I recommend boiling the potatoes in water beforehand. For 4 or 2 people as a large main course.
ingredients
For the potatoes:
2EL extra virgin olive oil
1 clove of garlic, crushed
2 shallots, cut into small pieces
1kg young potatoes new potatoes, boiled in water and cut into slices or pieces
A pinch of salt
Freshly ground black pepper, to taste
200gSmoked salmon, cut into small pieces
A small bunch of flat-leaf parsley, the leaves cut into small pieces (approx. 3-4 tbsp)
For the dressing:
2EL extra virgin olive oil
1 tablespoon lemon juice, freshly squeezed
preparation
Boil the potatoes unpeeled in a large saucepan with boiling water for about 15 minutes until they are almost cooked. Under no circumstances should they be muddy.

Tip: This step can also be carried out the day before. Then cover the potatoes and store them in the refrigerator.

Now heat the olive oil in a large, non-stick pan on medium heat. Then add the garlic, shallots and potatoes and fry. While frying you should turn the potatoes with a kitchen spatula every 2-3 minutes and fry them until they are slightly brown (approx. 10-15 minutes).

In the meantime, mix the olive oil and lemon juice in a small bowl.

Now add the smoked salmon and continue frying (approx. 1-2 minutes).

Now drizzle the oil and lemon mix over it and mix well.

Finally, put everything together on a serving plate and garnish with parsley.
Tips
A smoked salmon is naturally salty. That's why you don't have to salt it anymore, you just need to spice it up with pepper to suit your taste.
Have you tried this recipe?
Tag @ellerepublic on Instagram and use the hashtag #ellerepublic
How did it taste?
I would be happy if you tell me how you liked the recipe for fried potatoes with smoked salmon. The easiest way is to rate the recipe below with stars ⭐ or write me a comment. Especially if you have more tips for all readers.
Have you changed anything in the recipe?
I am always happy to receive tips and suggestions from you. Leave a comment so everyone can see what ideas you've come up with. Sharing is caring :-).