Will real estate prices fall after Brexit?
Brexit fear: British property prices are falling
pte20190808019 Business / Economy, Building / Housing
Uncertainty due to a possible no-deal exit discourages buying - rents are on the rise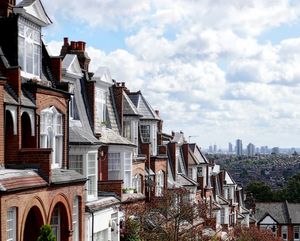 Suburb of London: House prices are falling (Photo: pixabay.com, quicksalanda)
London (pte019 / 08.08.2019 / 11:30) - House prices in England are falling due to the uncertainty surrounding a possible no-deal Brexit. According to a market analysis by the British professional association for real estate professionals, the Royal Institution of Chartered Surveyors (Rics) http://rics.org, the British are currently reluctant to buy or sell real estate. Although prices are falling in England, they are increasing slightly in Scotland, Wales and Northern Ireland.
Houses too expensive for young people
Simon Rubinsohn, senior economist at Rics, sees a slowdown in prices and sales volumes. "All important indicators are fairly stagnating," the Guardian quotes the expert. Despite the lower prices, most Britons still couldn't buy a house with their wages. Over the past three months the average price of a house in England has fallen by about £ 600 to £ 236,120.
Rics asked experts about their forecast for the second half of 2019. According to them, prices will continue to fall. However, it hardly makes a difference, especially for young people. Around one in four Brits between the ages of 20 and 34 still live with their parents, which in total applies to around 3.4 million people.
Rents are getting higher and higher
Because the likelihood of a no-deal Brexit has increased under the new Prime Minister Boris Johnson, the British no longer want to take the risk of buying a property. Most Britons rent real estate. However, according to Rics, rents in the UK could rise in the coming months. The demand for rental houses and apartments rose in July 2019 to the highest level since 2016, with the supply falling further and further.
(End)