Is a PSU employee a civil servant?
Report on a special mission
Taken from the archive of the Saarbrücker Zeitung.
http://saarland.sz-sb.de/Elias/detail_it.jsp?number=1
Published: 02/03/2009 / SZR / SBM_MAN / ATDT_2. Department: Topic of the day. Text name: tt2-3.Police lead story.ART.
First aid for the policeman's soul
After extreme situations such as the bloody family drama in Roden, a support concept helps emergency workers
Even police officers who are used to suffering do not easily cope with extreme situations. So that they do not suppress their burden, the Saarland police use a care concept based on the Roden drama.
By SZ editor Harald Knitter
Saarlouis. When the extent of the horror became apparent, the contingency plan started immediately. "That in Roden was one of the worst sights that a police officer has seen here," says Norbert Rupp, head of the Saarlouis police district. "In exceptional cases, my employees should call me, here they did it within 15 minutes. I would have liked to save myself the sight, but I had employees there who were deeply affected. You should see: the boss is there too. "
The local emergency services also called emergency chaplain Winfried Lorenz. He and his colleagues from the specialist service for psychosocial support in emergencies (PSU), which was founded in 1996, are mostly asked about fires and accidents, whether in traffic or at home. "We primarily take care of victims, relatives and eyewitnesses," says Lorenz. "In cases like now, we also support the police. When delivering a death message, we are there to provide first aid for the soul. "
Alerted by friends of the family, the police officers drove into Gerberstrasse on Saturday evening a week ago with flashing lights and sirens. The officers had to enter the house from behind through the cellar. "The pressure is enormous if I don't know: Will I find someone there and can they still be helped?" Explains Rupp. In the living room they met the woman who had been slain with an ax, the drunk husband covered with blood on the couch. In constant hope and fear, they went from room to room, found the man's stepdaughter (20) and son (6) killed with a long kitchen knife, only the three-year-old son was unharmed in the cot.
So that there are no additional victims of such horror: In the case of police officers who are traumatized by the operation and never get rid of the horror, the Saarland police apply a care concept that was developed after the rampage at the Erfurt school in 2003. Rupp helped develop it.
On the night of the gruesome discovery, he called his emergency services together: "The reaction was astonishing. When calm returned, they told incidents from ten or 15 years ago, one to one, as if only a drawer had opened. "
Stage two followed on Wednesday: State Police Pastor Christine Unrath and State Police Dean Rolf Dillschneider, who together with the police doctor and the police psychologist belong to the care quartet, sat down with the officers from Saarlouis. They showed what can happen to them "that they are not wimps in the wrong job" if they showed unusual reactions such as insomnia, cravings for sweets or the horrible sight. It can take three or four weeks for this to happen. "When the high stress subsides, the questions come," explains Unrath. The supervisors have the right to refuse to give evidence. Unrath emphasizes: "It can make sense to give an absolute shelter as an asylum for the soul, without being forced to prosecute." Religious questions are also discussed. "It often happens that someone says: My faith is shaking. How can God allow that? "Reports Dillschneider. If police officers had to take up arms, some consider: Can one be innocently guilty, for example to kill a gunman with a shot?
Even at the technical college, all future police officers go through our hands, says the police dean: "If it is clear that you will be exposed to extreme stress, it is important to be prepared for it." Rupp restricts: "You can still describe how often Looks like blood and an injured skull. But when you see it for yourself, when you smell the blood, when you hear the suffering, it's always a shock. "Graduates from the UAS conducted anonymous surveys for their diploma theses, including about the psychological stress of police officers. "There is a lot more to be found than the 'tough colleagues' usually admit," says Police Chief Rupp. "We notice that this opportunity for discussion falls on fertile ground." Unrath agrees: "Experience shows that colleagues learn to open up. Older people in particular say: That didn't exist in the past, it's good for us. "
Serious exposure - such as the use of firearms, threatening one's own life, experiencing death or serious injuries to other people - could amount to an accident at work, sometimes leading to occupational disability. A support team of ten police officers help affected colleagues with organizational matters.
After extreme stress such as in Roden, Rupp leaves it to its emergency services to decide whether they want to take some time off or stay on duty. Police Pastor Unrath says: "It is often not advisable to take her off duty. They then lack contact with colleagues who have experienced something similar. And they do not know the progress of the case that is afflicting them. For many, work is the corset that keeps them upright. "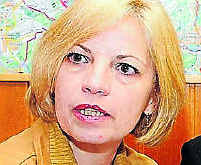 "You are no wimp in the wrong job." Police pastor Christine Unrath on police officers with symptoms of stress.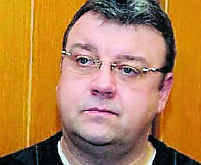 "When we deliver a death message, we are there to provide first aid for the soul." Emergency chaplain Winfried Lorenz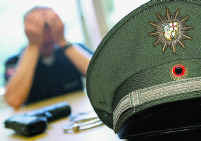 Many police officers suffer trauma from extreme situations on duty.
Photos: dpa / Becker & Bredel; Photo montage: SZ