Is skin color important for Indian girls
Bollywood film against "the brighter, the more beautiful"
When Bulbul was a little girl, her mother sprinkled white talcum powder on her dark skin so that she was as light as her bright white sister Pinky. Without success. Bulbul walked her whole life in the shadow of her little sister. The darkness spread to her heart. Years later, she hangs herself in her own beauty salon. But Pinky speaks of murder. She says, "Society murdered my sister."
It is a sensitive topic that the Indian director Akshay Singh has addressed in his latest film "Pinky Beauty Parlor". The disdain for dark skin is deeply rooted in India's society. Many sociologists and historians see this attitude as a legacy of colonial times. The British in particular are said to have made white skin a symbol of power and a better life. The closer you got to this picture, the higher your own status. Indians call this attitude a "colonial hangover", a mental "hangover" that still shapes society today.
Awareness campaign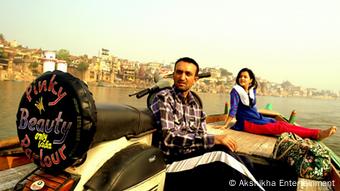 Film scene "Pinky Beauty Parlor"
Filmmaker Singh wants to wake people up with his film and the accompanying campaign "Let's unlearn". The film is slated to open in Indian cinemas in early 2017. It has already been celebrated at international festivals in Mumbai and Cannes. Singh is not the first to put the topic in the spotlight. The "Women of worth" (WOW) initiative has been creating public awareness of this with its "Dark is beautiful" campaign since 2009.
But bringing a film with this topic into the cinemas is not only new, it is also particularly consistent: Alongside the cosmetics industry, Bollywood is considered to be the greatest supporter of a "white" image of beauty. Famous actors like Shah Rukh Khan advertise lightening creams, and the roles are also clearly assigned: "In Bollywood, dark skin is always negatively associated. It's the poor, the prostitutes, the bad," says actress Khushboo Gupta. In "Pinky's Beauty Parlor" she takes her own life as Bulbul. In reality, their skin deprives them of certain jobs. "People say, 'You're a good actress, but we need someone with fair skin to be the heroine'."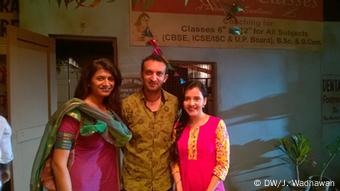 Leading actress Khushboo Gupta (l.) And director Akshay Singh (m.)
Women in particular suffer from the stigma. They are traditionally of less value in Indian society. However, the more beautiful they are, the easier it is to get married. As a backdrop, Singh chose one of those beauty salons that can be found on every street corner in India's cities for a reason. Bleaching or de-tanning are part of the standard repertoire here.
Beauty industry benefits
The film also deals with the promises of the beauty and cosmetics industry, which promotes and exploits the prevailing ideal of fair skin. All of these lotions, deodorants and washing gels promise "whiteness", "brightness" or "fairness". In the film, Bulbul is sued by one of her customers because the many facials just don't make her lighter. In reality, creams or treatments are either ineffective or even dangerous. They often contain nothing more than UV protection enriched with vitamin C. Mercury and steroids have been found in others.
But worst of all are the psychological consequences. It is not fiction that women kill themselves because their husbands, families or friends bullied them because of their darker skin tone. In wedding advertisements, parents are still looking for "bright" brides for their sons. On wedding portals like shaadi.com, users can describe their own skin as "very fair", "fair", "wheatish" or "dark" and specify their own preferences.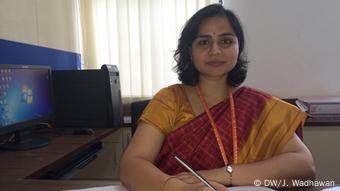 Neha Mishra from Reva University in Bangalore wants to explain what is behind the phenomenon of "colorism" in Indian society - and so fight it
Academic activist
Few Indians questioned such preferences and classifications, says Neha Mishra. The 35-year-old wants to change that, she heads the law faculty at Reva University in the southern Indian state of Bangalore. Her niece came home four years ago, she was seven years old at the time, crying because she was bullied at school because of her darker skin. Since then, Mishra has been grappling with the social significance of skin color in India. To do this, she interviewed students at her own law faculty and at partner institutes across the country. She wants to collect empirical evidence for the prejudices and in so doing is already initiating a change in awareness: "It was only when the questions were answered that many realized that they also had prejudices." More than two thirds of the first 1000 respondents also stated that they had used lightening creams before. About a fifth of them, says Mishra, stopped doing it after the questioning. "They say they didn't know how dangerous it was."
With her research, she wants to start a movement that sees treatments and creams for skin lightening no longer as an everyday routine, but as a danger to body and soul. As a lawyer, the human rights dimension is also important to her. "Discrimination on the basis of skin color must be prohibited by law; this is the only way for those affected to defend themselves."