Refurbished UPS - as a desktop or server cabinet device

Desktop device
Housing shape of a computer
DETAILS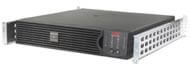 Server cabinet device
For installation in server cabinets
DETAILS
Why buy a used UPS?

In contrast to computer hardware, the technical development of UPS systems is not quite as dynamic. The speed of processors does not matter here. Rather, it is a matter of absolute reliability in UPS systems.
Here have themselves
used UPS systems
proven in continuous operation. Production errors in the system itself are excluded. A used system is tested once again by us in an all-round check for its complete functionality. The only critical component of this system is then only the battery - and you will receive it from us brand new in the usual quality from battery-direct, including the full 2 ​​year guarantee. The only advantage of a new UPS series compared to a used APC UPS system is that it is smaller. In such a case, however, we advise you to check whether this supposed advantage is necessary and also to put it in relation to the price.
The advantages of used UPS devices in brief:
price
Savings of 40-70%. Prices vary depending on the UPS model. In the case of severe optical damage, there is another small extra discount.


Quality
The products are tested on the test bench and only offered if they function perfectly and meet the parameters for a new 2-year guarantee. All the usual switching processes are checked as part of a function test under load. After successfully running through the test field, the used UPS is reset to the factory settings. The newly installed replacement battery or UPS battery from battery-direct is installed in Germany and corresponds to the APC specification.


Full guarantee
Battery-direct gives a full 2 ​​year warranty on used APC UPS systems. If, contrary to expectations, a failure should actually occur, the product (if available) will be replaced overnight or battery-direct will take care of an alternative solution.


Availability
In the range from 700 VA to 3000 VA, battery-direct usually has the most common ones
UPS systems
of the APC Smart-UPS series are usually in stock. The current model inventory can be viewed in the online shop. We also offer an attractive bonus program for resellers.