Can you join a foreign military?
When Germans fight for other armies
The media reported that Germans are fighting for the pro-Russian separatists in eastern Ukraine. Others are said to be on the side of paramilitary Ukrainian organizations. There is talk of "about a hundred", mostly German citizens with a Russian migration background. "We are monitoring this very closely," says the Federal Ministry of the Interior, but the figures cannot be confirmed like this. "We know from individuals that they are in the conflict area," says a spokesman vaguely. The Federal Prosecutor General is now dealing with the activities of German weapon carriers in Ukraine: There is no preliminary investigation, but a "general review process".
The Federal Public Prosecutor's Office with reference to the current case cannot find out any details. However, it is laid down in the Courts Constitution Act what the investigators have to check.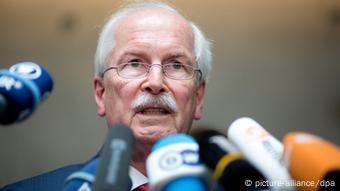 Attorney General Harald Range now also has to deal with German fighters in Ukraine
Accordingly, it is about treason and espionage as well as crimes that disturb the "peaceful coexistence of peoples". This is assessed separately for each individual case. In general, Germans are also subject to German criminal law if they commit their crime abroad and their act is punishable at the scene of the crime. But the following applies to the current cases: "Sufficient actual indications for a criminal offense falling within their jurisdiction are not yet available," stated the spokeswoman for the Attorney General.
Recruiting for foreign powers is a punishable offense
The starting position is not exactly easy. In the complex conflict, it is difficult to judge on your own what status the individual armed formations have. For comparison: the Germans who leave and join the "Islamic State" are clearly committing a criminal offense. After all, it is unequivocally classified as a terrorist organization and its support is prohibited. Someone who joins the Kurdish Peshmerga or the French Foreign Legion does not have this problem. As long as no criminal offenses are committed, wearing a foreign uniform and participating in armed actions does not appear to be a problem.
However, this should not tempt anyone to advertise for entry into foreign military service "in favor of a foreign power" at home. This is forbidden under German law, and the attempt is also punishable. There is a risk of up to five years in prison.
Loss of passport if you have dual citizenship
For Germans with dual citizenship, however, self-organized foreign assignments can be legally tricky, even without committing criminal offenses. Anyone who joins the army in their second country without a German permit loses their German citizenship. In the case of a number of countries, which belong to the EU and NATO, German approval is taken as a prerequisite. This is not the case with Ukraine and apparently, as a report by ARD Tagesthemen suggests, there are apparently Germans who shy away from re-entering the Federal Republic in order not to lose their passport with the federal eagle.
Politicians expressed concern about the voluntary German warriors abroad. In an interview with Mitteldeutscher Rundfunk (MDR), the German government's commissioner for Russia, Gernot Erler (SPD), feared that those returning from Ukraine would pose similar dangers to German society as the ex-IS fighters.