What does resilient mean?
Resilience: Examples, formulation, application, questions
"You have a strong one Resilience."

"We're looking for one resilient Employee who is under stress accumulates to top performance. "

"A calm and friendly manner, even in hectic Work situations, distinguish you. "
In job advertisements Resilience is regularly demanded. Anyone here in Write to exactly responding to this request and fitting Examples portraying this important strength increases his opportunities to an invitation to one job interview for sure.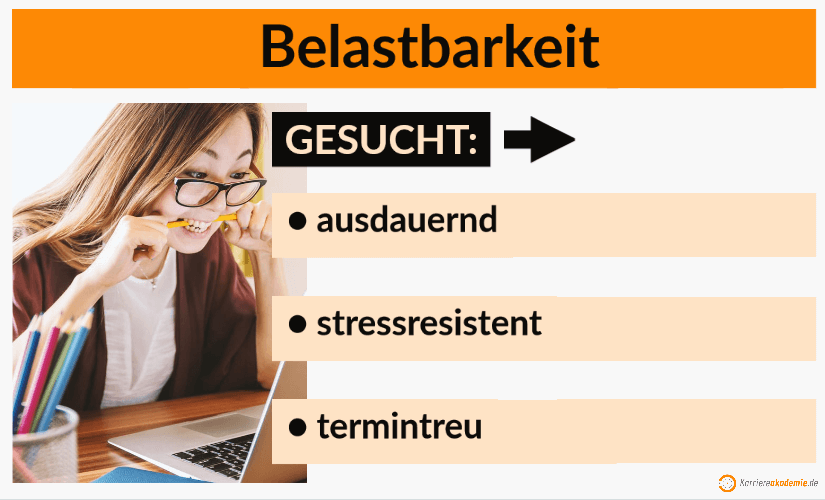 Meaning: What is resilience?
definition: Employees are considered resilientif they can do it print and the Stress demanding work situations to withstand yet convincing To perform work. As well important is about to relieve the emotional pressure of the stressful situation not on others omit.
Often asked indirectly
Not always in job postings directly Resilience mentioned. Circumscribed this important personal strength is also represented by terms such as
reliable way of working under stress,

Endurance,

Stress resistance,

concentrated work or else

Adherence to deadlines, even in times of high work peaks.
Take advantage of this Starting points for your written application, but also for your interviews.
Examples: resilient and emotionally stable
Our examples give you suggestions for a credible representation of your ability to perform convincingly even under stress.
Example: overtime
You should certainly first consider how many hours of overtime you have worked so far and whether you would like to continue doing this in the same way in the future.
If, however, overtime is part of your current and future daily work, you should describe how you have handled orders from important customers or special tasks from superiors with - hopefully temporary - overtime.
Example: deadlines
Everyday work is increasingly characterized by projects that are often subject to tight deadlines.
Regardless of whether you were involved as a project employee or as a project manager, you can point out that you have successfully mastered important dates and deadlines with additional time commitment.
Example: tasks delegated
Team, project or department heads in particular can credibly convey their stress levels by means of a sensible distribution of tasks.
Anyone who breaks down complex tasks into meaningful work packages, assigns them to the right employees and checks partial results in a timely manner, also shows how stressful they are.
Formulate: Describe like this in the résumé
It is not only in the cover letter that you can explain your tried and tested handling of stress and stress peaks. There is also space in the résumé to describe this important competence.
Construction work
For example, use keywords such as "traveling", "shift work", "night work", "development work", "pooling tasks", "replacing sick colleagues" or "training new colleagues in addition to day-to-day business".

More to offer
And, if necessary, also address these other important strengths and social skills.
Motivation,

Problem solving skills,

Enthusiasm,

structured way of working,

Organizational talent,

Solution orientation,

Ability to work in a team,

Reliability,

Self-motivation,

Sense of responsibility,

Empathy,

Flexibility,

Willingness to learn,

Creativity or

Customer focus.
Questions: Resilience in the job interview
Your self-assessment of being able to cope with demanding tasks well even under high stress is checked in job interviews with appropriate questions. Prepare yourself with our selection.
Specialist: questions
How do you react when colleagues lose their nerve at work?

How do you structure work tasks?

In your opinion, has the stress at work generally increased?

How many hours did you work overtime per week in your old job?

What do you do when you just get stuck with a task?
Manager: questions
Please tell us a stressful management situation from your last job. How did you deal with it?

What will change for you when you no longer work as a specialist but as a manager?

Which planning tools do you use in projects to make the best possible use of resources?

How do you keep an eye on the stress limit of team members?

What do you particularly like about your work?

And what bothers you sometimes?
Before telephone job interviews, video interviews and personal interviews, think about suitable examples from your everyday working life in order to credibly prove your resilience.
Of particular interest are professional challenges in which high-quality results had to be achieved under time pressure. Suggestions for Formulations and examples of good answers get in our E-learning interview. And in these special blog articles.
Telephone interview

Video interview

Self-presentation

10 most common interview questions

structured job interview

competency-based interview

own questions to new employers
Special: Tips for advanced users
If you want to emphasize your resilience, stress resistance and the quality of your work under time pressure, you should target adjectives like
considerable,

pronounced,

height,

tried or