Fight against homosexuality
-
"I was so angry with God that he let me down"
"At some point I had to realize that nothing worked and that I apparently continue to love men. I also realized that the Bible doesn't forbid homosexuality. That was a big problem for my free church, so I was forbidden to work. "
This is what Renato Pfeffer, 35, said. He grew up in the Free Evangelical Congregation and noticed there that he had homosexual feelings. That unsettled him.
At the age of 17 he turned to his free church, which entrusted him with the book "Homosexuality does not have to be fate" by Joseph Nicolosi. Nicolosi understands homosexuality, in short, as a psychological strategy to compensate for a lack of self-love through sex with men.
The exemplary Christian
«Joseph Nicolosi believed that homosexual men were overprotected in childhood by their mother and neglected by their father. That is why they lack male gender identity, "explains the religious scholar Adriano Montefusco. He has been dealing with free churches and homosexuality for ten years.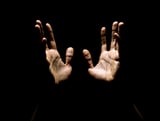 Open the person box Close the person box
Adriano Montefusco was employed at the Chair of Religious Studies as a graduate assistant until 2018. From 2015 to 2018 he conducted research in German-speaking Switzerland on the subject of homosexuality and free churches. Today he works as a lecturer for German didactics at the PH Friborg.
Accordingly, Renato Pfeffer began over ten years to come to terms with his childhood, analyze family constellations, build friendships with women, fight with men and play football in order to experience physical closeness without sexual feelings. The laying on of hands or free prayers were also part of the process at Pfeffer, but they were not the core of it.
«As long as I was doing the 'reversal therapy', I was accepted and supported in my community. I was seen as an exemplary Christian and was very proud of myself, "says Pfeffer in retrospect.
"Once or twice I told myself I was in love with a girl. But that was just wishful thinking, "recalls Pfeffer. «So it was only when I was 27 that I began to accept my sexuality. Today I have to say that I wasted ten years of my life.
An autonomous wish?
Homosexual feelings often lead to an acid test. In conversations with various devout young men it became clear how stony and serious this path is. Often this is followed by years of "pastoral care" in the hope of moving one's own homosexuality towards heterosexuality.
The men who were spoken to here have all turned to such "pastoral care" of their own accord: They wanted a "normal", heterosexual life.
Imagination of a fluid sexual orientation
But what does a "personal wish" mean in an environment in which gender roles are clearly assigned? Where this apparently autonomous desire for therapy comes from is hardly reflected in free church circles, says Montefusco. "When you get the message across that you are the 'impossible other' - how can you not want to change?"
Changes known as "conversion therapies", "reorientation therapies" or sometimes as "seminars on sexual self-determination". Behind this is the idea that sexual orientation is fluid and that homosexuality is therefore changeable.
"Most of these therapies are carried out by laypeople, but rarely by doctors or psychotherapists," says Montefusco from his research.
In the past illness, today changeable
The WHO disease catalog recorded homosexuality as a disease until 1992. In the USA in particular, she was treated with electroshock therapy until 1960. Medicine has long since turned away from this therapy and point of view.
However, the view of homosexuality is not only shaped by medical, but also by religious actors. "Since the 1990s, the debate within free church circles has fundamentally revolved around the question of whether homosexuality should be viewed as innate or learned behavior," explains Montefusco.
For the so-called "ex-gay movement", which emerged in the USA in the 1970s and has a Christian-theological character, the case is clear: homosexuality is not innate. Otherwise God would have made a mistake in creation, according to the religious scholar. A belief that can still be found in some free churches.
Faithful understanding of the Bible
According to federal statistics, depending on the definition, between three and six percent of the population belong to a free church.
Montefusco has dealt intensively with how they deal with same-sex love: «Free churches have a very literal understanding of the Bible. You do not interpret the text analogously, but as accurately as possible to the letter. And in this text there are various places where the Bible forbids homoerotic sexual acts. "
Homosexuality in the Bible
Open the box Close the box
Adriano Montefusco explains: «There are 5 biblical passages: In the Torah, anal intercourse between men is forbidden (Lev 18:22) and those involved are threatened with the death penalty (Lev 20:13). Three passages of the Pauline letters (1 Cor 6,9; Rom 1,26f .; 1 Tim 1:10), i.e. in the New Testament, name male anal intercourse as one of many characteristics of unbelieving people. Female homosexuality is not an issue in these texts.
There is heated debate about the Pauline passages in theological circles as to how the Greek original texts are to be read. We have only recently come across the word "homosexuality" and it is questionable whether Paul's terms (e.g. "boy molester" or "temple prostitution") really refer to what we now call same-sex love. Most likely not, because the understanding of love in the sense of an equal, consensual decision between two adults is historically a very recent achievement. "
"Sexuality can be shaped to a certain extent"
Christian Haslebacher, the chairman of Chrischona Switzerland - one of the largest free churches in this country - explains that, in his view, people "basically have the freedom to decide for themselves which aspects of their sexual spectrum they want to live out".
So the sexual disposition can be determined by an act of will? "I assume that sexuality - through long-term processes - can be shaped to a certain extent and that you are not born as a rigidly defined, pure hetero or gay person," says Haslebacher.
Marc Jost, General Secretary of the Swiss Evangelical Alliance, explains that for her, sexuality "should be lived out from a biblical theological point of view within the framework of marriage between man and woman and that other forms should be rejected or not promoted". He also knows people who have experienced a change in their sexual orientation.
However, Jost emphasizes that as a Christian it is important not to judge anyone, not even because of their sexual way of life. But what does that mean in concrete terms? Jost quickly feels cornered when it comes to this topic, does not want to take on the role of the "conservative Free Church member" and emphasizes the importance of dialogue with those who think differently.
Rejection after outing
That is the status today. Marcel Schmidt, who came out in a Chrischona congregation 15 years ago, had different experiences at the time. After his outing, he received rejection from people within the community.
Nevertheless, Schmidt went to the pastoral care of the youth group, talked about his feelings there and prayed with others that his affection would disappear. Hands were also laid on him. «I realized that it was of no use. And yet I kept this piece of hope that one morning I would wake up and play my fantasies for women. "
Angry with God
Schmidt was later accused of having apparently too weak a belief to get away from the inclination. "I was offered two solutions: either my sexual orientation will change after all - or I will be celibate. I found it terrible that my church was giving me a relationship. Isn't God happy when love arises and grows? "
Schmidt capitulated. He resigned from the congregation even though all of his social circle was there. Like so many in his situation, he closed with God.
Today he says: «I was so angry with God that he let me down with this problem. Today I walked 180 degrees around God and see him from a different side. I found my calling in the homosexual Christian movement and I am convinced that God will enjoy it. "
"A lot happens in secret"
It is unclear how many such treatments are carried out annually in Switzerland. According to Adriano Montefusco, figures are difficult to collect because a lot happens in secret. "But wherever I digged for my research, I noticed that the matter was bigger than I thought," says Montefusco.
Even if this form of therapy did not work with the people concerned, there are some people who see themselves as 'changed' and who expose themselves to their success story with their wives and children. In Switzerland, for example, Rolf Rietmann from the Wüstenstrom organization is a well-known example of this. He regards his own life as a testimony to the changeability of sexual orientation.
That is why Rietmann also offers therapies at Wüstenstrom - he does not want to call them "conversion therapies" - where people who wish to change their same-sex orientation receive support.
Two feelings fighting against each other
It was the same with Marcel Koch (name changed), who came into conflict with his homosexual inclination as a youth for religious reasons. For a long time he carried this out with himself. "There were two feelings in me that fought against each other: the love for my wife and my homosexual tendencies," he says.
At the age of 30, Koch realized that he could not fight this fight alone and that he needed support. He found this with Rolf Rietmann.
"I came to the realization that my problem is rooted in a question of identity. That I have to redefine who I am and what I want. " This was a five-year process and has not yet been fully completed. «But the professional support and my surroundings have given me a lot of calm in my insecurities. So that today I am a happy husband and father of a family. "
Thoughts and fears exposed
As a pastor of a Swiss free church, Thomas Müller (name changed) also found it difficult to take the step to outing. To this day he has not dared to do it within the community. Because he knows pretty well what follows him: positions with a role model function can no longer be carried out in the church, his beloved position as pastor would probably be history. But social ostracism is also an issue, provided that he does not want to live celibate.
Müller also has years of therapy behind him. At the age of 30 he traveled to the USA and Eastern Europe. "You grow up and you start to notice that something is different about yourself. But I wanted to be normal, "he says.
From a psychological point of view, these therapies are very profound, says Müller looking back. Had he been younger it would probably have thrown him off course. "Sometimes you shouted out all your anger in front of a group of people, exposing your thoughts and fears. Or bras and panties were distributed around the room and you should articulate what that does to you. "
First positive feelings
In one of these courses he meets David (name changed) and the two fall in love. Only then does Müller admit to himself that homosexuality does not have to be linked to pornography, orgies and promiscuity - as he had heard so often - but can just as well be love.
"I'm very grateful that I fell in love and that I noticed how positive it feels. I didn't have a guilty conscience when we spent time together and touched, on the contrary. When I looked at things on the Internet, I always felt bad afterwards. "
In the way of God's message
Müller admitted that "God did not change his homosexuality", not even for anyone around him. "I know two who now have a wife. But when I dig into the conversation, it seems as if you are fooling yourself. "
Nevertheless, it is important to Müller that the evangelical congregations are not pushed into a corner: "They also do a lot of good for society. But they stand in the way of God's message if they cannot respond to these issues in an informed manner. "
About this text
Open the box Close the box
Only men who were willing to tell their story were found for this article. Adriano Montefusco also states in his research that female homosexuality is hardly discussed in churches, and even pushed into invisibility.
All those affected here are part of the organization "Zwischenraum, Link opens in a new window", which was founded by the former ex-gay exponent Günter Baum. This after he - himself a conversion therapist and convinced for years that he was cured of his homosexuality - fell in love with a man again. With "Zwischenraum" Baum wanted to offer a safe haven to those people who experienced exclusion or trauma in their church because of their sexuality.
Incidentally, since the beginning of the year there has also been the Methodist Evangelical "Rainbow Church, link opens in a new window", where queer people are specifically addressed.
SRF 1, Sternstunde Religion, March 22nd, 2020, 10 a.m.
Culture
Current article