Portugal celebrates festivals in other countries
Christmas in Portugal
How do you celebrate Christmas in Portugal? Here you will find the most beautiful Portuguese Christmas customs, Christmas recipes, Christmas carols and much more.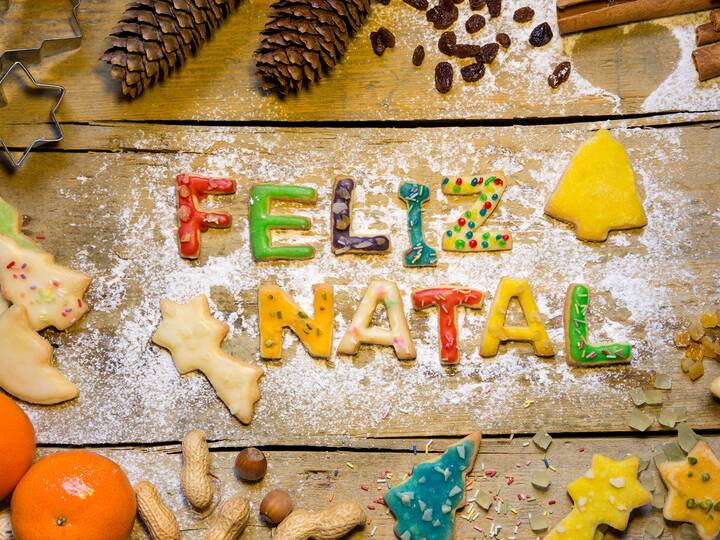 Feliz Natal - Merry Christmas (Miriam Doerr Martin Frommherz / Shutterstock.com)
Portuguese Christmas: Christmas customs, carols and much more
Christmas is a family festival in Portugal too. The traditional Christmas dinner is just as much a part of the Portuguese Christmas festival as a festively decorated Christmas tree. The nativity scene is also an integral part of most living rooms in Catholic Portugal.
Portuguese Christmas customs
In Portugal, as in Germany, the gifts are given on Christmas Eve (Véspera de Natal), but traditionally only at midnight. For small children, the gifts can often be unwrapped earlier or in the morning of the next day.
Santa Claus - Pai Natal - or in some places also the Baby Jesus (Menino Jesus) brings the Christmas presents in Portugal.
The meal is usually stockfish (bacalhau) with cabbage and potatoes and mountains of cakes and other sweet things for dessert.
At midnight, the whole family goes to the midnight mass (Missa do Galo), where some visitors leave rural products as gifts for the Christ Child at the manger.
December 25th is a quiet day, with another family dinner. Almost everything in Portugal was closed that day. Shops, museums and even some restaurants. December 26th is not a public holiday and therefore a normal working day.
Portuguese love Christmas lights. In many cities, entire streets are sometimes shining. In Lisbon, the major streets and squares such as Avenida da Liberdade or Praça do Comércio are lit up. Porto has almost 50 places with Christmas lights, including Praça Batalha, Avenida Dom Afonso Henriques and Praça General Humberto Delgado with a huge Christmas tree.
In the fishing village of São Martinho do Porto, on the west coast of Portugal, there is the largest floating Christmas tree in Europe. In Águeda, a city in central Portugal, there is a 21-meter high - naturally lit - Santa Claus.
Christmas dinner in Portugal
There is one thing that should not be missing from Portuguese Christmas dinners - the bacalhau (stockfish). The bolo rei - the king cake - is waiting for dessert. On Christmas Day the family meets again for a Christmas meal. Then meat is served almost everywhere - turkey is usually served.
The bolo rei is made up of flour, sugar, butter, yeast, eggs and milk. Traditionally, there is also some port wine in the cake. It is decorated with candied fruits and nuts. A bean is hidden in the king cake. Anyone who finds them will have to take care of the cake next year.
5 great gift ideas for Portugal fans
Christmas markets and Christmas villages in Portugal
There are Christmas markets in many Portuguese cities. In Lisbon you will find the »Natalis«, a large Christmas fair with a Christmas market, a chocolate market and many other Christmas activities. The most beautiful Christmas decorations are on Rossio and along Rua Augusta. Lisbon's Christmas tree is on the Praça do Comércio.
Porto's Christmas tree is located on Avenida dos Aliados, along with an ice rink for ice skating.
A visit to the medieval Christmas village (Vila Natal) of Óbidos is also great. It takes place in front of the historic castle of Óbidos throughout December.
There is also one or two Christmas markets in the Algarve. For many years, for example, in Aljezur in the western Algarve. Further markets are set up in Carvoeiro and Lagoa.
Regional particularities
Many regions in Portugal have their own Christmas customs and very special delicacies that come on the table at Christmas. The island of Madeira in particular has its very own customs and traditions for festivities.
Christmas in Madeira
In Madeira and Porto Santo, the Missas do Parto (birth mass) begins on December 16 and ends with the Missa do Galo (midnight mass) on Christmas Eve. The Missas da Parto consist of a total of 9 masses and take place at dawn. Singing competitions (despiques) take place during the masses, followed by »mata-bicho«, a kind of morning pint with liqueurs, corn bread and cake.
A traditional Christmas dish in Madeira is Carne de Vinha d'Alhos (meat with wine and garlic). Traditionally, the bolo de mel (honey cake) is a sweet dish for dessert. You can find more information in the article Christmas in Madeira.
Portuguese Christmas carols
One of the most famous Christmas carols in Portugal is "A todos um Bom Natal" (Merry Christmas for everyone) by César Batalha and Lúcia Carvalho from 1980.
Other well-known songs are "O Menino está dormindo" (The baby Jesus is sleeping) - which comes from the town of Évora in the Alentejo, "O pequeno tambor" (The small drum) and "Natal de Elvas" (Christmas of Elvas).
Classics like "Silent Night, Holy Night" (port: Noite feliz), "Jingle Bells" (port: Bate o Sino) or "Feliz Navidad" (port: Um Feliz Natal) are also available in a Portuguese version.
White Christmas in Portugal
Celebrating a white Christmas in Portugal is difficult, but possible. For this you have to drive to the Serra de Estrala in the northeast, where the only ski area in the country is located. Here you can also have a look at the Torre, at 1,993 meters the highest mountain on the Portuguese mainland.
Feliz Natal - Merry Christmas
Book recommendation