Western culture disappears from now on
Art thriller: works by German artists disappeared in China?
According to media reports, almost 250 works by well-known German artists, including Markus Lüpertz and Anselm Kiefer, are said to have been lost in the Middle Kingdom. "We do not know where the works are, how they are stored, whether they are receiving the necessary protection and care," quotes the "Süddeutsche Zeitung" quoting the artist Markus Lüpertz, who appeared at a press conference in Beijing. According to Lüpertz, he traveled to China especially because he was very worried about his work.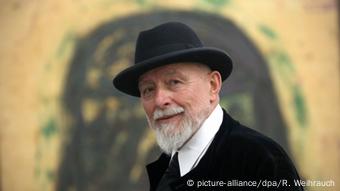 Markus Lüpertz
Lüpertz's works and those of other artists belong to Maria Chen-Tu, a German millionaire with Taiwanese roots. She had loaned 342 works of art from her MAP collection to the Chinese businessman Ma Yue. Its insolvent company, the Hamburg-based Bell Art GmbH, apparently refuses to return the works to the owner. The art collector filed a criminal complaint. The works of art are meanwhile presented in exhibitions in several Chinese cities, it is said. Apparently nobody knows exactly where the work is. Markus Lüpertz is outraged.
Is it all just staging?
"I doubt the veracity of what I read there," Walter Smerling commented on the media report in an interview with DW. The art historian is chairman of the board of the Foundation for Art and Culture e.V. Bonn and director of the Küppersmühle Museum for modern art in Duisburg. As a curator, he initiated and organized the largest German-Chinese exhibition projects in recent years - "China 8" in 2015 and "Germany 8" two years later. To the full-page report in the "Süddeutsche Zeitung", he says: "It's all too opaque for me."
The story sounds exciting, says Smerling, but after studying the SZ article you "actually don't know anything". The story of Mr. Ma Yue's dubious business conduct, the naivety of a millionaire collector Maria Chien-Tu or the inaction of the Chinese authorities, Smerling views all of this with great skepticism - solely because of the described dimensions of the alleged art thriller. According to Smerling, he himself had "very good experiences" with his numerous exhibition contacts in China.
Good experience with China as a reliable partner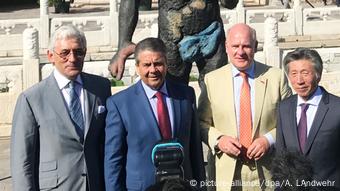 Prominent visit to the "China 8" exhibition in Beijing: Walter Smerling (left) next to Federal Foreign Minister Sigmar Gabriel. Far right Fan Di'an, President of China's College of Fine Arts.
Two years ago, under the title "Germany 8", a good 320 works by 55 German artists were presented in seven Beijing museums, Smerling was the driving force. "The Chinese were reliable partners," emphasizes the cultural manager, "from customs clearance to transport, organization, keeping appointments to checking the humidity in the exhibition rooms." As with "China 8", when hundreds of works by Chinese artists were shown in Germany, the counter-event "Germany 8" also attracted great cultural and political attention. The first prominent visitor to Beijing was the then Federal Foreign Minister Sigmar Gabriel.
For years, art from the West in the Middle Kingdom has met with great demand, but also with special art market conditions. "More and more rich people can afford expensive works," says Smerling. Owning art is often a question of image. In addition, the Chinese have a "somewhat different relationship to art," according to Smerling in an interview with DW, who attests that China's art scene has a lack of curatorial thinking. There are already 2,500 private art halls in Beijing alone. In Shanghai he once met a collector who hung a Picasso over the bar of his restaurant. Despite all the peculiarities on the Chinese side, Smerling is convinced of the "bridging function" of art: "It brings many people together, that's why we need art - in Germany as in China!"