Why is seafood gumbo so good
Seafood gumbo Recipes
Category: starters and main courses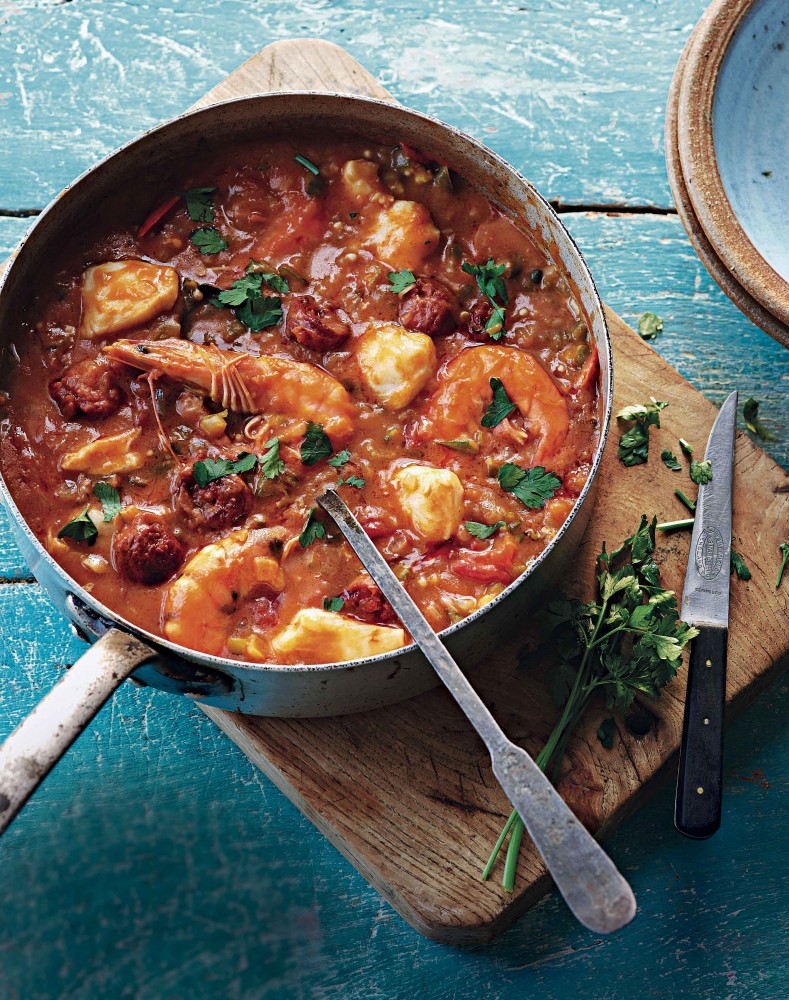 ingredients
150 ml of vegetable oil
100 g of flour
200 g okra, finely chopped
2 onions, peeled and finely chopped
2 celery stalks, finely chopped
2 green peppers, finely chopped
150 g sliced ​​cooking chorizo
1 l fish bouillon (see below)
1 teaspoon cayenne pepper
400 g chopped canned tomatoes
A shot of Tabasco
200 g white fish fillets (e.g. merlan, saithe or hake), diced
8 raw, large prawns
Cooked rice, optionally for serving
Small bunch of flat parsley, finely chopped
For the fish bouillon
4 onions, peeled and roughly chopped
8 carrots, thinly sliced
8 celery stalks, thinly sliced
2 tomatoes, quartered
Zest of one lemon
2 liters of cold water
1 kg of fish bones
100 g raw shrimp in the shell
preparation
First prepare the fish stock:
Put all ingredients in a large saucepan and bring to a boil over low heat, simmer at the boiling point for 15 minutes. Turn the heat down and simmer for another 45 minutes. Then strain through a fine sieve into a jug, throw away all solid ingredients.
Make a roux from 120 ml of oil and flour in a saucepan on low heat, slowly increase the temperature while stirring constantly until the roux takes on a light brown color - with a little practice you can also make it darker for more flavor. When the color is right, take it off the heat and stir for a few minutes, until the roux has cooled down a bit.
In another saucepan, sauté the chopped vegetables with the chorizo ​​over medium heat for a few minutes. Slowly add the roux, stirring constantly, mix in a liter of the fish stock, stirring constantly. Add the cayenne pepper and canned tomatoes and mix well. Simmer for 45 minutes to allow the flavors to unfold. Either leave it as it is or puree it with a blender to make a thick sauce (I prefer it un-pureed, but pureed is better if it is served with rice.) Add a little Tabasco and season with salt. The sauce can now be stored in the refrigerator or frozen. To serve, simply warm up and let the shrimp and fish cook in it.
Remove from heat and garnish with parsley. Serve immediately, alone or with rice.
Recipe credit: Recipes and photos from this series come from FISH by MAT FOLLAS. Photos: STEVE PAINTER (RYLAND PETERS & SMALL, € 29.10)
Contact
Suite51, The Business Center, Ingate Place, London SW8 3NS
Ludwig-Erhard-Strasse 6 (MediaFleet), 20459 Hamburg, Germany (Deutschland)
The names and logos for Food and Travel Magazine are registered trademarks of Food and Travel Magazine. All text and design is © 2021 · Food and Travel Magazine. All rights reserved.
Advertising information
We offer you various possibilities to present yourself successfully in the premium environment of Food and Travel - be it "classic" via the print edition or multimedia via our online platform. You can find our media data HERE. You can reach us on +49 (0) 40 18291 811 or send us an E-MAIL.