Highway construction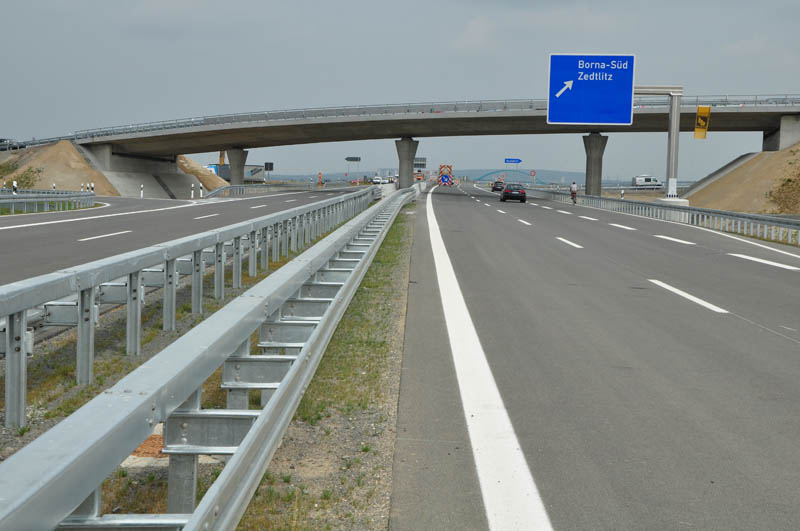 In two years of construction, the ARGE Bickhardt Bau / Bickhardt Bau Thüringen built the six kilometer long section of the Autobahn 72 between Rochlitz and Borna-Süd. For reasons of noise protection, the gradient was "lowered" in some areas, while noise barriers were profiled in other areas. Over 550,000 cubic meters of soil were moved in the course of the construction project.
Because the route leads over a former mining area, extensive soil improvement measures were also necessary. 15,000 square meters of geogrid were laid for stabilization. Lime spreaders and milling machines were also used to make the subsoil stable. 50,000 cubic meters of frost protection and gravel base course material have been professionally installed. The earthworks specialists laid 23,000 meters of sewer up to a diameter of DN 900 for the drainage. They also built three rainwater retention basins with an excavated volume of 38,000 cubic meters.
A special feature of the measure is the amphibian protection: 4,400 meters of guide guards made of sheet steel were installed. The reptiles are led to ten passages through which they can safely crawl under the motorway.
The order also included the construction of three bridge structures and a game passage. The largest of these structures is the BW 52, the overpass in the area of ​​the Borna-Süd junction. The 82 meter long bridge is a four-span structure with individual spans of up to 23.75 meters. The Bickhardt engineers executed the flat-based structure with formwork elements on site as single-web prestressed concrete slab beams. A special feature is the narrow radius: the bridge has a 83.75 meter radius in plan. Its curved shape, reminiscent of a sickle, is easy to see for every observer.
130,000 square meters of paved road surface between Frohburg and Borna ensure that the traffic connection between Leipzig in the north and Chemnitz in the south has been noticeably improved for road users. In addition to the reduction in travel time between the Leipzig and Chemnitz motorway junctions, which are 62 kilometers apart, there will also be a noticeable reduction in the pressure on local through-roads and federal highways such as the B 95, which have been heavily traveled to date.
Earthworks:
550,000 m3 Ground movements
50,000 m3 Frost protection layer
15,000 m2 Geogrid
Drainage:
23,000 running meters of sewer up to DN 900
3 rain retention basins
Superstructure:
130,000 m2 Asphalt surface
Bridge and civil engineering:
3 bridge structures
1 game passage
10 amphibian passages