Is Sweden racist against blacks
Protest at neo-Nazi demonstration in Sweden: a woman against 300 racists
In Borlange, Sweden, Tess Asplund stood in the way of a neo-Nazi demonstration with a raised fist. A picture of it now goes around the world.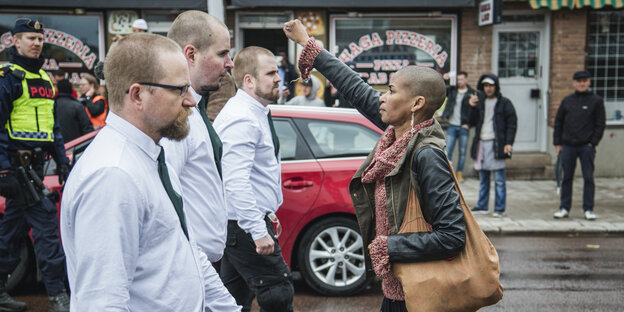 "Homage to Nelson Mandela": Tess Asplund in front of the neo-Nazi demo Photo: David Lagerlöf / Picture Alliance
STOCKHOLMtaz | "That was my homage to Nelson Mandela," says Maria-Teresa "Tess" Asplund. A photo with the 42-year-old Swede has spread worldwide on Twitter and Facebook since it was posted on the website of the anti-racist foundation Expo on Tuesday. It is now being celebrated as "picture of the year" and "iconic".
It shows an Asplund that has just stepped from the sidewalk onto the street and is now standing with a raised fist in front of a troop of around 300 uniformed supporters from Sweden's currently most violent neo-Nazi group, who chant "traitors" towards them. Their leader stares at her in bewilderment before a steward pushes her away and a policeman takes her to one side. The photographer David Lagerlöf captures the scene.
The incident happened on May 1st in Borlänge in the Swedish province of Dalarna. It was in this traditional working class town of all places that the "Nordic Resistance Movement" held its central rally. A provocation against which a counter-demonstration was organized. The church bells rang in protest, and anti-racists distributed a load of stable manure at the neo-Nazi assembly point, "so that they would be in the shit".
"I thought that wasn't enough," explains Tess Asplund: "When I saw you arrive, I thought: They have absolutely nothing to do with here." She followed an impulse: "I'm a peaceful person, with my 163 Centimeters and 50 kilos are not exactly impressive either, but I wanted to show that you have to dare. "
Hope for more resistance
Asplund is the spokesperson for the anti-racist network "Fokus afrofobi", works in voluntary refugee aid, and has repeatedly participated in campaigns aimed at preventing asylum seekers from being deported. She has been politically active since she came to Stockholm as a 16-year-old from the central Swedish province, says Asplund: "The first was fights with skins."
She has been campaigning against racism for 26 years: "The current attention makes me proud, but it also embarrasses me. I hope that they will now dare more resistance. It just doesn't do the way fascists are allowed to jump around on our streets at the moment. "Still, she doesn't want to be a symbol. "No, people shouldn't see that in me."