Why do we defend illegal immigration?
Illegals in the US: The fear is around
In the week after Donald Trump was sworn in as President of the United States, the New York Department of Education sent a letter to families. In it, it defended the right of every student in New York City to attend a public school - regardless of immigrant status. Therefore, it is not recorded who has a valid visa at all, representatives of the US immigration authorities are not granted access without express authorization.
The letter was intended to reassure the city's estimated 1.2 million undocumented immigrants and reassure them that the Trump administration is not free in everything. But it also revealed the powerlessness of New York's left-wing Mayor Bill de Blasio to protect these people.
"In truth there is no protection. We are all in danger at the moment," said Mexican immigrant Judith Paez in an interview with DW. "The city can declare itself a haven, but there are limits to all of that. The mayor cannot do anything if federal officials come into the city." Paez came to the United States illegally in 1994 with her husband and son. She now has two other sons - they are US citizens by virtue of their birth in the United States. Paez and her husband always worked in secret, in restaurants and factories - for 23 years. "I don't exist for the system."
Eliminate federal funds for "cities of refuge"
Trumps had already declared war on the "sanctuary cities" as a presidential candidate. These are cities and towns that, like New York City, federal agencies refuse to cooperate when it comes to finding illegal immigrants. During the first few weeks of his presidency he signed a decree to triple the number of representatives for the US immigration service "ICE" and to adjust the definition of illegals so that more of them can be deported. "We will cut federal funds to cities of refuge and states that host illegal immigrants," said then White House spokesman Sean Spicer.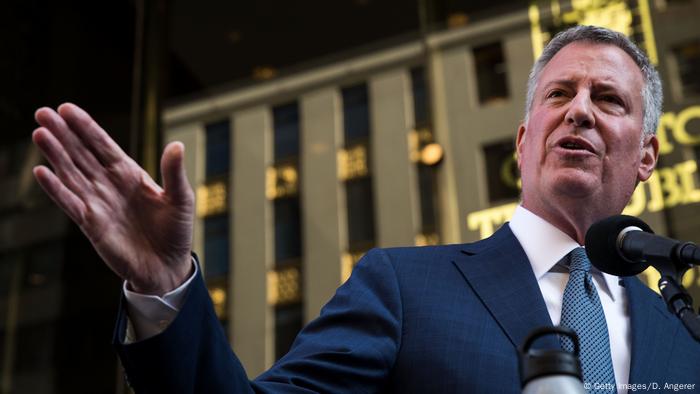 New York Mayor Bill de Blasio: He too is resisting that his city takes action against illegal immigrants.
In 1989, New York City Mayor Ed Koch signed a decree that neither the New York Police nor the Federal Immigration Enforcement courts would cooperate. Since then, every mayor, Democrat or Republican, has held this position. Mayor Michael Bloomberg banned all New York City employees, including police officers, from asking people about their immigrant status. Under Bill de Blasio, the city went one step further and created municipal ID cards that any New York City resident can obtain.
In 2008, as US President, George W. Bush launched the so-called "Secure Communities Program". It stipulated that cities and federal police officers would send fingerprints to Homeland Security after arrests. If necessary, this instructed the police to arrest people for 48 hours so that the immigration authorities could pick them up. Under President Barack Obama, the program was initially expanded, but discontinued in 2014 on the grounds that too many people were arrested for too few crimes. Trump's decree reinstated the program.
No safe havens for illegal immigrants
The New York Police Department is now regularly checking whether there is anything against an arrested person with a federal agency. However, it only surrenders to people who are accused of a serious crime. "We are doing everything we can to support immigrants," said Rosemary Boeglin, city hall spokeswoman for migration issues. "But we also have to be clear about where our competencies lie."
Immigration has said it made 41,000 arrests in the first 100 days of Trump's presidency. That is 38 percent more than in the same period last year. In New York, 156 "non-criminal" immigrants and 531 undocumented migrants with previous convictions were arrested. All requests from Deutsche Welle to conduct an interview with the spokesman for the immigration authorities were rejected. An anonymous employee told a journalist for The New Yorker, "Some of the guys do what they want and they go looking for who they want."
"It is time to fight"
A few weeks ago, says Judith Paez, she got a call from a man in Newark, New Jersey. He told about his nephew who was picked up and arrested by an immigration officer on his way to work. He would have heard that Paez was working with the New Sanctuary Coalition (NSC) to help people threatened with deportation and wondered if there was anything she could do. "It's time to fight," she told him.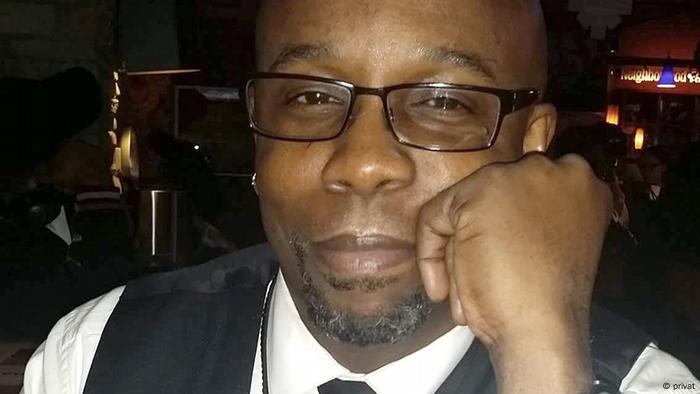 Migrant Frank Barker: He has been fighting against deportation for seven years.
The organization NSC defends undocumented people. She always organizes hearings and trials into as large a group as possible in order to demonstrate a strong bond with the community. "You are accompanied by rabbis, ministers, priests and other parishioners, because all of this is nerve-wracking," says NSC spokesman Frank Barker. "You never know if this might be your last day in the United States."
Barker is at risk of deportation himself following a drug abuse conviction. A conviction from "a dark time" when he was still using crack. He has lived in New York since 1975, with his parents and two siblings. For seven years he has been fighting against his final deportation in St. Kitts and Nevis. A tiny island nation in the Caribbean that he last visited when he was six months old.
Unsafe times for immigrants
The dispute between Trump's Justice Department and the sanctuary cities reached a new level in April. The Ministry quickly changed the eligibility criteria for the Edward Byrne Memorial Scholarship, which is awarded for the advanced training of police officers. In the future, officials are to be excluded from implementing the arrest warrants issued by the immigration authorities or who do not allow their representatives to enter prisons. The New York police are threatened with a loss of four million dollars in grants annually.
City hall spokeswoman Boeglin has no sympathy for this: "New York is the safest big city in America and it just makes no sense to withhold money for security for the largest terrorist attack target in the country. We are ready to fight for this money."
Trump's January decree has been challenged by many cities and condemned as unconstitutional by a federal court. In August, the City of Chicago sued the decision to withhold funds from the Byrne Fund. "Chicago will not allow its police officers to be used as political pawns in this debate," said Mayor Rahm Emanuel. "And Chicago will never give up its open city status."
These are uncertain times in the US for immigrants who have no papers, no matter where they live. "Trump changed everything," says activist Barker. "He wants every criminal foreigner, like me, to be removed from the country."
And illegal immigrants who have not committed criminal offenses should also be deported. Nevertheless, the Mexican Judith Paez declined the offer to give her another name in this article: "When the people who know me see that I was interviewed openly and that I was given my name, they will think that I've put myself in danger. But it's time we stopped being scared. "