Is the Western media's view of China unfounded?
By Zheng Ruolin *
The other day I saw an old friend again in a political discussion on the French television program "C dans l'air" (October 25, 2017), namely the economist Philippe Dessertine. I know him from my work stay in France. At that time we were guests together in political TV debates a few times. Once we held a mutual review of our books on a broadcast. He presented my book "Les Chinois sont des hommes comme les autres" ("Chinese are people like you and me") and in return I discussed his book "Le gué du tigre" ("The tiger ford").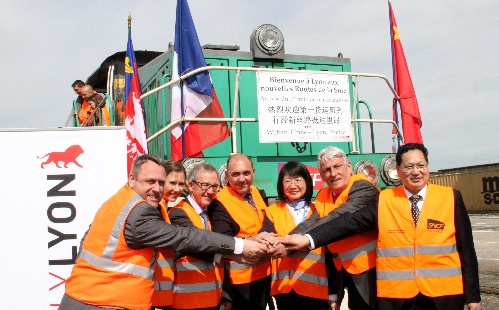 On April 21, 2016, the first Sino-European freight train reached the French metropolis of Lyon.
The reason we appeared on this show together was because both books dealt with China. His book told the story of the Chinese Wang Lijun, who was embroiled in a political affair, and the corrupt police chief of the southwest Chinese metropolis of Chongqing, who sought political asylum in the American consulate in the city during his desperate struggle.
In the course of the book presentation, the author chanted the slogan: "Tout est faux, mais tout est vrai", meaning "everything is fictional, but still true". I countered with the following comment: "Tout est vrai, c'est faux; et tout est faux, c'est vrai ", meaning" it is true that this is about fictional things, but what is claimed to be true is false ". By that I meant that Dessertine's fiction is completely detached from Chinese reality and does not even remotely correspond to American standards. I don't want to go into the plot in detail here. It is worth noting, however, that, as I learned after I had already left France, Dessertine's book landed on the bestseller lists and was later even published as a paperback. As a journalist who always tries to give the world a true picture of China, I honestly deeply regret it.
But back to the show "C dans l'air". This time Dessertine spoke about the Chinese economic issue in his role as an economist. In earlier broadcasts he had already expressed himself on this subject in a somewhat pointed manner, but always in a rational framework. This time I was perplexed by what he said. The studio guests talked about the shortage of butter on the French market. In France's supermarkets there was a gaping emptiness on the refrigerated shelves that worried many French consumers. After all, everyday French cuisine is unimaginable without butter. Dessertine put forward the steep thesis that the reason for the "butternot" is to be found in the increased consumption of the Chinese. What a nonsense!
Butter is really not on the everyday menu of the Chinese and it doesn't really suit the taste of most people in China. Precisely because the Chinese have hardly any taste for dishes prepared with butter, Chinese tourists in France usually avoid French restaurants at mealtime in order to eat in local Chinese restaurants instead. So how should it be explained that, of all people, Chinese consumers suddenly discovered their love for butter? In this context, I would like to refer to a contribution I made in a feature on the Chinese television station CGTN, which is primarily aimed at a French-speaking audience. The program was entitled "On ne vous dit pas tout", in German something like "You only know half the truth".
For this article, the young editor Zhao Ye did extensive research on the topic of the "butter crisis" by evaluating statistics from the Chinese customs office. It came to the following conclusion: According to the relevant figures from the authority, China imported a total of 54 million kilograms of butter in 2015. Of these, three million came from France. In 2016, those imports rose to 63 million kilograms, with 4.2 million coming from France, an increase of 36 percent. According to a report in the French daily "Les Echos", France's annual butter production was 450 million kilograms! That means China's imports of French butter accounted for just 0.9 percent of the country's annual production. It is therefore obvious that a 36 percent increase in Chinese imports could in no way have led to the "butternot" in France.
My many years of experience have shown that the French media tend to overshoot the mark when it comes to reporting on China. In order to get as much attention as possible, they turn a mosquito into an elephant when there are numbers or events. However, if you come to a conclusion as an economic expert, you should be a little more serious and use plausible data.
The junior editor Zhao just got back from university. When she first heard of the French economist's thesis that "the increased consumption of butter in China leads to butternot in France", she too initially believed that there might be something to the thesis. But after doing her in-depth research, she found that the claim was downright false. But how can a renowned economist like Dessertine make such a simple mistake? The data and facts are obvious.
And then the question arises: Why do the French viewers so easily believe this false thesis? In my opinion, this can only be explained by "political correctness". Because errors in reporting about China usually just fit into the picture politically, and many people in France would like to hear such reports.
From my point of view, the Butter story is rather a minor affair and so it is not worth having a political feud with the economist. It is noteworthy, however, that it is the butter that is being discussed today, while yesterday it was "délocalization", i.e. the relocation of company locations. And the day before yesterday you heard complaints about "Les Chinois à Paris" (the Chinese in Paris). I do not know what will be the target of criticism from the French media tomorrow or the day after.
The French may not particularly notice all of this, but we Chinese, especially those who live in France, often hear that the People's Republic is always blamed when something goes wrong in France. The impression is given that all the misfortunes of the Grande Nation are caused by the Chinese. Isn't that a modern variant of the view of the "yellow danger" that was widespread in colonial times, or some other form of ethnic discrimination?
What is certain is that France has a negative balance in trade with China. However, China has been making great efforts for years to bridge this gap. The real problem is that French consumers have a great need for Chinese goods, which Chinese producers can easily meet.
China, on the other hand, has long been trying to increase imports from France. A prime example is that China has opened its market to import cheese from France and other European countries. For its part, France actually has numerous ways of expanding its exports to China, for example by lifting the embargo on arms exports. But the French government refuses to export high-tech products that "can also be used for military purposes" to China. In doing so, she herself slammed the door to equalize the trade balance.
Recently the merger of the French group Alsthom with Siemens AG was discussed, which again caused a sensation in France. Interestingly, the reason for this coup is again being sought in China: the two European groups wanted, it is said, to work together more intensively in the future on the international market for high-speed rail in order to be prepared for competition from China. It reminds me of a report I wrote 20 years ago.
It was entitled "TGV or ICE - Which technology is better suited to China?" At that time, China wanted to import the French high-speed railroad. In my article I praised the TGV. This uses, for example, the "Bogie" bogie, with which a derailment can be effectively prevented. Even in the event of an accident, the wagons do not tip over if they derail.
I also accompanied the former Chinese Prime Minister Zhu Rongji on a test drive from Paris to Lyon. In my article I described his impressions of this test drive.
However, the issue of technology transfer should become a major obstacle to the development of this business. The French side categorically rejected any form of technical transfer to China, even though they had previously exported the relevant technology to South Korea. Ten years later, China finally managed to develop its own high-speed rail, the Gaotie, on its own. Today, these Fuxing brand high-speed trains race across the country at a whopping 350 kilometers per hour. The Gaotie has meanwhile become a serious competitor for the TGV.
Assuming that France had then exported its technology to China, then today only French TGV trains run on the Chinese railway network and China would have to pay high sums for the technical transfer to France. In addition, the TGV would have one less competitor on the market.
Of course, such assumptions are purely hypothetical. We know that history ultimately does not allow for a "what if". Nevertheless, if France imposes an export embargo on China today for high-tech products and military technology, the country is simply excluding itself from technical exports. Ultimately, this will have no impact on China's development. Because China's industrialization is advancing inexorably. There is no turning back here. China is already preparing to go from being a "world factory" to becoming an innovative engine of the world economy. Anyone who does not take note of this development trend and fails to get on the "last bus" to expand trade with China will ultimately lose great opportunities.
It cannot be denied that by the end of 2016, 43.35 million people in China were still living below the poverty line. That means they had less than $ 2 a day at their disposal. The number of relatively poor people in China is also still high, a fact that the country looks boldly in the eye.
In recent years, China has been good at solving the issue of providing its citizens with adequate food and clothing. A better, i.e. healthier, more diverse and more pleasant way of life is just emerging. Against this background - just at the moment of the "butter crisis" - another piece of news hit the headlines in France: "China imports cheese from France!" Yes, the "Butternot" is not the responsibility of the Chinese, but it is true that China again imported cheese from France.
But butter and cheese are more of a smaller export. You do big export deals with high-tech products! There are a multitude of high-quality and well-engineered high-tech products from the French aerospace industry, materials science and energy, as well as numerous other areas that could be exported to China. In fact, traffic systems, electronic systems and chemical products still account for 70 percent of French exports to China.
Today freight trains are already commuting between China and France, more precisely between the central Chinese metropolis of Wuhan and the city of Lyon, the second largest city in France. The trains only need 16 days to cover the 11,300-kilometer route. The transport infrastructure is in place, it is just waiting for the decisive command. Now the wisdom and foresight of our French friends are required. One should at least consider lifting the embargo on a trial basis, as it did in the Jacques Chirac era. If the cooperation between China and France succeeds in throwing ideological prejudices and worn-out thought patterns overboard, this cooperation will open up brilliant prospects.
History sometimes goes unfathomable. While I am writing this, there is a book by the Chinese writer Bian Qin on my desk. In it, the author traces Li Hongzhang's visit to France in 1896. Li was a senior official in the late Qing Dynasty. The author has revisited all of the places Li visited more than a hundred years ago.
At the time, France, like Russia and Germany, tried to sell its own modern weapons. The then French President Félix Faure even invited Li to a military parade to convince him of the strength of the French army. At that time China called itself the "heavenly dynasty", but in reality it was a weakened country exposed to alien dismemberment. But why was France so stubbornly vying for the favor of the Chinese politician? They wanted him to dig deep into his pocket for French military equipment!
After the defeat in the war against Japan, China had to arm itself again. France, like Germany, wanted a blank check from Li. Many French newspapers, both local and national, including "Le petit journal", "Les Gaulois", "La Presse" and "Le temps", reported extensively on Li's visit at the time. In addition, France wanted to win China over as a counterweight to other great powers such as Great Britain, Germany and Russia in the struggle for supremacy in Asia.
If you look at today's world, it quickly becomes clear that the tide has turned. At the end of the above-mentioned book, the author quotes from an editorial of July 23, 1989 from "Les Echos": "Europeans should think about whether the forcible opening of China by British opium was such a good thing in retrospect. (...) If the Chinese attack us one day with their industrial and agricultural products, which agriculture minister can still protect us? "But the fears of the author of the leading article should prove to be unfounded. The Chinese do not believe that humans have an innate evil nature. In China we strive for harmony in diversity and cooperation for mutual benefit.
China was and is not and will not be a threat. On the contrary: China means opportunities, then as now and in the future.
* The author worked for many years as France correspondent for the Chinese-language daily Wenhui in Paris.