How do traders make money
Successful online trading: make money with DropShipping
More and more people are looking for ways to earn their money on the Internet. In Germany, the number of business start-ups has increased gradually over the past few years. A large proportion of the founders and prospective entrepreneurs opt for a concept in the area of ​​Internet trading. While the motives for stepping into self-employment are very different, the goal is always the same: it is about earning money and thus developing an alternative to dependent wage labor or unemployment.
Many founders react to the conditions on the labor market with their decision to become self-employed. It is true that the number of unemployed has fallen recently. However, many offers for employees are fixed-term contracts, low-wage positions or precarious work. Solid future and family planning can hardly be built on this. Against this background, it is understandable and sensible to seek an independent alternative. Due to the low entry barriers, online trading is particularly suitable for setting up your own company. The required technical infrastructure is now available nationwide and the founder does not necessarily have to have a specific professional qualification.
Request a free guide
---
DropShipping as an alternative to classic online trading
Before you, as a budding entrepreneur, get into the founding and start-up phase of your internet business, you should, however, think about the specific trading model. Basically, the decision has to be made whether you want to trade conventionally or earn your money with drop shipping. The latter is a concept with which both the initial investment and the running costs can be kept particularly low. With less risk, more money can be earned via dropshipping on the Internet than with classic online trading.
This is how the classic online retailer works
In order to understand the properties and advantages of DropShipping, one must first take a look at the structures of conventional, classic online trading. The retailer decides on a specific product area, looks for suitable manufacturers, importers or wholesalers and places their products in their own online shop. He calculates the required quantities of the individual products, purchases them from the respective supplier and stores the goods in his own premises.
If an order is placed, the corresponding goods are removed from the warehouse, packaged for transport and sent to the respective end customer. This trading model has significant consequences in terms of money requirements, workload and entrepreneurial risk. The products offered must be purchased in advance in appropriate quantities. This requires sufficient start-up capital and ties up funds.
In addition, a warehouse is required, the rental of which is associated with high monthly expenses. In addition, the warehouse must be managed professionally, which requires the employment of appropriate personnel and is also associated with ongoing expenses. After all, the online retailer runs a high economic risk by purchasing the goods. If the products can be sold less well on the market than originally planned, then he alone bears the risk of the goods and the resulting losses.
In comparison: DropShipping offers these advantages
Let's now take a look at the alternative form of trading, DropShipping, to see how it can be used to make money on the Internet. The DropShipping dealer himself does not come into physical contact with the goods he is offering. He does not buy the products in advance, does not store or ship them and as a result does not bear the risk of the goods. This is made possible by working closely with one or more DropShipping wholesalers.
The retailer selects suitable products from their ranges and places them in their own online shop. If there is an order, he informs his supplier manually or automatically. This now takes over the removal from his warehouse, the packaging and the direct dispatch to the end customer, without the dropshipping dealer having to take action himself.
In order to earn money with DropShipping, you do not need to finance your own inventory, store or ship products. This significantly reduces the need for start-up capital. The running costs are significantly lower because there is no need for warehouses and staff, and the risk of goods is completely eliminated. If it turns out that a certain product cannot be sold at the planned price or not at all, the DropShipping retailer simply removes it from their range of products and replaces it with another item.
---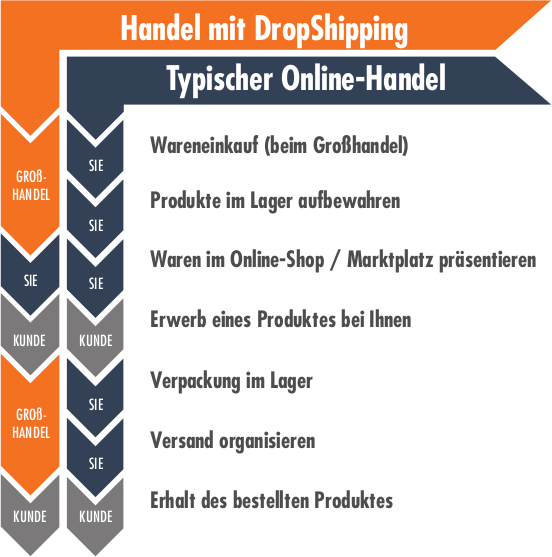 Compare DropShipping with classic online trading

DropShipping means that the retailer does not buy the goods in advance. Instead, it stays with the respective supplier. If an order is placed, the supplier is informed about it.

He now sends the desired goods directly to the end customer and only then bills the article to the dealer.
Request a free guide
---
Make money safer with DropShipping
Anyone who starts an online business would like to earn their money with it in the future. With DropShipping, this goal can be achieved much easier and more relaxed than in classic online trading, as the financial pressure is significantly lower here. As a founder, you should bear in mind that around a third of the newly founded companies in Germany do not survive the first three years after being launched. One of the most common reasons for the premature failure of young companies is that the required financial resources were underestimated and the income is insufficient to cover the investments and running costs.
With this in mind, a budding internet entrepreneur should ensure that both the need for start-up capital and the monthly costs are kept as low as possible. This increases the chances of a long-term positive business development and actively creates the conditions for earning enough money with self-employment on the Internet.
In addition to the economic advantages, the DropShipping trading model also offers other advantages. Due to the fact that you can get by without hiring staff here for a longer period of time, such a business model can ideally be implemented from home or apartment. On the one hand, this saves money and saves time for the founder, as there is no need for time-consuming trips to and from work. A harmonious combination of work and family life is also much easier for DropShipping retailers than for conventionally working online retailers.
---
Earning money with DropShipping: not entirely risk-free
We have seen so far that DropShipping is an ideal way to make your money online. Despite all the enthusiasm for this future-oriented and advantageous business model, as a founder, one should not ignore that this form of independence can also be fraught with problems and risks if one does not plan carefully and comprehensively.
The affiliated suppliers are at the center of every DropShipping model. Since a large part of the work and responsibility is transferred to these business partners, it is all the more important that they work particularly reliably and professionally. If a DropShipping provider does not process orders on time, ships poor quality products or uses poor packaging, it always falls back on the online retailer. Against this background, a great deal of attention and time must be devoted to the selection and review of suitable suppliers.
A good DropShipping supplier is not only characterized by its reliability, low product prices and low handling and shipping costs, but also by its expertise in relation to the products on offer. Its range should always be state-of-the-art, take into account current trends and innovations and meet the tastes and needs of the end customers in the market.
In addition, when making money via DropShipping, the founder must also carefully plan in this case which initial costs and which ongoing expenses he will face. This can only be achieved within the framework of a comprehensive and resilient business plan, which, in addition to a forecast of income and profits and all cost factors, must also take into account the expenses that the founder needs for his livelihood.
---

The biggest advantages of DropShipping


Overview of risks and sources of error

• directly from home

• Hardly any previous knowledge necessary

• Start with low equity possible

• Good work-life balance

• no pre-financing of the goods

• Storage space is not required

• Offer large assortments without risk

• Dispatch personnel are not required

• Company structure remains clear

• Current trends can be integrated quickly

• no risk from unsaleable goods

• Cooperation with several wholesalers

• lack of market analysis

• Sub-optimal selection of suppliers

• bad condition negotiations

• Lack of product expertise

• Goods susceptible to returns

• Inadequate returns management

• underestimated effort
---
Start now: earn money successfully with DropShipping
Even if the concept, be too Earn money via DropShipping, associated with certain risks and difficulties, it offers prospective entrepreneurs and founders much better opportunities to successfully build up their independent existence in online trading than is the case with traditional online retailers. DropShipping is a trading model with excellent prospects, good opportunities and greatly reduced risks, if you adhere to a number of tried and tested rules, select your suppliers with the greatest care and strive for reliable planning in advance that takes into account all cost factors that will later develop in business play a role.
Request a free guide
---
So you can earn money with the innovative DropShipping business model. In addition, the concept is also suitable for people whose life has not always gone smoothly. We present: DropShipping as the ideal concept for founders with broken biographies.
About the author Sebastian Huke