Did not divide the world into racist countries
Comment: George Floyd's death is reminiscent of Europe's racism
The death of George Floyd was probably the first time that several friends and acquaintances wrote to me about an act of racist violence. Some told me how they felt, others wrote that they were there for me. One message stood out in particular. "Are you happy not to live in the US at the moment?" asked a German friend on WhatsApp. "Unfortunately, recent events are very sad."
It took me almost a day before I could answer. It is no relief for me that I live in Germany. I am shaken and frustrated. For years, black men and women have been killed and murdered, even by police officers, simply because they are black. Georg Floyd's story reminds us that racist violence is sometimes fatal.
Not a problem in the US alone
The protests in US cities and now in some European metropolises show the disappointment and despair blacks feel in the face of institutional and structural racism. Make no mistake about thinking that this is an American problem alone. Racism against blacks is ubiquitous in the western world.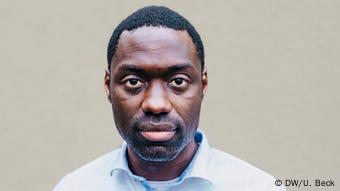 DW editor Chiponda Chimbelu
There were protests in London in 2011 when police officers shot and killed Mark Duggan, a black British man. In France, mass protests and riots followed in 2005 after two teenagers, Bouna Traoré and Zyed Benna, died from an electric shock after escaping from the police in a transformer house. A third youth, Muhittin Altun, survived seriously injured. In the same year, Oury Jalloh from Sierra Leone burned to death in Dessau in the eastern German state of Saxony-Anhalt in a police cell, tied to a couch.
It may be easy for some Europeans to look at what has happened in the US and say that this is not happening here - but black Europeans cannot afford that luxury. For them, racism is very much alive in Europe, despite the fact that racist police violence is not so uninhibited in the media here. That is one reason why George Floyd's death provoked such widespread protests beyond the United States: what happened there opened wounds here.
Slavery and colonialism determine the perception
Western societies are not that different in their perception of what it means to be black. Your ideas are largely determined by two historical events: slavery and colonialism.
In his book Afropean - A Journey Through Black Europe, British author Johny Pitts writes that the transatlantic slave trade played a major role in how the West perceives ethnic groups. This penetrates and supports - albeit often unconsciously - the hierarchies in western civilizations worldwide.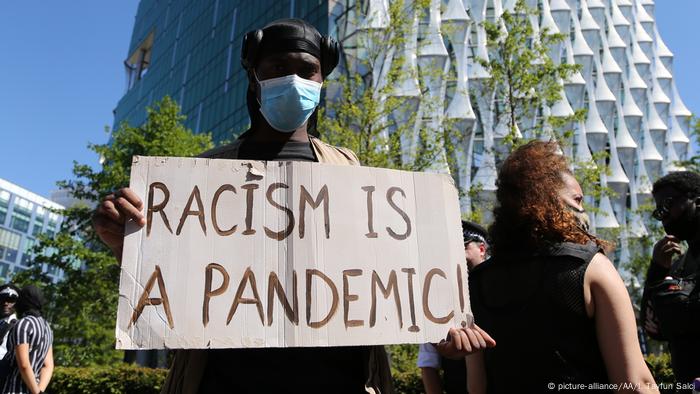 "Racism is a pandemic" protests in London after the death of George Floyd
Unfortunately, media coverage and school curricula are of little help in changing one's view of ethnicity.
The message from my friend, who asked if I was happy to live in Germany, was clearly ignorant of the everyday racism in this country. The German National Action Plan against Racism named black people in 2017 as one of five groups of people who are at high risk of experiencing racism. But that only came after the UN Committee against Racial Discrimination had exerted pressure for years because Berlin did not fight discrimination decisively enough.
Little awareness of racism in Europe
Germany is not alone in Europe. The lack of awareness and public awareness of racism is striking across the continent. And it's hard to get a clear picture of how racial discrimination actually affects People of Color because data on this is not collected, except in the UK.
Given the current protests in the US, it is neither the time nor the place for Europeans to claim that the situation is better here. You just have to look at Greece and how it deals with refugees. People of color, especially blacks, often suffer from the behavior of the authorities and society as a whole. The European Network Against Racism has just declared that ethnic minorities are particularly affected by racial profiling and police violence during the corona pandemic.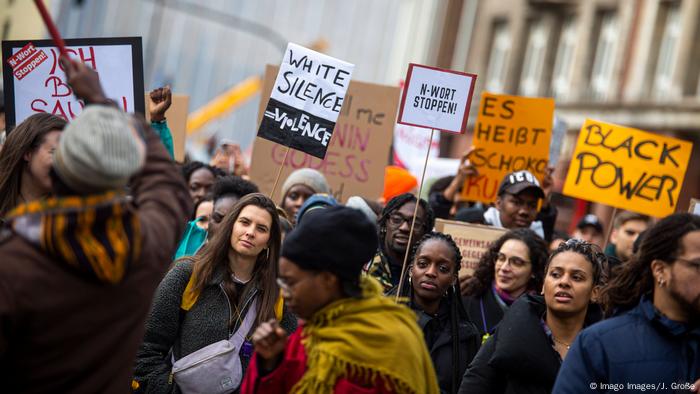 Not only the death of George Floyd outraged - anti-racist demo in Hamburg in February 2020
The death of George Floyd is once again a reminder of institutional and structural racism in Europe - this is what Aminata Touré, rising star of African descent in the German political sky, notes in a comment for the online magazine "Bento". "You have to realize how presumptuous a statement like 'Be happy to be here. Blacks are shot in the USA, not here!'"
The fact that we don't read about the dead doesn't mean that racism is not a problem in Europe. There is no race to the bottom when it comes to forms of injustice. The best way to show our solidarity is to mention George Floyd and then discuss racial injustices and how they affect the lives of people in our own societies - so that we can prevent them.
George Floyd's death moves the world

"I can not breath"

The protests against police violence against blacks quickly spread from Minneapolis to other cities such as New York City, where this woman also took to the streets. The demos began earlier this week after a police officer handcuffed George Floyd, a 46-year-old black man, and pressed his knee to the back of his neck - until Floyd finally stopped breathing and died.

George Floyd's death moves the world

Quieter demos, violent riots

The rallies on Saturday were mostly peaceful, but some of them escalated over the course of the night. In Washington, D.C. Where this man was kneeling, too, the National Guard was stationed in front of the White House. At least one person died in Indianapolis shootings. In New York, two police vehicles drove into a crowd.

George Floyd's death moves the world

Robbed

A man carries a chain from a destroyed store: in some cities, including Los Angeles, Atlanta, New York, Chicago and Minneapolis, the protests have turned into rioting; People looted and demolished local shops and businesses.

George Floyd's death moves the world

Whose fault is it?

President Donald Trump has threatened to send the military to crack down on the protests. His government will finally stop the violence. Trump put the blame for the riots on allegedly left-wing extremist groups. Minnesota Governor Tim Walz told reporters he had heard several unconfirmed reports of white racists fueling the violence.

George Floyd's death moves the world

Media in the crosshairs

Many journalists who covered the protests were targeted themselves. On Friday, a CNN correspondent and his crew were arrested while reporting in Minneapolis, several reporters were hit by bullets or arrested during the broadcast. DW's Stefan Simons was shot at by the police as he was preparing to go on air.

George Floyd's death moves the world

A protest goes around the world

In the Canadian cities of Vancouver and Toronto, too, more and more people are taking to the streets against ubiquitous racism. You are also reminiscent of Regis Korchinski-Paquet. The dark-skinned woman fell from the balcony of her high-rise apartment on Wednesday, where she had previously been alone with police officers. The officers were supposed to help the mentally ailing woman.

George Floyd's death moves the world

Anger is also growing in Germany

A graffito at the Berlin Mauerpark commemorates the violent death of George Floyd. His desperate words "I can't breathe" - "I can't breathe" - went around the world as a Twitter hashtag. On Saturday, thousands also demonstrated in front of the US embassy in Berlin.

Author: Martin Kuebler, (sth)