What do people in Brazil eat
Brazil - Top 10 Most Interesting Dishes
Brazil is a country with a diverse and fascinating food culture, which has arisen from a variety of different culinary influences. The eating habits of the indigenous peoples met those of the Africans and immigrant Europeans in times of colonization. North American influence has also increased in recent years.
A Create a list of the 10 most interesting dishes shows itself to be a real challenge and cannot be managed completely objectively, also because of the immense offer. The result, our very personal, seductive list of Brazilian specialties, claims to provide a cross-section of Brazilian cuisine.
# 1 - Moqueca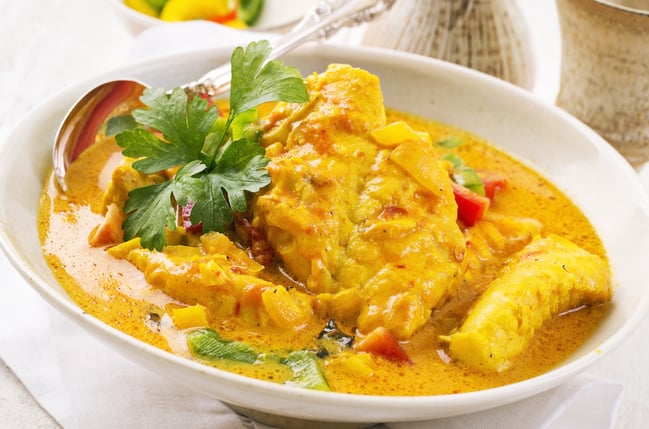 Moqueca is a dish that we would place somewhere between soup and stew by European standards. Its main ingredients: fish, tomatoes, peppers cores in palm oil and coconut milk. A wonderful combination!
The Brazilians distinguish between two forms of this food: Baiana and Capixaba, beingthe difference is really just the oil the cook is using. However, this small difference led to a major dispute between the two regions that claim to be the origin of the recipe. In any case, you cannot deny that they have one thing in common: Both are typically Brazilian and a real treat! Here is the recipe.
# 2 - Canjica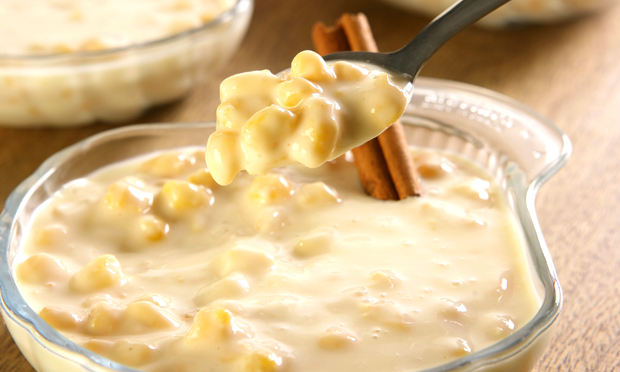 Homemade Canjica Photo: Codo Meletti
Let's move on to something sweet: Canjica Dessert made from corn, milk and sugar is usually served at the "Festas Juninas", when the June saints are celebrated. TheseJune festivals have a special meaning in Campina Grande and in Caruaru, where this dessert is also prepared in a special way. Here is the recipe.
# 3 - Tacacá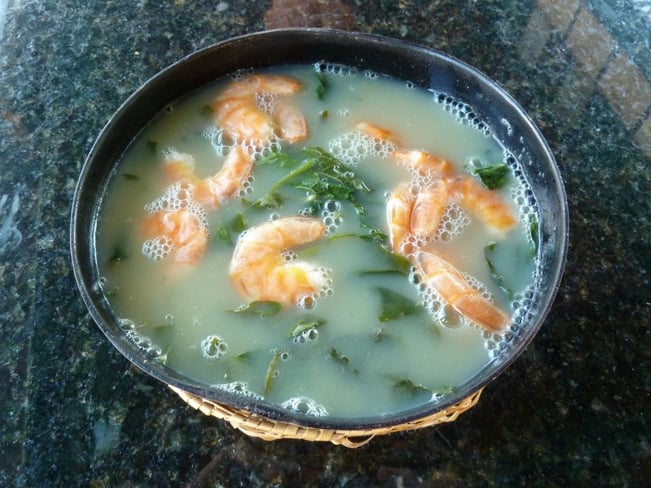 One of the most traditional dishes in Brazil is from Iambu leaves and cassava Boiled soup Tacacá, which has its fans especially in the northern areas of the country, the Amazon, Amapá and Pará. Dried crabs and a neat one Load of chilli ensure the unique mix. The indigenous tribes in particular often prepare this dish, which is perfectly different traditional flavors from Brazil combined.
Usually you drink this soup from a small cup. We recommend tasting this dish not only because of its history, which is closely linked to the indigenous population. Here is the recipe.
# 4 - Pirarucu a casaca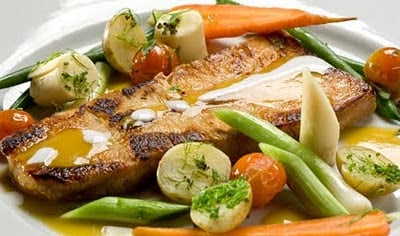 Pirarucu a Caso. Source: http://goo.gl/fB93gU
The land on the Sugar Loaf is very much shaped by the sea and its rivers and so its cuisine has also received a lot of this influence. The pirarucu is an Amazon fish and at the same time one of the largest freshwater fish in the world.Large specimens can come up with a fighting weight of 250 kilos, which are distributed over the 3 meter body. This fish is a special taste experience cooked in Brazil nut milk or served with crab cream. A real treat - not just for fish lovers! Here is the recipe

# 5 - Brigadeiro or Negrinho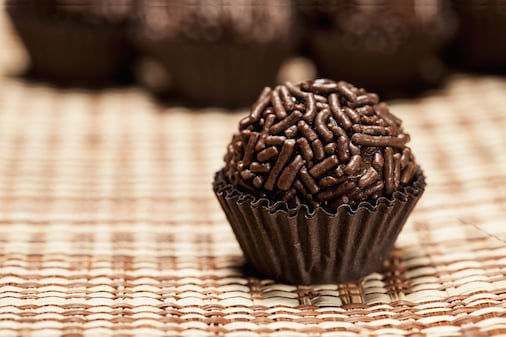 The typical Brazilian praline: made from condensed milk, butter and cocoa, Birgardeiro or Negriho is then sprinkled with conventional chocolate chips. Inevitable is at least the attempt of this confectionery, which is usually on Children's birthdays is served. If you are still looking for a souvenir for those who stayed at home: here it is!
Unfortunately we haven't been able to find a recipe for Brigardeiro or Negrinho yet. But they taste best on site: Click here for our Brazil trips.
# 6 - Bobó de camarão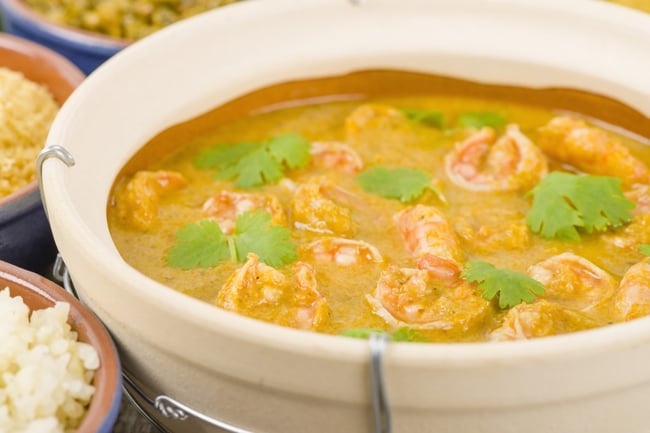 This cream originally made cooked cassava, dendé oil, peppers, garlic and tomatoes exists, still gets in this form, as the name suggests shrimp added. Yucapuree, ginger and palm oil often find their place in the Bobó de camarão. Even if it seems so, this meal is not only interesting for the gourmets among you - the normal Central European palate can get used to the taste of this creamy soup with a little courage. You can try this traditional recipe, for example, on our activity trip viActive Brazil. On this 17-day active trip across Brazil, you will spend the night with smallholders on days 9 and 10, where you can try numerous Brazilian, home-made specialties! Here is the recipe.
# 7 - Pão de quejio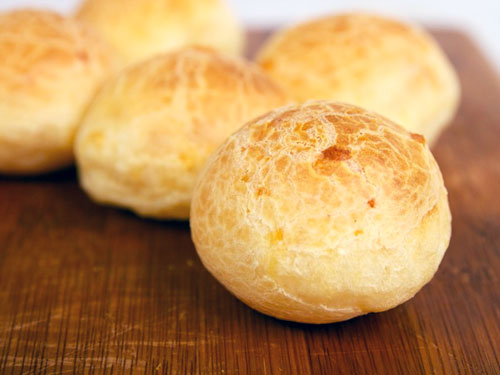 Pao de Queijo. Photo: J. Kenji Lopez-Alt
In seventh place we present a not necessarily typical, but no less tasty, Brazilian trifle. Now you can do this, best as cheese balls Describable, culinary delights can be found in almost every place in the country. A batter made Yuca, Eggs, salt and pork fat are baked into these tempting little balls. For those of you who are currently planning a trip to Brazil, we recommend the famous Casa do Pão de Quejio, where you can find the best cheese balls in Brazil. Here is the recipe.
# 8 Pizza Banana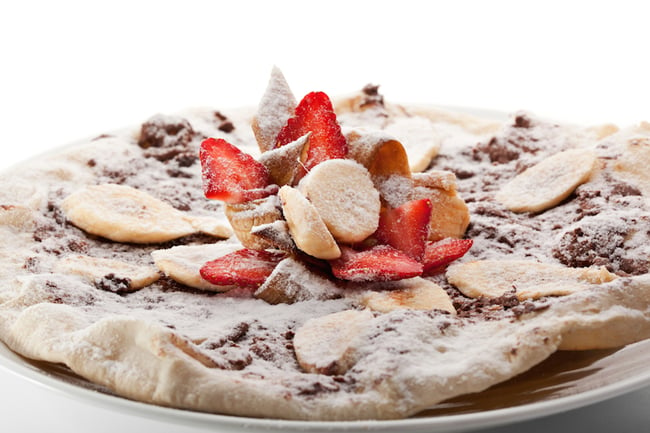 Even for those of you with no knowledge of Portuguese, "Pizza banana" may appear like a misprint on the regular Italian menu. This is not the case: the banana pizza is more than creative modification of the Mediterranean cuisine to be regarded as traditional Brazilian and is a typical home cooking of the Brasileiros. A dough disk is formed from bananas, cinnamon, mozzarella and ordinary pizza dough, which is then garnished with nuts, for example. Could that be the revolution in the menu at the pizzeria around the corner?
Unfortunately we haven't been able to find a recipe for this yet. If you have one, we'd love to hear from you!
# 9 Feijoada
Feijoda is to Brazil what pasta is to Italians: a National dish with which the gastronomy of the country is inevitably associated. On Wednesdays and Saturdays it has become a custom in many kitchens in the country to eat this dish from the black beans (you can also use white or red) to conjure up. There is also salted meat. The whole thing is sprinkled with Mandioca, the typical root. Good Appetite!
Unfortunately we have not yet been able to find a typical recipe for the feijoada. If you have one at hand, we'd love to hear from you!
# 10 Caipirinha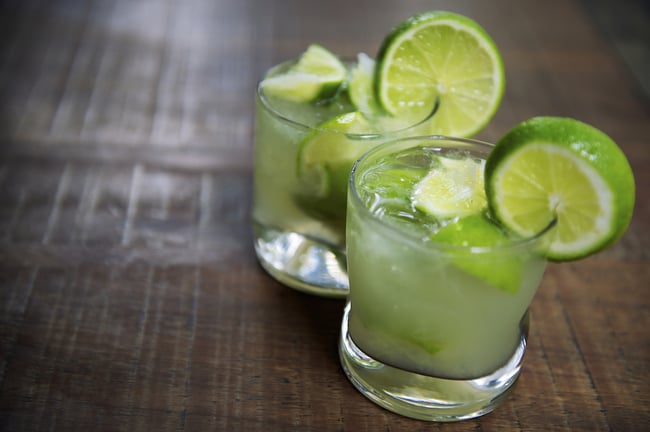 If nothing to eat, the caipirinha is the first thing many of you will associate with Brazilian gastronomy. As Export hit and national drink this cocktail (which translates as "little curmudgeon") is as connected to Brazil as beer is to Germany. Whether with crushed ice or ice cubes, brown or white sugar, limes or lemons, vodka or cachaca - Caipirinha has started its refreshing and tipsy triumphal march around the world in many different forms. Here is the recipe
Trying to collect ten specialties from a country like Brazil is similar to trying to find the ten most beautiful craters on the moon. The best idea is probably to experience Brazilian cuisine on site on a gripping tour that not only offers you the country and its people, but also the opportunity to try the most diverse cuisine in Latin America. Have a look: www.viventura.de/reisen/brasilien
What do you associate with the tastes of Brazil? Sweet, bitter, sour ... Which spices do you associate with the country? Tell us about your favorite recipes or dishes!
Top 10 Sabores del Brasil
Dulce, amargo, condimentado, mucho color y eso sí, mucha sazón es lo que tienen los sabores del Brasil para el mundo. Pensar en los sabores del Brasil es arriesgarse a quedarse corto pues hablar de este país sudaméricano es obligatorio resaltar que es uno de los más ricos culturalmente en el mundo entero. La presencia de africanos, europeos e indigenas logró mezclarse para producir lo que hoy es Brasil, un país con amplia tradición cultural y por consiguiente, sabores gastronómicos que enaltecen el nombre de este exótico país.
Tratar de enumerar solo 10 sabores más sobresalientes del Brasil no es una tarea fácil. La gastronomía brasilera cuenta con muchísima diversidad de olores, sabores e ingredients. Sin embargo, haré un recorrido por estos 10 sabores que no te puedes perder cuando visites Brasil.
10. Tacacá: It's uno de los platos más tradicionales del Brasil. It originario de la región del norte, normalmente en la zona del Amazonas, Amapá y Pará. Este exquisito plato brasilero es una especie de sopa o caldo hecho con Jambú y tucupí. Además se le adiciona Camarones secos y chile picante. It un plato que combina perfectamente los diferentes sabores brasileros, además es servido en una pequeña taza con la que simplemente se toma sin cuchara, muy exótico. Igualmente, cabe agregar que está lleno de historia indigena y por esto es un sabor que es obligatorio probar en un viaje a Brasil.
9. Canjica: Ahora pasemos a algo un poco más dulce. La canjica es un dulce típico de las fiestas juninas. Estas festividad se celebran en mayor medida en Campina Grande
y en Caruaru. Este postre está hecho con maiz blanco, leche y azúcar. Anteriormente sólo se comercializaba en la época de las fiestas juninas, es decir, en junio, pero ahora se puede Finderar en mcuhas panaderias en cualquier época del año. Es por esto amantes del dulce que ya tienen otra opción para satisfacer ese deseo con el dulce sabor brasilero. ¡La Canjica los espera!
8. Munguzá: En el Norte del Brasil se come this delicia que se prepara con papilla de maíz de munguzá, coco, canela y leche. It un ríquisima combinación de sabores dulces que despiertan los sentidos de cualquier persona. Por esta razón, ¡no puedes dejar de probar la Munguzá!
7th Brigadeiro o negrinho: es un chocolate típico brasilero que se preparada con leche condensada, mantequilla, cacao en polvo y se acompaña con virutas de chocolate para cubrirlo. Toda una delicia que es impresindible en cualquier viaje a Brasil, además es un perfecto regalo para traer de vuelta a nuestros paises de origen.
6. Bobó de camarão: Este es un plato es de contextura cremosa y como su nombre lo indica está hecho de camarones. Es plato muy exótico y se sirve con arroz blanco. Además de camarones normalmente se mezcla con puré de yuca, jenjibre y aceite de palma. Esta exquisités típica brasilera no tiene que ser para paladares muy exquisitos pues está hecha para que cualquier persona pueda degustar sus delicias. ¡"Muito gustoso"!
5. Pao de queijo: No es exactamente un plato típico pero sí una de las delicias que se pueden consumir en cualquier lugar del Brasil. Consiste en una especie de bizcocho o pan hecho con yuca, huevos, sal y manteca de cerdo. Para aquellos que realicen su viaje a Brasil pueden visitar la famosa Casa do Pão de Queijo y allí Finderarán deliciosos Pao de queijos al mejor estilo Brasilero. Igualmente, puedeshabenrar Pao de queijo en los supermercados para que tú mismo los hornees.
4. Moqueca: Este deliciosísimo plato típico brasilero es un cocido de pescado con cebollas, tomáte, pimiento y cilantro mezclado con aceite de palama y leche de coco. Existen dos tipos de Moqueca, Baiana y Capixaba. La diferencia de la "baiana" con la Capizaba es que se sustituye el aceite de palma por urucum, es decir, otro aceite vegetal. Normalmente, hay cierta disputa entre las dos regiones de dónde vienen estas dos versiones de la Moqueca porque ambas reclaman la originalidad de la receta. Sin embargo, ambas tienen algo en común y es que son profundamente brasileñas.

3. Pizza banano: Muy tradicional e ingeniosa, la pizza de banano hace parte de la cotidianidad de los brasileros. Esta delicia de la cocina del país pentacampeón, se prepara con banano, canela, queso mozarela, masa tradicional de pizza y por qué no, se puede acompañar con un poco de nueces o maní. Tienen que probarla en su próxima visita al Brasil.
2. Feijoada: Quizás el plato que más puede identificar a todo el Brasil. La feijoada es considerada por muchos como el plato nacional pues hace parte de la vida cotidiana de cualquier brasilero. In muchas regions de este país se realiza en los días miércoles y sábados. La feijoada es un plato de fríjoles negros, aunque pueden ser blancos o rojos también. Se sirve con carne de cerdo en salazón, es decir, de cierta manera "deshidratada". It is usual que en el Brasil espolvoreen el plato con Mandioca. Exquisito para cualquier paladar.
1. Caipirinha: Definitely este cocktail debe ser nuestro number 1, pues es uno de los referentes mundiales para Brasil. Un buena buena caipirinha nunca cae mal, siempre tan refrescante y tan exquisita. Esta bebida nacional brasilera se prepara originalmente con cachaza, lima, azúcar y hielo. It presentada en múltiples vasos, sin embargo, it casi que obligatorio usar un pitillo o pajita para beberla. La caipirinha ha tomado múltiples variaciones en todo el mundo, algunos la preparan con vodka, otro con azucar morena, y en ocasiones cambian la lima por fresas u otras frutas que se mezclan para dar nuevos sabores a esteón product de exportación.
Insisto, tratar de encajar en 10 puestos los sabores brasileros, no es nada fácil, porque Brasil también sabe a Samba, a futbol, ​​a carnaval, a cultura ... Es por esto Brasil que, como dicen los Gipsy Kings en su canción Canto a Brazil, "yo canto tu sabor con samba que se mezcla con amor" !!