Which Bible verse defines you
Bible verses about love
«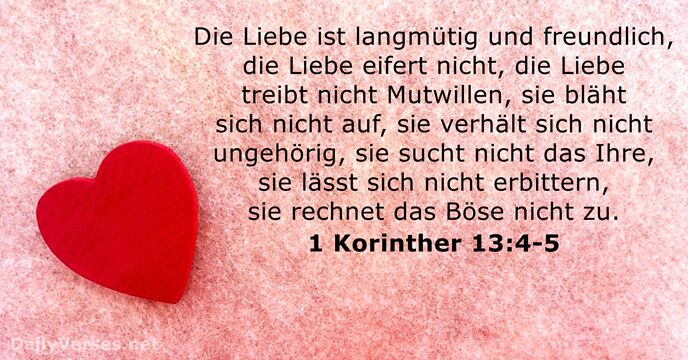 »
Love is long-suffering and kind, love does not jealous, love does not act willful, it does not inflate itself, it does not behave improperly, it does not look for what is yours, it does not allow itself to be embittered, it does not attribute evil.
Let all your things happen in love!
In the morning let me hear your grace;
because i hope in you
Tell me the way that I should go;
because I want you
But above everything draws on love, which is the bond of perfection.
Grace and loyalty should not leave you.
Hang my commandments on your neck
and write them on the board of your heart,
so you will gain kindness and wisdom,
that please God and men.
And we have recognized and believed the love that God has for us: God is love; and whoever abides in love abides in God and God in him.
With all humility and meekness, with patience. One bears the other in love.
Let's love because he loved us first.
But now faith, hope, and love remain, these three; but love is the greatest of them.
Above all else, have persistent love for one another; for "love covers the multitude of sins".
Love is without wrong. Hate the bad, cling to the good.
That he might give you strength according to the riches of his glory, to be strengthened by his spirit in the inner man, that Christ may dwell in your hearts by faith. And you are rooted and established in love.
And if I could speak prophetically and knew all secrets and all knowledge and had all faith so that I could move mountains, and if I did not have love, then I would be nothing.
It is my command that you love one another as I love you.
Can a woman forget her child
that she should not have mercy on the son of her body?
And if she forgot him
so I don't want to forget you.
See, I have drawn you on my hands;
your walls are always before me.
Brotherly love for one another be warm. One precedes the other with deference.
But the Lord direct your hearts to the love of God and to waiting for Christ.
Husbands, love your wives, just as Christ loved the church and gave himself up for them to sanctify them. He purified them with the water bath in the Word.
Nobody has ever seen God. When we love one another, God abides in us and his love is perfect in us.
If someone says: I love God and hates his brother, he is a liar. For whoever does not love his brother whom he sees cannot love God whom he does not see.
Nobody has a greater love than giving up his life for his friends.
Because you are dear in my eyes
and wonderful and because I love you
I give people in your place
and peoples for your life.
Rather, we talk as it is written: "What no eye has seen, no ear has heard, and what has not come into anyone's heart, what God has prepared for those who love him."
Do not owe anyone anything except that you love one another; for whoever loves another has fulfilled the law.
See what love the Father has shown us that we should be called God's children - and so are we! That is why the world does not recognize us; because she did not recognize him.
Fear is not in love, but perfect love drives out fear. For fear reckons with punishment; but whoever is afraid is not completely in love.