Why is Russia so depressing
Land of suicides
A two-story building in a residential area on the outskirts of Moscow. In the clinic's waiting room, water flows into an aquarium. A single fish remains motionless and rigid on the ground. The clinic specializes in psychotherapy. There are twenty beds. The patients are treated on an outpatient or inpatient basis. Many suffer from depression, says the chief physician and head of the clinic, Vjacheslav Davydov. Because they can't cope with the consequences of the turnaround, he says. "We used to have stability. People knew: they finish school, have a certain path ahead of them, they will have work, wages, an apartment. And always something to eat." Today the stability in Russia is over - and many people simply cannot cope with the many crises, both large and small. "For us, every crisis is a catastrophe. And of course that has an impact on mental health."
Alcohol instead of psychotherapy
The result: depression, alcohol abuse and - not infrequently - suicide or attempted suicide. Because in Russia people suffering from depression go to a therapist or doctor even less often than in other countries, says Vjacheslav Davydov, and if they do, then only after they have already attempted suicide. "Unfortunately the mentality of us Russians is that we prefer to go to the neighbors, cry and feel better afterwards. The admission 'I am mentally ill' is a nightmare for people. Everyone says: When I am mentally ill I belong in psychiatry for a lifetime. "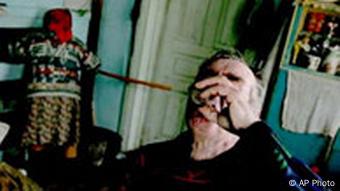 Insecurity drives many Russians into alcohol
In addition, the Russian health system is considered corrupt. That too scares people off. According to the Russian Statistics Office, 36 out of 100,000 people in Russia kill themselves every year. About twice as many as in Western Europe. This does not even include those suicides who, for example, throw themselves out of the window or throw themselves in front of a train. Statistically speaking, you are considered to be an accident victim in Russia. Likewise, the many alcohol deaths are not counted.
Particularly at risk: young people
The suicide rate is particularly high among Russian adolescents. According to official figures, every twelfth Russian youth between the ages of 15 and 19 attempts suicide. Nowhere in the world are there more. While the suicide rate in the western Russian metropolises, in Moscow and Petersburg, is roughly on a European level, it is particularly high in the remote areas of Russia, for example in the Arctic Circle. The government is aware of these figures. Health Minister Tatiana Golikova said in her annual report at the end of 2008: "Among the causes of death, cardiovascular diseases rank first, as well as diseases of the respiratory tract. The number of traffic accidents, suicides and alcohol poisoning is also high."
Self-help groups: Nothing
Other countries, for example Finland, developed state strategies for suicide prevention years ago. There is increased awareness of suicide and the risk of suicide, and access to psychosocial help has been made easier. In Russia, however, not all cities have telephone hotlines for people with depression. The sick often do not know who to turn to. Anyone looking for the Russian equivalent of a "self-help group" on the Internet will only come across the Russian-language offer of an initiative in Germany. The Russian Ministry of Health does not provide any information about whether and what the government will do to prevent suicides. In November of this year, the minister stated that the number of suicides had fallen slightly - despite the current economic and financial crisis.
The psychiatrist Vjacheslav Davydov calls for health care to be improved again in Russia. Because then one could recognize and treat depression at an earlier stage, with drugs or with therapy. "During the Soviet era, much more attention was paid to prophylaxis. Doctors went to kindergartens. There were special welfare days in schools where all classes went to the polyclinic together." Everyone had to go there every year. To all doctors. Also to the psychiatrist. If there were any abnormalities, the psychiatrist could correct them at an early stage.
Badly trained doctors
Davydov mentions another problem: the Russian doctors are too poorly trained. If their patients were suicidal, they might not realize it. "Of the graduates, perhaps ten percent are really qualified. And the doctors and professors who could impart and pass on knowledge are old and no longer teach."
Davydov himself worked abroad for twelve years, in Poland and in the USA. His clinic in Moscow is a private clinic, and a stay there costs the equivalent of 200 euros a day. Few patients can afford that.
Author: Gesine Dornblüth
Editor: Manfred Götzke