Does Donald Trump want inflation
Trump is again involved in monetary policy
US President Donald Trump has again attacked the domestic Federal Reserve (FED) hard. He called for the key interest rate to be lowered by one percentage point and for more bond purchases by the FED - in other words, de facto, starting the printing press to stimulate the economy. "Then we would go off like a rocket," wrote Trump on the short message service Twitter.
The Federal Reserve had tried slowly to normalize its monetary policy over the past three years. The key interest rate was gradually increased from practically zero to a corridor of 2.25 to 2.50 percent. The bond purchases program has been halted and partially rolled back. However, the FED still holds far more government bonds - and thus government debt - than it did before the financial crisis.
The US economy is currently doing well, Trump tweeted. "With our wonderfully low inflation, we could break records and keep our national debt looking low," he said. China is also stimulating its economy and keeping interest rates low. The Federal Reserve, on the other hand, has ceaselessly raised interest rates, even though inflation is very low, and initiated bond sales.
Trump's influence on the policy of the Federal Reserve is watched internationally with eagle eyes. "I am certainly concerned about the independence of central banks in other countries, especially in the most important country in the world," the President of the European Central Bank (ECB), Mario Draghi, was recently quoted as saying. The head of the International Monetary Fund (IMF), Christine Lagarde, was also critical of the question of the independence of the central banks as a whole. "Independence has served them well and hopefully will continue to do so in the future," said Lagarde.
FED will decide on Wednesday
The FED wants to announce its interest rate decision this Wednesday. It is generally expected that the key rate will remain unchanged. The US Federal Reserve has not yet touched interest rates this year and signaled in March that it may not be changed at all in 2019.
Trump nominates confidants for Fed director posts
Trump had recently repeatedly sharply criticized what he believed to be the monetary watchdogs' monetary policy, which was too tight. The president also nominated his confidante and ex-election advisor Stephen Moore, who advocates rate cuts, for a vacant director post at the central bank.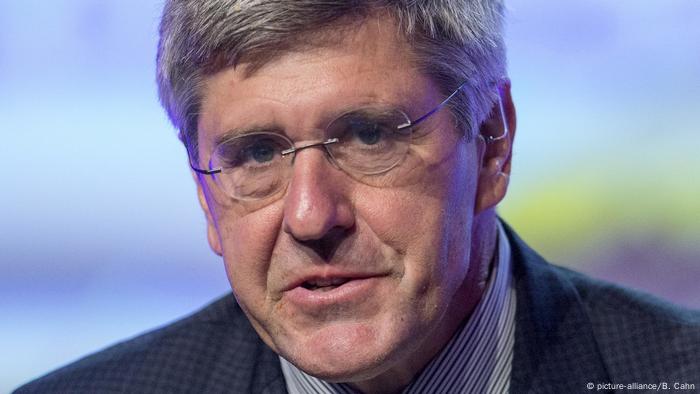 Stephen Moore is supposed to implement Trump's policy on the FED Board of Directors
Moore is an economist and senior fellow of the conservative think tank Heritage Foundation. The Senate still has to approve the change. Currently, only five of the nominal seven positions on the board of directors of the US Federal Reserve are filled.
se / haz (rtr, ap, dpa, afp, WSJ)