How are the laws made in China?
China is violating its own laws in Xinjiang
Even before the recent revelations of secret documents ("China Cables") about the management of the re-education camps in Xinjiang, their existence and extent were known. China has always emphasized its determination to crack down on the "three evils extremism, separatism and fundamentalism". In terms of methods, however, it was kept a low profile, especially after the line prevailed in Beijing around 2017 that the vast western region of Xinjiang could only be pacified by expelling the religious and cultural traditions of the Uighurs across the board.
Of course, the party leadership never openly communicated this strategy to the outside world. But there is consensus among all independent observers that this is exactly the strategy behind the storage and surveillance system in Xinjiang.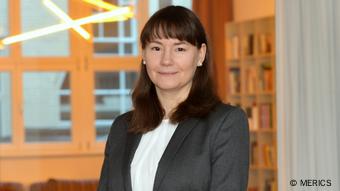 China expert Katja Drinhausen states "discrepancy in the treatment of different population groups and individuals if they are classified as a threat to national and political security"
China's leadership has no justification
In early 2018, Xinjiang researcher Adrian Zenz stated in a DW conversation: "There is actually no answer from Beijing about the re-education camps. And that also indicates how difficult this topic is, especially considering that China is the political one Officially abolished the labor re-education system set up by Mao Zedong in 2013 ... The Chinese arguably can't really find a way to justify this system because it goes far beyond normal terrorism. "
The topic first appeared on the international stage at the end of August 2018. At that time, the UN Committee for the Elimination of Racial Discrimination was "alarmed" by reports of the imprisonment of Uyghurs and members of other Muslim minorities in Xinjiang, and of nationwide surveillance and bans on Uyghur people Language and other measures.
Hu Lianhe, the Chinese representative at the meeting, denied the existence of "re-education camps" but admitted that those guilty of minor offenses were given "guidance and training" in so-called vocational training centers. In parallel with this new language regulation, a law was passed in Xinjiang Province, which contains the various measures to eradicate extremism, as well as the various manifestations of extremism.
Beijing has no interest in a dialogue with moderate representatives of the Uyghurs like the convicted Ilham Tohti
Beijing's claim of compliance with the law does not hold up
Beijing claims its measures are covered by state law. However, this is not the case, as Western experts point out: "The detailed rules on combating extremism in Xinjiang from the end of 2018 say nothing about the fact that people who are guilty of 'extremist acts and / or words' will be deprived of their freedom in the long term." , says Katja Drinhausen, an expert in Chinese law at the MERICS research institute in Berlin.
But that is exactly what happens: "The 'China Cables' once again made it clear that Xinjiang is a system of internment camps in which people are held for a long period of time - usually one year." Even in China, deprivation of liberty may only take place on the basis of a law passed at national level, which is stipulated three times: in the constitution, in the legislative law and in the law on administrative penalties. "But there is no law in China that allows people to be put in such closed institutions for the purpose of ideological re-education for a year or more," adds Katja Drinhausen.
In this context, her colleague Eva Pils from London's King's College refers to Section 238 of the Chinese Criminal Code. There, unlawful deprivation of liberty is a criminal offense. If a "civil servant is guilty of this crime by abusing his office", he will even receive the highest possible sentence. Overall, it can be said that China's position that everything is right in Xinjiang is on weak feet, to put it cautiously.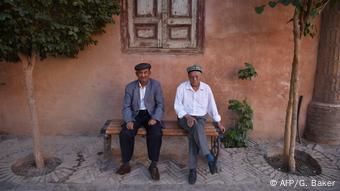 Quiet scene in Kashgar: China's security apparatus is more interested in the young than in the old Uighurs.
Propaganda works - for the domestic market
"The Chinese leadership can only say that the measures are in accordance with the law because they deny that they are imprisonment," explains Katja Drinhausen. While this position doesn't catch on in the West, based on research by the New York Times and the International Network of Investigative Journalists (ICIJ), it appears to be believed domestically.
Because the events in Xinjiang do not find any critical echo in China itself. The MERICS expert explains this, among other things, with the party's clever propaganda work: "The strictly controlled reporting conveys the image of a humanitarian approach pursued by the government in Xinjiang, namely combating extremism through free educational offers, not with methods like the USA la Guantánamo. Apparently there have been no further attacks since these measures began. This is positively recognized. Criticism and information from outside, on the other hand, are quickly suppressed. "
The truth about what is going on in Xinjiang is also being suppressed by an internal information block, says Katja Drinhausen: "For everyone who lives there and see what it really is like, there is a strict ban on passing on information. One of the lessons learned from the revelations is that not all local cadres, who are tasked with the implementation of the policy, found it good. Individuals tried to get around guidelines and were then sanctioned themselves. "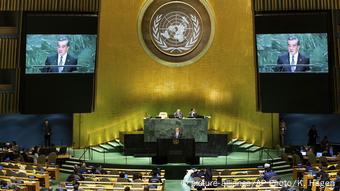 Can China continue to fend off growing international criticism?
Possible violation of international agreements
The question of how Beijing will bring its actions in Xinjiang in line with its own laws can perhaps be classified under "internal affairs". The question of compliance with international conventions to which, as Eva Pils emphasizes, China has also acceded, such as the anti-torture convention, is a different matter. The definition of torture contained therein could, according to all that has become known so far, often apply to the camps and interrogations in Xinjiang. That is why Western governments such as Great Britain and Germany are calling for China to open Xinjiang to "independent international observers" as soon as possible. But that is precisely why China is unlikely to grant such access anytime soon.