Chinese students learn English
Students as teachers of Chinese
"Tǔdì - xiōngdìjiěmèi - shuǐ" - These are the Chinese words for "earth", "siblings" and "water". Yun Gao writes them on the blackboard and patiently speaks them several times to the students at the Leibniz Gymnasium in Remscheid. She looks smiling at strained faces. The words do not flow fluently over the lips of any young person. But the 25-year-old German studies student from China encourages her students. "That's good," she says. "The more you practice, the easier it will be!"
For a month now, Yun Gao has been teaching the tenth graders at the Remscheider Gymnasium to support the Chinese teacher Christine Du. The 25-year-old German studies student from northern China is one of 30 Chinese foreign language assistants in the German Pedagogical Exchange Service, or PAD for short. The assistants have been coming to Germany for several months since 2007 to organize Chinese lessons in German schools. Because that is no longer a rarity. Chinese can now be chosen as a foreign language at 64 schools in Germany. Around 200 schools offer Chinese AG's - and the trend is rising.
Bring language to life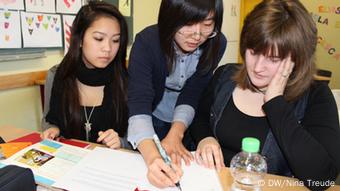 Yun Gao explains the difficult characters to students
Yun Gao is even in Germany for the second time and supports language teaching at two high schools in Remscheid. She not only wants to teach the 15- and 16-year-old schoolchildren their mother tongue, she also wants to learn it herself. "I think it's not only a good chance to improve my German, I can also broaden my horizons and learn more about German culture," explains Gao.
Through an internship at the Goethe Institute in Beijing, Yun Gao found out about the PAD, which supports foreign language teaching in Germany with the help of native language assistants from 14 countries. Günther Jacob from PAD, who trains the assistants in a three-day introductory course, is not surprised that the interest in the Chinese language is growing in Germany. After all, China is one of Germany's most important trading partners. It is important for many parents to optimally prepare their children for the job market, he explains. "That's why they want their child to learn Chinese."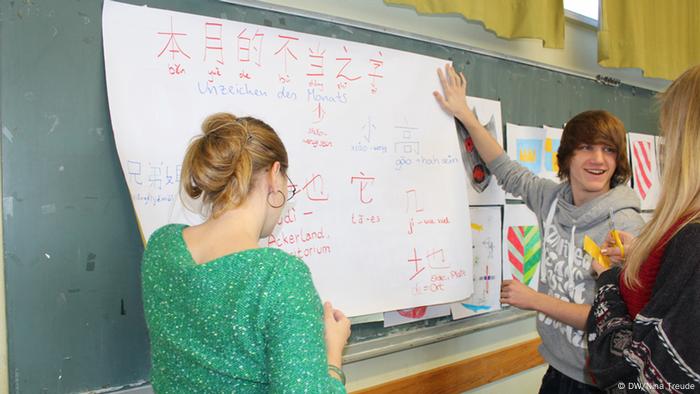 Unwords of the month: Pupils write down the characters they cannot remember on a poster.
Discussions about freedom of expression
But language skills alone are not enough, emphasizes the Remscheid-based Chinese teacher Christine Du, who lived in China for a number of years. She also wants to convey Chinese traditions, values ​​and eating habits to her students. She is actively supported by Yun Gao. "As a German, I may know many aspects of culture," she says. "But as a native speaker, Yun Gao can better explain the Chinese perspective on economics and politics." The foreign language assistant also discusses sensitive topics such as freedom of expression or environmental problems with the students, which are repeatedly present in the German media.
Learning the new language is far more challenging for students than teaching English or French. You have to have a lot of patience and ambition, says Christine Du. Because there are no articles and times, but characters and intonations that Yun Gao explains with the help of donkey bridges. For example, the character for the word "repeat" resembles a small bird in a nest that has to repeat its flight exercises over and over in order to learn to fly, explains Yun Gao.
Schoolchildren and students learn from each other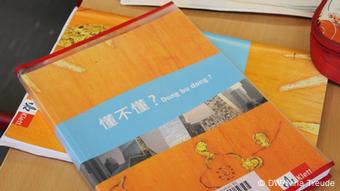 Chinese school book
The students hang on the lips of the foreign language assistant who brings the distant country to life in the classroom. Tenth grader Philip has already learned a lot from Yun Gao: "When Ms. Gao read us a text, I heard a real Chinese emphasize the words we were learning for the first time. It sounded very different from when our teacher spoke . "
Yun Gao proudly watches the great progress of her students. She likes the German teaching methods better than the Chinese. The young woman emphasizes that the lessons are much more interactive and there is less pressure to perform. This also gives more room for creativity. While the students in China mostly write off the learning material from the blackboard without criticism, in German classes dialogues with assigned roles are rehearsed, films are watched or the latest vocabulary skills are put to a practical test in a Chinese restaurant.
Both sides benefit from the program, says Günter Jacob. Not only do the students develop, the foreign language assistants also take a lot with them. They have to find their way in a foreign country, which leads to a significant leap in independence and personal development, he emphasizes. "You will get to know life in Germany from your own experience, much better than any language course could do."