The CFA MBA strategy is a good combination
MBA degree - what is it actually?
If you google for "MBA study", you will come across buzzwords like "career jump", "salary increase" or "management studies" everywhere. But what kind of degree is this Master of Business Administration, or MBA for short, actually?
The abbreviation MBA stands for "Master of Business Administration".
Wikipedia writes about this:
"The Master of Business Administration (MBA) is a postgraduate generalist management degree that should cover all essential management functions."
Translated it means: The MBA is a course of study that can be studied after completing a first academic degree (e.g. Bachelor or Diploma). In addition, it is designed in a "generalist" way, which means that the course does not convey specialized knowledge for one subject area, but the entire spectrum of business administration. However, this generalist approach is tending to decline and specialized MBAs, such as logistics or health management, are coming onto the market. Besides, you can meanwhile even without a first degree study with enough work experience.
University tip
Sponsored
Do you already have a university degree in your pocket?
Then deepen your knowledge with a part-time MBA course at the IAW of the dynamic TH Ingolstadt.
You can find all details in the information material.
Did you know that...
... the average costs for an MBA in Germany are 17,000 euros?
... the costs for an MBA degree in Switzerland are above average?
... the standard period of study for an MBA course is between 1 and 2 years?
Basic information about the MBA course
Who is an MBA for?
The Master of Business Administration is primarily aimed at people who nAfter the diploma, master's, bachelor's or master's degree, at least one year in professional life stand.
It was originally intended for those who did a non-business degree (e.g. biology, mechanical engineering, medicine, law) and Make up for missing business administration skills want. Today, however, business administration graduates do a business administration master's degree in order to deepen their knowledge.
Our tip: The perfect part-time MBA program!
Sponsored
✔ First class ratings - 100% recommendation
✔ 3 semesters (18 months) part-time including thesis
✔ Face-to-face events on selected weekends
✔ Individual business coaching & personal support
✔ Flexible payment and financing options
How is the MBA program structured?
There is no uniform study structure for the Master of Business Administration. When it comes to the structure of the study, the time model is particularly important:
Extra-occupational face-to-face study (evening or weekend study)
Distance learning
Full-time study
Executive MBA (special form of part-time classroom study, aimed only at people with managerial responsibility)
In 2014, the distribution of the study models looked like this: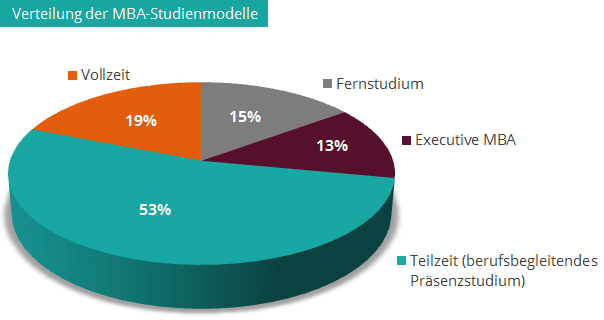 In principle, it can be said that an MBA course in Germany takes an average of 21 months. This is due to the widespread use of part-time courses. Those who opt for a full-time MBA course will have their degree in their pocket faster, while distance learning can do Study time up to four years be.
How can you find reputable universities / providers?
For example in our database. There you will find numerous universities with different MBA programs. We only accepted certified providers with reputable study programs.
Otherwise you should pay attention to the accreditation. Reliable universities have had their range of courses checked by a so-called accreditation agency (e.g. FIBAA, EQUIS, AMBA) or have been approved.
Find an MBA degree

205 universities