What made you live in Montreal
Interview with Catherine Diallo / Canada
Catherine Diallo emigrated to Canada. As an immigration advisor, she helps people who want to live and work in Canada.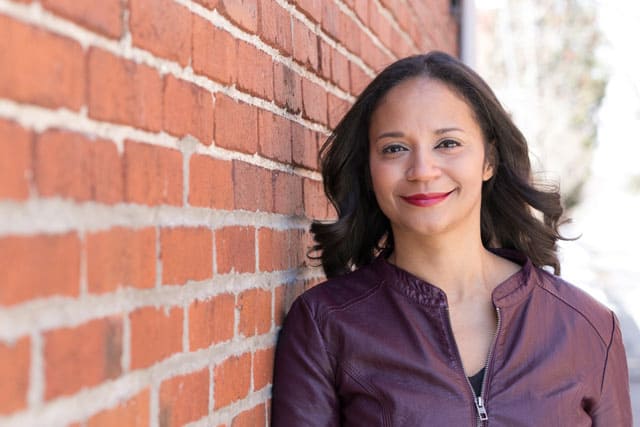 You moved from Germany to Montreal in 2015. What made you take this step, why did you want to leave Germany?
I didn't spend that much time in Germany before 2015. I studied in Berlin. In between, I went to Greece for the Erasmus year, to the first "real" job after studying in London, then briefly back to Germany and then to Luxembourg. I've always traveled a lot, always had curiosity and restlessness in me, and at some point Europe became too "narrow" for me.
You previously studied law in Germany. How does studying help you today?
Everyone who studies law in Germany learns: structure, structure, structure. Even if my degree was not recognized here and I reoriented myself, the years of law studies definitely helped me. Because law studies are not always the most pleasant process, you learn, without even realizing it, not to give up immediately when things get uncomfortable. And that is very important when you emigrate.
You went into business for yourself. How was the way there?
Good question. In my opinion, like everything in life, this path never stops. You always learn something new, you are constantly changing. The myth of the "happy ending" is just a myth in my opinion. The most difficult thing for me was the transition from the German structure just mentioned to the Montreal "freestyle everyday life" of the self-employed. The structure accompanies you in Germany (and in my case Luxembourg) in everyday life and is part of the environment. And without even realizing it, one expects the same here in Canada. However, the clocks tick differently in Canada and especially in Quebec. You have to say goodbye quickly to security thinking and predictability, be it as an entrepreneur or employee. You have to do just as much, if not more, than in Germany, but as an employee you get less in return. I realized very quickly that I no longer wanted to work as an employee. I already knew that deep down in Europe, but would probably never have taken the step there.
How is your professional situation today and what does a typical day look like for you?
I am self employed as immigration consultant active and also an emigrant advisor according to Section 1 (1) of the German Emigration Protection Act. I have my office in the apartment because most of my customers are abroad and consultations take place via Skype or WhatsApp. First thing in the morning (like all of us) I read my emails, check in with customers and my agents who are all over the world. Then I process immigration applications and document everything because my job, like many jobs in Quebec, is subject to very strict regulatory requirements. The best part of the day is always the second in one approved visa application flutters into the house. I still remember how happy I was when my application was approved. And if you can help others to realize their Canada dream, that's great.
When was the first time you were in Canada? Was it "love at first sight" or did you only grow fond of the country over time?
Canada and I went straight to the top :) I was here for the first time in 2013, in Toronto. I liked it a lot. I always found this energy that you get in North American metropolises to be totally contagious. When I visited Montreal a year later, it was clear to me: I want to live here!
It may have been a while, but still the question: Do you remember the situation when you first decided to move to Canada permanently?
After visiting Montreal in 2014, I calmly submitted my immigration application for Quebec from Luxembourg. Each province has its own rules, and I really wanted to go to Montreal. A year later (yes, you need patience) this was approved in the first stage. Then I made a "Working Holiday Visa" clear and in September 2015 I was on the plane to Montreal. I haven't regretted the step so far.
Canada is considered a country to which high potentials in particular emigrate. It is not a country where immigrant unemployed people can start over. Even people with little work experience in temporary jobs will not be accepted there. How are your experiences?
I can confirm. Depending on the occupation, non-Canadian work experience / training are often secondary and are only recognized to a limited extent. There is an exception for US Americans and in Quebec for French. Sometimes, not always, it is a little easier for them.
In general, Canadian employers want canadian experience and Canadian references. That's why it's good to come on a working holiday first and gain some initial experience. And yes, that often starts with temporary jobs. Incidentally, some provinces are also looking for so-called Semi-Skilled and Critical Workers. Those who can lend a hand are sometimes more in demand than academics with various master's degrees. By the way, that's something I had to get used to. Because law studies take so long (and for me even longer than most of the others :-)), it's easy to think: "Well, now I've earned something." No, you don't have here. You often have to start relatively low. My first job here was badly paid. But when I was in a law firm for immigration law as paralegal started, everything suddenly fell into place. Thanks to my previous legal training and my own immigrant experience, I was able to identify directly with the area and enjoyed it. But I still had to go to school for another 6 months to become a immigration consultant and to be able to accept my own customers. However, it is not uncommon here to change jobs, catch up on qualifications, etc. You often have to continue investing in your training even after you have obtained your qualification in order to keep your license.
I think a lot of people come here with wrong expectations. I am very transparent with my customers. I am happy to help immigration applications and other visa applications, opening an account and looking for accommodation for the first few weeks. But where will the money ultimately flow from? I cannot and do not want to take responsibility for this. Anyone who has ever worked independently and is not afraid of the unknown is in good hands here. Of course, the personal situation has to be right. On the other hand, anyone who wants to tie in seamlessly with the German workforce will definitely be disappointed. It is best to come with a job offer in your pocket. After that you can always reorient yourself. Everything will be easier with the first reference. Job references are rather unusual.
What do you think is the most important requirement if someone wants to emigrate from Germany to Canada?
Patience.
Could you name three main differences between living in Germany and living in Canada?
First of all, I have to say that I can't possibly speak for all of Canada. That would be presumptuous. I know Montreal very well, the rest of Quebec in parts and Toronto so-so. I've also visited Nova Scotia and Prince Edward Island once, but all in all that's only a fraction of Canada. I also think that comparing integration in the new country puts an end to it. I got used to that very early on. But if I do the city comparison Montreal - Berlin now, then the differences would be the following:
Montreal is peaceful. There is less front formation here. When I say less, I don't mean that it doesn't exist here. Because it does, but much more subtle and not as aggressive.
It's very normal to change jobs here every few years. Things change faster here overall.
The professional and the social are much more blurred in Montreal, even in more conservative industries. However, this must be enjoyed with caution. The looseness at first sight can also convey a false sense of security. Especially when you are not used to it from Europe in this form.
What 3 tips would you give to a German considering emigrating to Canada?
Take a longer vacation here beforehand and make new contacts. An unsolicited application from Germany will likely go unanswered unless you have a Canadian reference.
Save enough money to get another certificate here if necessary.
Don't necessarily rush to the main destinations like Toronto and Vancouver, but also give the hinterland a chance, at least at the beginning. It is often much easier to gain a foothold there.
In Canada, not all that glitters is gold. Which 3 things do you miss the most or get on your alarm clock in Canada?
I miss European mobility. Here I often have the feeling that I have "grown together" with the city. In Luxembourg I got on the train and was 2 to 3 hours later in Paris, Brussels, or at the weekend in Germany. It looks different here. You drive for hours and don't necessarily feel like you've moved.
What really gets on my nerves here are the references. And not just for jobs, but also for apartments, etc. It is understandable that people want to know who they are dealing with. But being dependent on personal impressions and involving other people in my own affairs and decisions is something I have my problems with. This also results in the Canadian "duplicity", which is unpopular with many Germans. Because here you often talk as you think that is expected of you, even if that may not agree with what you actually want to say. And that can be exhausting, but it cannot be avoided. On the other hand, many Germans are just too clumsy and insulting. Finding the middle is damn hard. I'm still working on it.
The prices of some foods, such as dairy products and alcohol, are relatively high.
The question keeps coming up: "What languages ​​do they speak in Canada?" Could you please briefly introduce the areas where mostly French and English are spoken?
The official Canadian languages ​​are English AND French. Quebec is the only province where French is the only official language. That means that you may not get very far here with English in an authority. The province of New Brunswick is the only province where both languages ​​are official languages. By the way, there are French-speaking parts of the population all over Canada, not just in Quebec.
Is the emigrant wrong in assuming that "in case of doubt", English will suffice everywhere?
So in Quebec it doesn't get very far. In a pinch you can do without French here, as a lot of people in Montreal are bilingual. But that usually doesn't go down well, especially when looking for a job. Many French-speaking people also end up in New Brunswick to study. There and in the rest of the country, however, in contrast to Quebec, French speakers are in the minority, albeit in New Brunswick with just over 30%. You will also come across smaller French-speaking communities to the west (Ontario, Manitoba, Alberta, etc.). Speaking both languages ​​is never a disadvantage. In my opinion, command of French is a must in Quebec, a clear advantage in New Brunswick and a good but minor additional qualification in the rest of the country, the lack of which alone will not fail. In my experience, French Canadians are also relatively patient with non-native speakers and the various accents that go with it. Anyone who has already been to Paris and may have lost the desire to try out the French language should try again here. It will be more fun when in doubt.
What would have to happen for you to return to Germany in a few years?
I don't intend to. My friend is Quebecois and would be lost in Germany. If interesting business opportunities arise, however, I am happy to be on the next plane to Berlin, Frankfurt or Munich. And then back again.
How extensive was your move?
Very unspectacular. I came as Work and Traveler with two suitcases and first slept on a friend's sofa in Montreal. Then it went on to the first room in a shared apartment (also more difficult with mid-30s than with mid-20s). Then I found an apartment to sublet and met my boyfriend at the same time. Shortly afterwards we moved in together.
How did family and friends in Germany react when they found out that you were emigrating to Canada?
They always knew that I would not stay in Europe much longer. Some were sad, but no one was surprised that I was saying goodbye. The fact that with Montreal I chose a city with five months of winter was the real scream about it.
How did you make friends in Montreal?
I knew people beforehand through my visit. Otherwise I got up meet-ups drifted around, spent a lot of time in the yoga studio and just met people on the street every now and then. You shouldn't and shouldn't be shy about emigrating. It took some effort at the beginning, but at some point it was very easy. Montreal has so many free events and opportunities to meet people. And are also very important when looking for a job networking events. Going to meetings like this alone is normal here. I wouldn't have done that before either.
And how close is your contact to Germany today?
Very close thanks to Skype and WhatsApp! I talk to my mother on the phone at least once a week and also very often to my friends who are still in my life from school and university and former jobs. I miss my German friends very much. It's easy to meet people here, but talking as openly as with people in Germany is usually not as popular. Has advantages and disadvantages. On the one hand, it's easier. Here you get less of what is forced on you without being asked and you have less "tightness" in the relationship, but you also tend to be in the dark more often.
Quebec, Canada's largest province, is around four times the size of Germany. You wrote to me recently that it was not on the radar of the German "emigration scene" (which I can confirm). And now the short question: What are the Germans missing out on? Why should it be any different?
So first of all, Quebec is just beautiful. I've never been an outdoor person, but since I've lived here I've discovered my passion for hiking, climbing and fishing. This certainly applies to other provinces as well. What I'm really excited about here in Quebec is the self-confidence of women. I remember from Germany that many women shy away from starting their own business. It may be that my memory is deceiving me. Here in Quebec, that's definitely not an issue at all. In addition, the cost of living is lower than, for example, in neighboring Ontario. Montreal is my personal favorite city. The combination of North America and laissez-faire made it easy for me to feel right at home here. I never felt like an outsider here. A feeling that has unfortunately accompanied me all my life in Europe (not only in Germany).
If time jumped back to summer 2014: Would you emigrate again today?
YES!
How do you experience the relationship between Germans and Canadians?
I can't judge that very well. I don't know any Germans in Quebec. Most Germans have moved to other provinces in the past, especially Ontario and BC. Manitoba also has an established German community. I think the relationship is quite good or neutral. The common occidental - Christian tradition is obvious. I've never heard of serious "cultural clashes". Maybe there is, but I was never there live. I'm also in some German groups on Facebook. If something is criticized, it is usually the "superficiality" and "duplicity" of the Canadians. It is true that more "hot air" is made here than in Germany. However, it can also make life easier.
I about myself
A good work day starts with 20 minutes of yoga, meditation and an (Italian!) Coffee
I like to spend my free time with Friends on the Montreal Plateau and on their bikes. Montreal has great bike paths and the BIXI bikes are unbeatable :)
I forget the timewhen I'm tinkering with my website.
It pisses me off when People think they have a birthright to go wherever it suits them and at the same time scold the bad foreigners at home.
My favourite music: at the moment I hear Bryan Adams up and down but that should subside soon.
When I was 18 I wanted to I didn't study law, but I did it anyway.
In retrospect, I wouldn't do it again Doing Erasmus in Greece. Spain would have helped me.
I'll see myself in 10 years in Montreal from May to October, otherwise where it's warmer and definitely at least once a year in Europe.
If you want to achieve something in my job, he has to listen to people and always be up to date with laws and jurisprudence.
In retrospect, I wouldn't do it again study at a university. I think a technical college would have brought me more personally.
Money makes me satisfied. Not alone, but yes, I cannot be satisfied without money.
I seek advice from my mentor whom I met here in the yoga studio. And of course my mother!
Family and work are not a contradiction.
If you want to emigrate to Canada, I advise Find out in advance very carefully about the training requirements and the possibilities of recognition in the respective profession. That varies a lot between the individual professions and provinces. Engineers and IT people, for example, have it easier than lawyers. In my opinion, anyone who wants to start their own business here and has experience in it has good chances. Canada encourages creativity and initiative.
Catherine, thank you for talking to us!
Catherine Diallo's website: Avenue Canada.
published: 09/26/2017. The questions for Woin-auswandern.de asked Knut Gierdahl.