What is it like to visit shenzhen china
Shenzhen
Just thirty years ago, Shenzhen was nothing more than a sleepy fishing village on the outskirts of Hong Kong, on the opposite bank of mainland China. Today, however, it is one of the driving economic regions of China, in the rapidly developing landscape of the delta of the Pearl River, a region with 12 million inhabitants.
Chinese name: 深圳
Chinese pinyin: shēn zhèn
Area: 1996.85 sq km
Population: 12 million
Tel code: 0755
Time zone: (UTC + 8)
overview
Shenzhen is located in the southern part of Guanggong Province on the eastern coast of the Pearl Delta River. The city is bordered by the Pearl River Delta and Hong Kong (is just south of Shenzhen, so the city's position gives it a geographical advantage for economic development. In 1980, the first Special Economic Zone was built in Shezhen. Since then, Shenzhen has become a very important city in China, known for its rapid economic growth.
Shenzhen - China's Progress Center
If you own a smartphone or any other electronic device, you are already more closely connected with Shenzhen than you might think.
Many manufacturers of cellular devices, such as Xiaomi, OnePlus and Huawei (which specializes in telecommunications technology) are based in Shenzhen. Even if you don't have a Chinese phone, you'll be amazed to find that your iPhone was made here in Shenzhen by a company called Foxconn.
It is therefore not surprising that the world's largest drone manufacturer DJI (it produces the Phantom and Inspire drone models) is also based in Shenzhen.
Why should you visit Shenzhen?
It is not the old temples and other historical monuments that attract travelers to Shenzhen, it is the modern architecture, the pedestrian zones, the cocktail bars and the Cantonese cuisine that make this city so special.
The opening of the high-speed rail to Hong Kong in 2018 has made Shenzhen one of the most attractive tourist destinations. In just 19 minutes you can reach this city from Kowloon - the shopping, art and entertainment district of Hong Kong.
When is the best time to visit Shenzhen?
You can visit Shenzhen at any time of the year. The climate corresponds to that in Hong Kong - subtropical. The winters are mild and the summers hot and humid. The shopping centers and restaurants are of course all air-conditioned. It rains more and more between May and September, but there are also days when you can enjoy your stay under blue skies.
The top sights
The OCT Loft Creative Culture Park
Located in the middle of an old factory district, the OCT Loft Creative Culture Park is now home to numerous art galleries, bookshops, individual cafes and recreational water oases with live music. With over 3000 square meters in the art complex alone, you'll want to spend at least a full afternoon here exploring this vibrant and curious part of Shenzhen.
The window of the world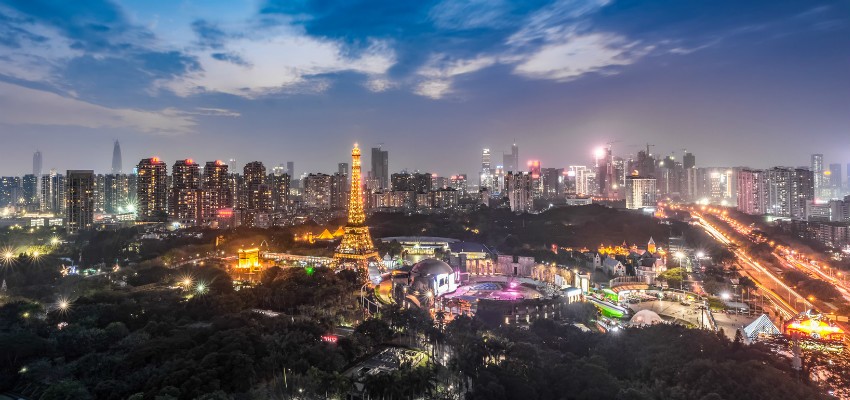 A mini globe is the symbol of the window to the world. Here you will find replicas of the most famous buildings and sights from all over the world. The Eiffel Tower, Niagara Falls and the Leaning Tower of Pisa - they are all miniatures. Around 130 of these mini attractions can be found in this park.
Dafen - the oil painting village
As the world's largest producer of oil painting copies, Dafen is a unique attraction. It consists of more than 1200 art galleries with replicas of Leonardo Da Vinci's Mona Lisa, Andy Warhol's Campbell's canned soup and Klimt's hug. In addition, it now serves as a springboard for young artists who present their own works here.
The best places for art lovers
Museum of Contemporary Art & Planning Exhibition MOCAPE
Shenzhen's newest arts center, MOCAPE, has already attracted countless culture fanatics. Part of the experience is the outstanding architecture, which combines straight and sloping lines with curved and twisted lines to create a bold, futuristic design. The museum shimmers, especially in the sun, with reflections from both the exterior and the interior, making it a perfect sight.
The e Museum of Contemporary Art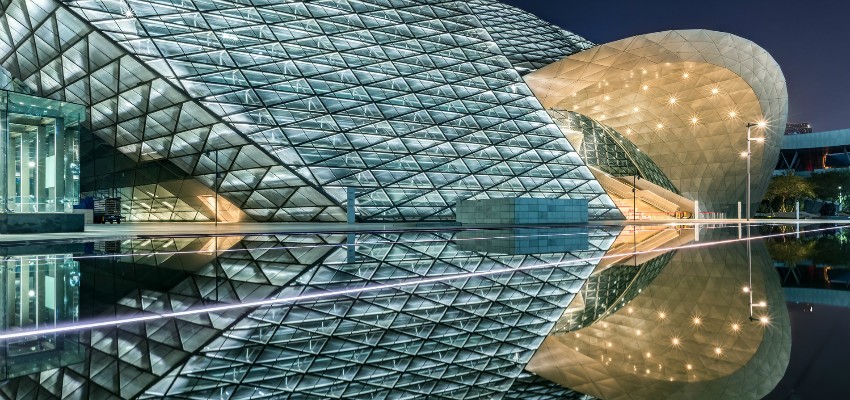 Only opened in 2014, this museum positions itself on the avant-garde side of the scale. Although the "e" suggests something else, it is a brick building that boasts a video room and an outdoor area.
The He Xiangning Art Museum
This gallery is named after the painter and social activist He Xiangning (1878-1972), whose works are presented here in a permanent exhibition. In addition, creating, presenting, collecting and studying other outstanding works, including Chinese art from overseas, as well as female art and creations by young artists, as well as the reorganization and storage of relevant art documents are the most important tasks of the He Xiangning Art Museum.
Shenzhen's skyscrapers
Ping An IFC: It is the fourth tallest building in the world and the second tallest skyscraper in China with a viewing platform at a height of 550 meters and the second tallest luxury hotel in the world.
KK100: Only about 4 km away, the KK100 is the second highest tower in Shenzhen at 442 meters. In 2016 it was among the 20 tallest buildings on earth and its observation deck offers an exceptional view of the sea.
The Shenzhen kitchen
Local cuisine here in Shenzhen is often overshadowed by the culinary centers of power in the immediate vicinity of Hong Kong and Guangzhou. Cantonese dim sum and traditional rice porridge are local delicacies that are also very popular with the locals. You should taste it!
Jinyue Cantonese Restaurant - Futian District
Dim sum and good air conditioning make this restaurant popular with foreign guests. Dim Sum is served from morning to noon at 2 a.m., and in the evening there are mainly fish dishes in an elegant atmosphere.
Chinese name: 金悦轩 Jinyue Xuan / jin-youair sshywen /
Average price per person: 113 yuan
Opening times: 10 am–3pm and 5pm – 10.30pm
Address: Floor 1-4, China House Mansion, 6013 Shennan Avenue, Futian District (福田 区 深南 大道 6013 号 中国 有色 大厦 1-4 楼)
Tel: 9755-8886 8880
Yinxing Porridge Shop - Bao'an District
This restaurant serves Cantonese congee - traditional rice soup or porridge. This eatery is particularly popular with the locals. If you like mild rice dishes this is the place for you.
Wupi duck with porridge is a house specialty. Many other types of porridge are on the menu, such as with lobster, partridge or hare. Every dish is freshly prepared in a complex way.
Address: Jianshe Road, Gongming Town, Bao'an District 银 兴 粥 店.深圳 宝安 区 公 明 镇 建设 路 (人民 路口)
Phone: 7736856, 7737836
Experience Shenzhen your way
We are happy to help you discover Shenzhen, the surrounding area and much, much more:
Our Shenzhen bestseller: 3-day Shenzhen core tour
Or ask us about an individually tailored trip for you.
Most popular trips