Getting married pregnant: How to celebrate your wedding with a baby bump
Image: © Depositphotos.com/Victoria_bychkova_
There are both advantages and disadvantages to being a pregnant bride. It is best to listen to your gut feeling, whether you want to get married pregnant or prefer to postpone the celebration.
If you're wondering whether you want to get married pregnant (or if you have already made up your mind to marry), you will find many helpful tips and ideas here on how you can best combine these two wonderful events.
We have divided this article into the following areas
Getting married pregnant advantages & disadvantages
The wedding date when the bride is pregnant
The wedding preparation for the pregnant bride
Celebrating the wedding pregnant
Which dress for a pregnant wedding?
Pregnant on the honeymoon
Inspirations for getting married during pregnancy
---
---
1. Pregnant Marrying Advantages & Disadvantages
First of all, it has to be mentioned that pregnancy is always an additional burden for the bride during the wedding preparations. In addition, you cannot party (and drink alcohol) as exuberantly as you did before pregnancy.
On the other hand, it makes perfect sense to get married while you are still pregnant, because you save yourself a lot of administrative procedures in order to subsequently become a "real family". It's also a great feeling to have your little miracle so close to you at the wedding.
A popular middle ground, especially in the case of an advanced pregnancy: leave it at that for the time being civil wedding in a small circle and moves the church wedding including wedding celebration at a point in time after pregnancy.
A surprising number of brides get married while pregnant and later celebrate church weddings with children. In that case, you can combine the church wedding with the baptism of your baby. This is called eaves.
Since every pregnancy is individual, we have put together a few general suggestions and tips for you, which of course require a pregnancy without complications.
---
---
2. The wedding date if the bride is pregnant
The second trimester of pregnancy is ideal for the big wedding party (4th to 6th month or 14th to 26th week of pregnancy), as the morning sickness is usually over and the stomach is not yet too big. In addition, you don't have to take too much care of yourself and can still move well.
Because of the always existing risk of premature birth, the day of the wedding should never be too close to the calculated date of birth.
It is better not to choose the hot summer months in order to get married pregnant, as the circulatory system alone has enough to do with pregnancy and the additional stress is neither good for the mother nor for the child.
A wedding sooner or later in the year has its advantages. Read more about the fall wedding here, for example.
---
---
3. The wedding preparation for the pregnant bride
If you want to get married pregnant, then you should try to reduce stress to the inevitable minimum, just as in your job and free time! Even if you prefer to organize everything yourself - you should REALLY hand in as many tasks as possible.
That's why they should Groomsmen and your families become more involved than usual. Maybe you can also take the help of a professional wedding planner. After all, you don't necessarily have 12 months in which to plan a wedding in a relaxed manner. With the support of a wedding planner, you can surely enjoy your wedding day more.
In our guide book "100 wedding checklists"You will find all the important points for planning the wedding. Here you can quickly see which tasks you can distribute to others and who could help you with what.
Tip for the JGA:
The Hen party for a pregnant bride should be celebrated much more calmly than usual. Maybe you are organizing a cozy wellness weekend with your friends and you can really relax. Also a relaxed one Bridal shower is a nice idea.
---
---
4. Celebrate the wedding with pregnant women
wedding
Should you have an individual Marriage vows plan necessarily includes the unborn child. This makes the vow even more emotional and will always be remembered by you.
If rice is sprinkled after the wedding, there is a high risk of slipping, which is why it is better to omit this custom.
Petals can also get very slippery on a smooth floor. Who on the Wedding custom the Flower children do not want to do without, for example red wedding carpet and thus significantly reduce the risk of slipping.
---
Wedding celebration
As a pregnant bride, it is very clear that you refrain from alcohol during pregnancy, including if you want to get married while pregnant. This is of course a basic rule, but we would like to mention it again in order to be complete.
More breaks than usual should be planned for the celebration. Maybe there is a small adjoining room at the wedding location where you can take a rest from time to time.
This is especially important if you want to play loud music late in the evening. Without an adjoining room, it may well be that you either have to leave your wedding earlier or there is simply no loud party music. But that in turn depends entirely on the unborn baby, whether it is bothered by the music or not.
By the way, a beautiful and suitable song for dance or wedding is "Jacob Lee - With You" (Bei Amazon for € 1.26)
If you already have several parents in your circle of friends and families who bring their children to the wedding, a children's table is also worthwhile!
Tip for the wedding dinner: Several smaller meals are more pleasant for pregnant women, a multi-course meal is more of a torture if you can't eat too much at once. For pregnant brides, there is a buffet where you can snack from time to time.
---
---
5. Which dress for a pregnant wedding?
Have you planned the wedding and are you now pregnant? Then inform your bridal shop and the seamstress as soon as possible. The "normal" wedding dress can possibly be widened and adjusted a little (e.g. sewing in laces instead of button fastenings).
Otherwise, a well-stocked bridal shop also has maternity dresses in stock or can at least order them. So you can get married pregnant in a romantic white wedding dress.
But you should make an appointment in the bridal shop as early as possible so that you can look around in other shops with the smaller selection of maternity dresses. It is best to read our article on this.
We recommend a wedding dress with soft and flowing fabrics. And with straps, because the breasts get even bigger during pregnancy (nothing can slip with the straps). An empire dress / A-shaped wedding dress, which goes far out from the underbust seam, conceals the stomach and you have enough space. A dress with a wrap look also looks great if you want to get married while pregnant. You should also consider whether your maternity wedding dress should be short. So you can move better and the risk of stumbling is also less.
Most importantly, the underwear should be comfortable and, if necessary, support your baby bump and breasts. Support stockings are now also available in an appealing look and they don't have to look like the typical granny stockings. The advantage: They provide support and ensure good blood circulation (e.g. from Amazon, from approx. 10 €). Specimens with a massage effect also help against tired and heavy legs.
Changes to the wedding dress should only be made shortly before the wedding date so that the dress really fits. Your bridal shop can certainly give you good advice on this.
Comfortable and flat bridal shoes are of course highly recommended for a pregnant bride, so that the risk of stumbling is minimized (the feet feel flat enough at the end of the pregnancy anyway and then you should not choose shoes with heels). We have put together for you how and where you can find beautiful shoes for the wedding in the article "Choosing wedding shoes cleverly".
---
---
6. Pregnant on your honeymoon
After you've got married, you should definitely treat yourself to at least a few days of rest and relaxation for two - maybe it will be the last time for a long time that you can enjoy a few days alone and without a child. Once the baby is born, you probably won't want to give it up and enjoy your time as a family ...
The travel destination should of course be adapted to the pregnancy. Ideally, no vaccinations should be necessary for this. In addition, medical care must be guaranteed at the travel destination and the climate should not be too stressful. Some countries also have special entry requirements for pregnant women, which you should definitely clarify beforehand.
In the plane, a seat in the aisle offers more freedom of movement and you can stretch your legs more often. You should drink plenty of water during the flight and make sure that the belt is well below your stomach. Because of the risk of thrombosis, you should wear compression stockings.
Depending on how far the pregnancy has progressed and which airline you are flying with, you may need a medical certificate to be able to board the plane (with some airlines even from the 28th week of pregnancy). It is best to always discuss an upcoming flight with your gynecologist.
If you don't want to fly away, you can get married pregnant and then go straight to a wellness hotel nearby.
Booking a travel cancellation insurance is very useful in any case, as you can never predict the course of the pregnancy beforehand. You should make sure that you get the money back (at least in part) for the trip, if you can't do it.
A foreign health insurance is an absolute must! But pay attention to the exact information provided by the insurance company, as the costs (which arise abroad due to pregnancy or childbirth) are often not covered.
---
---
7. Inspirations for getting married during pregnancy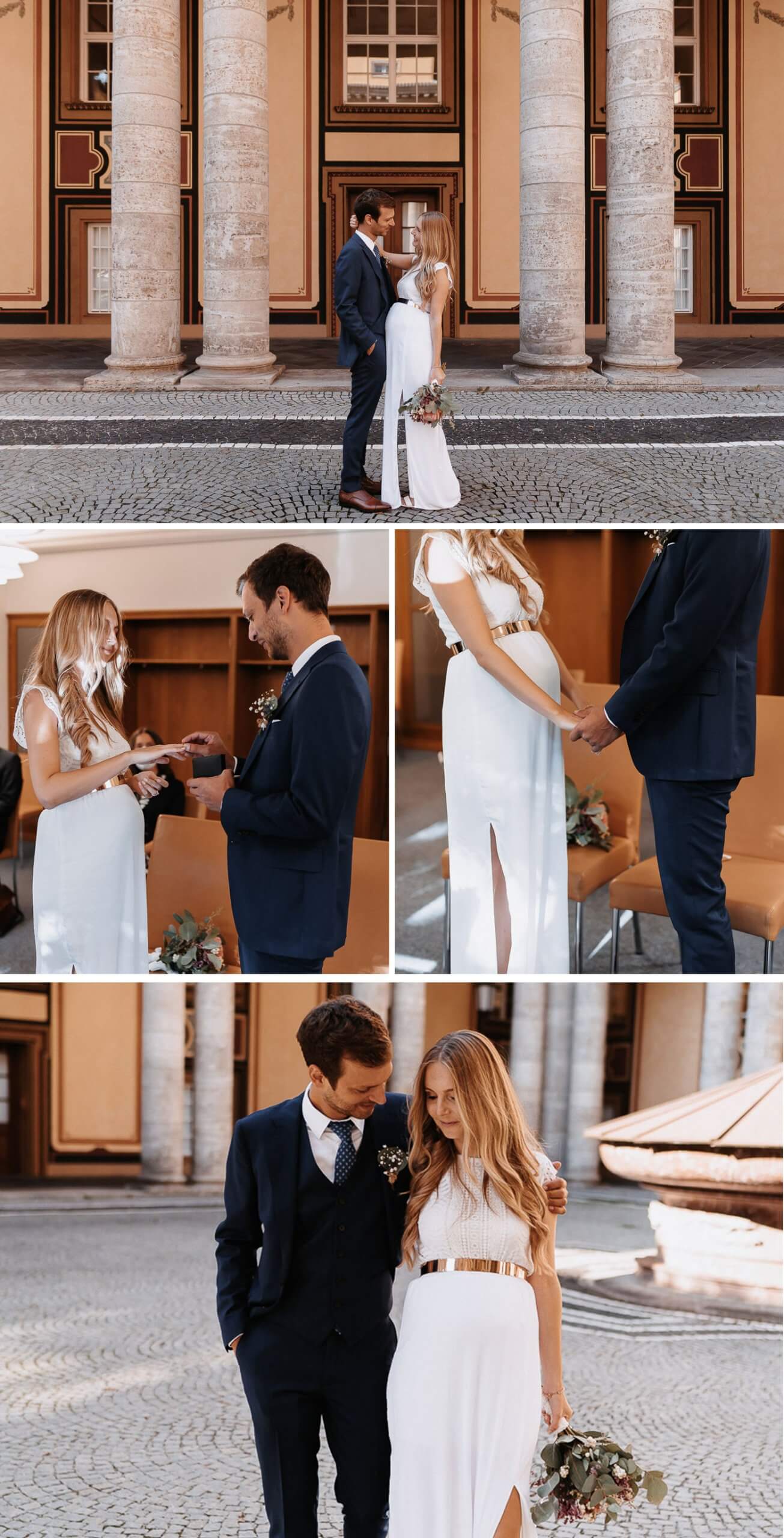 Photos: skop wedding photographer Munich

---
---
Note this article on Pinterest
---
---
Other interesting articles:
Sonja Schulz
She is (originally) a trained media designer and very creatively structured. In addition to the editorial content, she prefers to take care of beautiful picture inspirations for your wedding. Together with her husband Raffael, Sonja wrote and designed the book "100 Wedding Checklists". The passionate hobby photographer loves to travel, she loves colors in her wardrobe. Sonja has been married since 2009 and has been with us since 2011.