How do I get into creative advertising
Big success with a small advertising budget?
Tips for good advertising: "How do I advertise correctly and how best"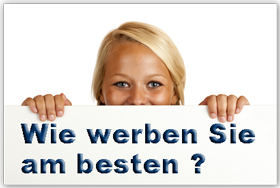 Nobody has money to give away. Small businesses cannot afford it. And large companies are extremely careful not to throw their advertising money out of the controlling window or to put it in advertising agency overheads.
If you want to advertise successfully, you have to get more out of his advertising budget than he puts into it. It is not about the cheapest offer, about an absolute reduction in advertising costs. Because cheap advertising solutions are unsuccessful, neither increase your image nor sales and are therefore the worst solution.
Valuable copywriting tips on the subject of "How do I best advertise".
The latest studies show:
Sex in advertising doesn't work!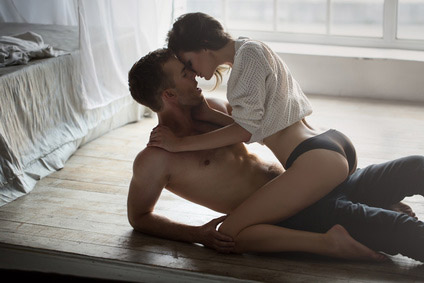 "Sex sells"This is a popular advertising proverb. The problem: sexual motives attract all the attention and thus distract from the product actually being advertised. At least that's what psychologists have found out in more than 50 experiments (source Xing).
My recommendation: to concentrate on the product benefits for the customers and on the customer needs and expectations that are related to the product / service.
---
The secret of good advertising ...
The secret of good advertising is simple:
Know your customers' needs (cats love to eat)
Promise customers to meet their needs (delicious food) ...
... when they order your product (when the cats press the doorbell)!

> Click here if the video is not displayed!
---
---
---
Advertising tip 1: Advertise properly
Small advertising budget? - How to get more out of your advertising!
Like all worthwhile investments, advertising is not money to be thrown away. The only question is:
How do I advertise properly?
How much advertising do you need?
And how do I use my advertising budget as efficiently as possible?
You don't need a huge advertising budget to advertise successfully. Even with a small advertising budget, you can make your business successful.
The most important prerequisite for your advertising success is the correct addressing of your target group.
Instead of placing a somehow designed advertisement here and there, you should consistently inspire your target group with exceptional design solutions based on a well-founded advertising strategy.
If you consider the following advertising tips, your advertising will be worth far more than it costs!
---
Advertising tip 2 for good advertising:
Knowledge of the market is the be-all and end-all of good advertising!
Who will buy your product?
Who is using your service?
What wishes, needs and attitudes do your customers have?

If you know how your customers think and which media they use, you can address them specifically. What your competition offers is just as important:
What advantages and disadvantages do competitive products have in the eyes of your customers?
How, where and with what advertising budget do your competitors advertise?
When you have analyzed your customers and competitors, you have an excellent basis for your advertising concept. (Describe your target groups and competitors with simple, clear words as far as possible - and not with bland marketing phrases!)
---
Advertising tip 3: Creativity is not crazy
You advertise best with clear messages and creative advertising
What is not noticeable does not work either.
Advertising that is fascinated is noticed more often, better remembered and more convincing.
Well-made advertising is a little more expensive to create, but saves you a lot of money in the long term due to the high advertising impact.
Creative advertising solutions are therefore not just crazy, they make sense.
However, only on the basis of a clear advertising concept in which it is specified which advantages your product brings to the customer and why he should buy your product!
How creative your advertising can and should be depends, of course, on the target group: A funny advertising text for a funeral home is certainly not appropriate. On the other hand, demanding word games and an attention-grabbing word-image tension can spice up a "boring" annual report text in such a way that it is read with pleasure.
Seen in this way, good advertising is a particularly cost-effective marketing tool!
Creative advertising pays off!
Many top brands (e.g. Mercedes, Sixt, Mediamarkt, Red Bull ...) know how to use the advantages of creative advertising and employ creative agencies to generate the highest possible advertising added value.
At Zalando, the success of creative advertising can even be easily calculated for everyone. Within only 4 years, the fashionable online shop has screwed its popularity to the level of VW and McDonalds and created a company value of approx. 3 billion !!! *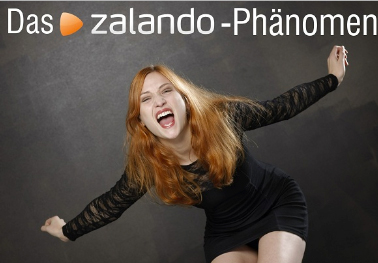 Advertising that attracts attention is more effective than boring and meaningless ads or films.
* Sources for images and information: https://www.zafenat.de/
---
Advertising tip 4: the right budget for good advertising
Your advertising budget is not an unpleasant cost factor, but a worthwhile investment!
You need an advertising budget, everything else is unprofessional.
Define how much money you want to invest in which media for a year.
Your advertising budget should be between 1 and 5 percent of your sales!
The budget can be considerably larger in special situations such as new business openings or new product launches.
Determine exactly which advertising measures make the most sense and how high the costs are:
e.g.
Audience ads 40%,
Mailings 30%,
Brochures 10%,
Promotions 15%,
Others 5%.
(Very successful companies such as "the shower that gave our Formula 1 star Vettel wings" invest up to a quarter of their sales in advertising!)
---
Tip 5 for correct advertising: Everything from a single source
Consistent appearance instead of advertising patchwork
Make sure that your advertising is from a single source from A to Z. Because if everything looks the same and the same messages are always conveyed, the success of your advertising will add up year after year because everything builds on one another.
A consistent corporate design with a uniform design of advertisements, brochures, flyers, homepage pages, letterhead, etc. is therefore strongly recommended.
---
Copywriter tip 6
The right partner can be worth gold
You need professional support to ensure that your advertising is in full swing. The best thing to do is to contact a professional who has already proven his competence at numerous well-known companies.
Your advantages when working with CreativeConsult:
Due to the project-oriented way of working, you only pay for advertising services that you commission and thus save unnecessary expenses.
Even smaller projects are handled professionally
Lean structures give you a favorable price-performance ratio
High efficiency and time savings through the online creation of many advertising measures (flyers, brochures, annual reports, websites) and advertising texts (advertising letters, PR texts, sea texts, web texts, ...)
High competence, personal service, no changing contact persons
---
Save yourself the tedious search for a copywriter and play it safe with advertising copy.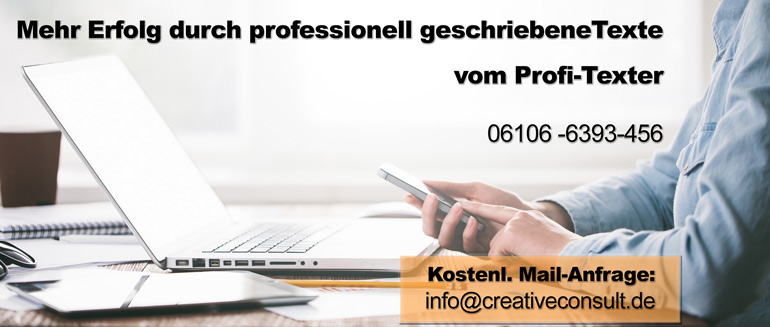 Try it out right now - without any risk: start a non-binding inquiry now ...
---
WerbeTexter Tip 7: This is how your advertising success pays off
The advantages of a "CreativeConsult"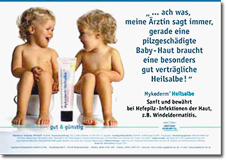 CreativeConsult is a creative consultant with lean structures and a high level of competence in the development of conceptual and creative advertising solutions.
As a communications expert with experience in marketing - who learned his trade in international advertising agencies - I can call on other advertising professionals (graphic artist, web designer, programmer, letter shop) if necessary.
In this way, advertising money is used optimally and flows into the advertising success instead of into rigid structures.
---
Advertising tip 8: Good and cheap advertising makes sense
Who is it for?
Small companies do well with a CreativeConsult, because nowhere do they get so much performance for their money.
Second advantage: Thanks to the extensive know-how, you receive exactly the advertising measures that you need and not the advertising measures that an agency specializes in:
Whether sales promotion, field service competition, advertising campaign, mailing or web promotion - the marketing task determines the communication solution.
Particularly demanding companies have the advantage that an individual consultant and creative doer can familiarize himself particularly intensively with complex issues and develop exclusive solutions on a confidential basis.



This is a great advantage for business reports, advertising and promotional concepts, confidential future projects, presentations, customer newspapers, etc.
Associations and authorities receive a professional service for advertising projects from CreativeConsult. The employment of an advertising and text professional enables advertising agencies to come up with new advertising concepts and qualified advertising texts at low cost and to outsource complex projects in order to free up agency capacities.
---
Tip 9: the best and cheapest advertising is just good enough
Advertise intelligently

Diploma economist Christoph Decker
An experienced copywriter for good
Advertising: 06106 / 6393-456 email
Conclusion: whenever high advertising efficiency is important, when the budget is limited and the demands are particularly high. If tailor-made, individual service is required, confidentiality should be maintained or just an advertising project should be carried out quickly and easily - it is advantageous to advertise intelligently: [email protected]
---
Funny advertising creates sympathy
Because it gives the impression: "We are on the same wavelength".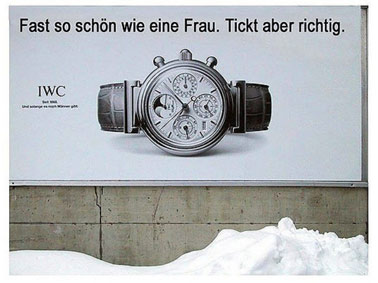 Image source for image: Philomenon - Advertisement of the Century
Funny advertising text
As part of the launch of the Opel Omega, I wrote a book for interested parties with interesting stories about the creation of the new model.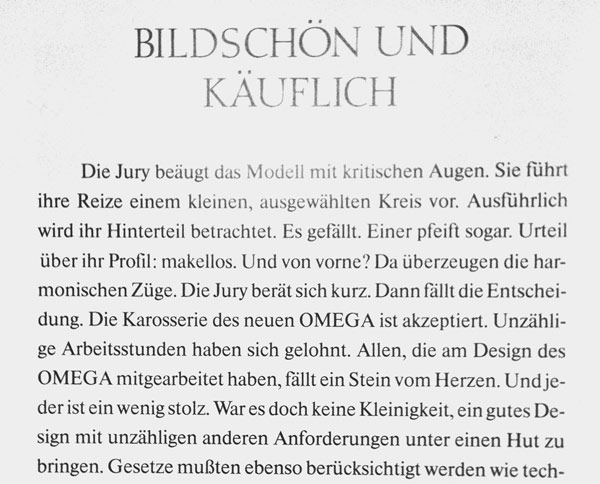 (This text excerpt deals with the subject of "design")
The cheapest advertising opportunities
There are many inexpensive and at the same time very successful advertising opportunities.


Your own homepage
Your own company website is one of the cheapest and best advertising options available. However, it is very important that the homepage is professionally search engine optimized. Because only a website that is found well will bring new customers. Many companies think that a beautiful web design alone is enough. But that's not true.
Advantage of a professional search engine optimization of the company homepage: Years of inquiries from customers who are looking for your products or services!
A seemingly cheap website that cannot be found is money thrown out the window. A website that is easily found on Google, on the other hand, is worth gold!
If z. If, for example, a roofer, tiler, tax advisor or advertising agency receives 10 - 20 more orders per year from new customers through the website, that is a considerable increase in sales!
Search engine optimization is worth it!
Without search engine optimization, your homepage will hardly be found and hardly bring any customers.
With professional search engine optimization, your website will often appear on page 1 on Google and will automatically bring you many new customers for years, free of charge.


Examples of good rankings that put my customers on page 1 on Google:
Do you want to be successful on the Internet? I will also bring your website forward! Advantage: For years you will automatically receive inquiries from interested parties who are looking for your offer. Your request ...
Read how particularly advantageous local search engine optimization is!
Do you want to know what your website brings? What are the chances? I offer you a free brief analysis of your website
Sales letter
A sales letter can be created quickly. If you use your own printer, you save printing costs. You don't need a photographer either (as is the case with a flyer, for example). Letterhead and envelopes are sufficient. You can send advertising letters in a targeted manner and in any quantity to customers or prospects.
It is important, however, that the sales letters are well written in order to make your offer "palatable" to interested parties.
A Sales letter from a professional copywriter is usually much more successful than tedious self-formulated cover letters. It is therefore worth engaging a good copywriter. Particularly practical and inexpensive:
You can order advertising letters online from me. More information on sales letters
Or right away: Request an offer by email
Handouts, flyers
Handouts and flyers are very suitable for distribution in the local area and for display in shops.
Customers recommend customers
With vouchers, existing customers can be used well to win new customers.
Local ads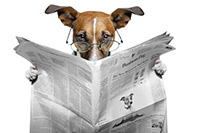 Advertisements in local daily newspapers are important to build awareness, to be remembered and to boost sales with special offers.
It doesn't always have to be a boring ad! An advertisement with an interesting headline and an eye-catching picture increases the advertising success enormously "!
You want "good advertisement"?
Your copywriter will be happy to assist you:

Do you need an advertisement?A sales letter?A flyer text? Texts for your website?
Or a professional search engine optimization for good Google positions?
As an experienced freelance copywriter, I write quality texts with hand and foot that your customers can no longer get under their skin ...
I.your advantages: Easy online booking, quick implementation, good quality level, on-demand services, personal service.
I would be happy to make you a good offer.
► Inquire free of charge